■
Use this walkthrough to set up your app's privileges:
Add sites

Update site type

Alerts
Analytics
Application manager
Home management
Branding manager
Influencer
Newsletters
Social campaigns
Unlisted Site manager

Add sites
Sites structure your organization's information. Select who can add sites. Click here to learn more about adding sites.
Update site type
Select which roles can set a site's access level. Sites can be public, private, or unlisted. App manager is selected by default and cannot be changed; this includes anyone designated as System admin.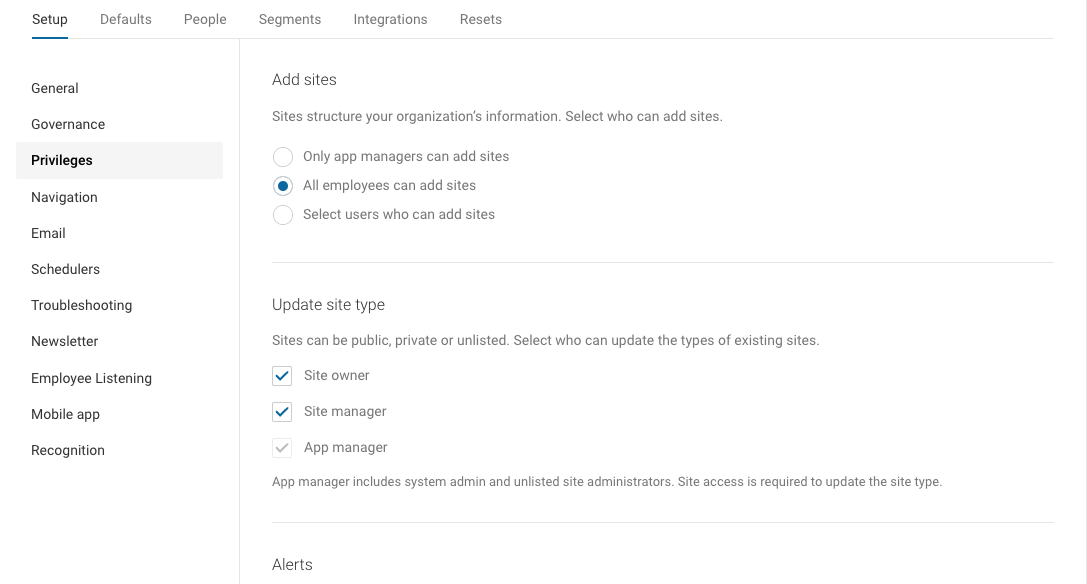 Alerts
Alerts allow you to show critical announcements to all of your employees, or to members of specific sites. By default, only App managers can create alerts. If you want to allow other users to add alerts, enter the names of those users in the Grant Alerts control to People field.
If you allow Site managers to create alerts for their site members to see, you can add the site names to the Grant Alerts control to sites field. The Site managers will see Alert when clicking on the avatar at the upper right-hand corner. They can create alerts and see alert statistics and history. Click here to learn more about alerts.
Analytics
Analytics gives a clear idea of how well your intranet is performing: the most popular sites, content people, and more. By default, only App managers have access to analytics at the global level. If you want to allow other users to be able to view global analytics, such as adoption rate and statistics about sites, you can search and select those users under Grant Analytics access. Click here to learn more about Simpplr analytics.
Note
Site managers automatically have access to analytics for the sites they manage. Adding users here will give them access to analytics for the whole intranet.
Application manager
As a System admin or existing App manager, you can make users App managers by entering their name here. Application managers can change all settings across the intranet; they have administrative access to all public sites and all employees' profiles.
Home management
Employees with Home management control can change the carousel, tiles, and layout of the Home dashboard.
Branding manager
Users with this privilege can control your app's branding. App managers can do this by default.
Influencer
Content authored by influencers are given prominence in tiles and listings. Follow the instructions here to appoint users as influencers.
Note:
App managers can restrict the ability to create blog posts to just influencers by navigating to Manage > Manage application > Setup > General, then scrolling down to Blog posts and selecting Only influencers can create blog posts.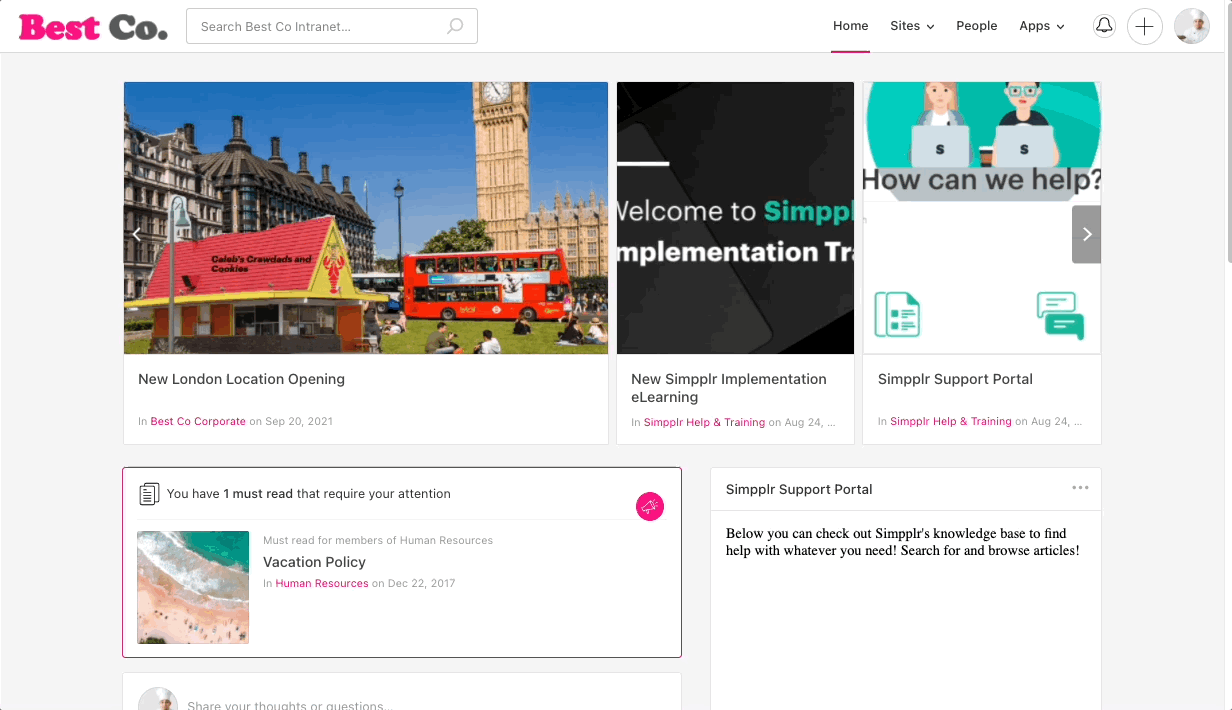 Must-reads
When must-read control is granted to Site owners and managers, they can only make content must read for site members.
Newsletter
Newsletters allow you to build targeted emails with content from your intranet. By default, only App managers can create newsletters to send to all Users. If you want to allow more users to create newsletters, add the users' names under Grant Newsletter control to People.
If you allow specific Site managers to send newsletters to their site members, enter the site names in the Grant Newsletter control to sites field. Once the site is added, the Site managers will see the Newsletter option when clicking on their avatars at the upper right-hand corner.
Social campaigns
Social campaigns allow your organization to promote itself through your employees' social media accounts. Grant users the ability to add, edit, and manage Social campaigns.
Unlisted Site manager
System admins can grant employees the ability to view and manage unlisted sites and moderate their content. Without this permission, even App managers cannot view unlisted sites unless they are a member of the site.