■
Table of Contents
Why use analytics?
With Simpplr's out-of-the-box analytics, you can easily transform communication across your organization. You'll be able to see which content drives the most engagement, and discover the ways to promote that content. By discovering the best content promotion methods, your content will increase user retention and encourage further engagement. 
Simpplr's analytics are useful for everyone across your intranet team; from App managers to Content authors. Users receive Analytics reports via email on a monthly basis depending on their role. For example, site specific analytics emails are sent to Site owners and managers.
Analytics by role
There are several types of analytics you can see, depending on your role within the intranet. For instance, App managers have a different visibility into metrics than Site managers. We'll explain more below.
Site-level analytics
Site owners, Site managers and Content managers can access analytics at the site level, either by clicking Analytics from your site dashboard, or going to Manage sites locating the site you want, and clicking the Analytics tab.


From here you can see data such as:
Number of site members and managers
Total content views
Most popular content
Least viewed content
Views by type of content (pages, events, albums)
User engagement. This includes how many likes, comments, shares and favorites your users have on content.
You can download any of these data points as a CSV file, as well as set the date range of metrics you'd like to see.
Page-level analytics
Page-level analytics offer insights into specific content that you have access to or created. To see them, navigate to the piece of content and click the ellipsis (...). Then choose Page analytics.
You also have visibility into the version history, moderation history, feedback history and must read compliance of your content.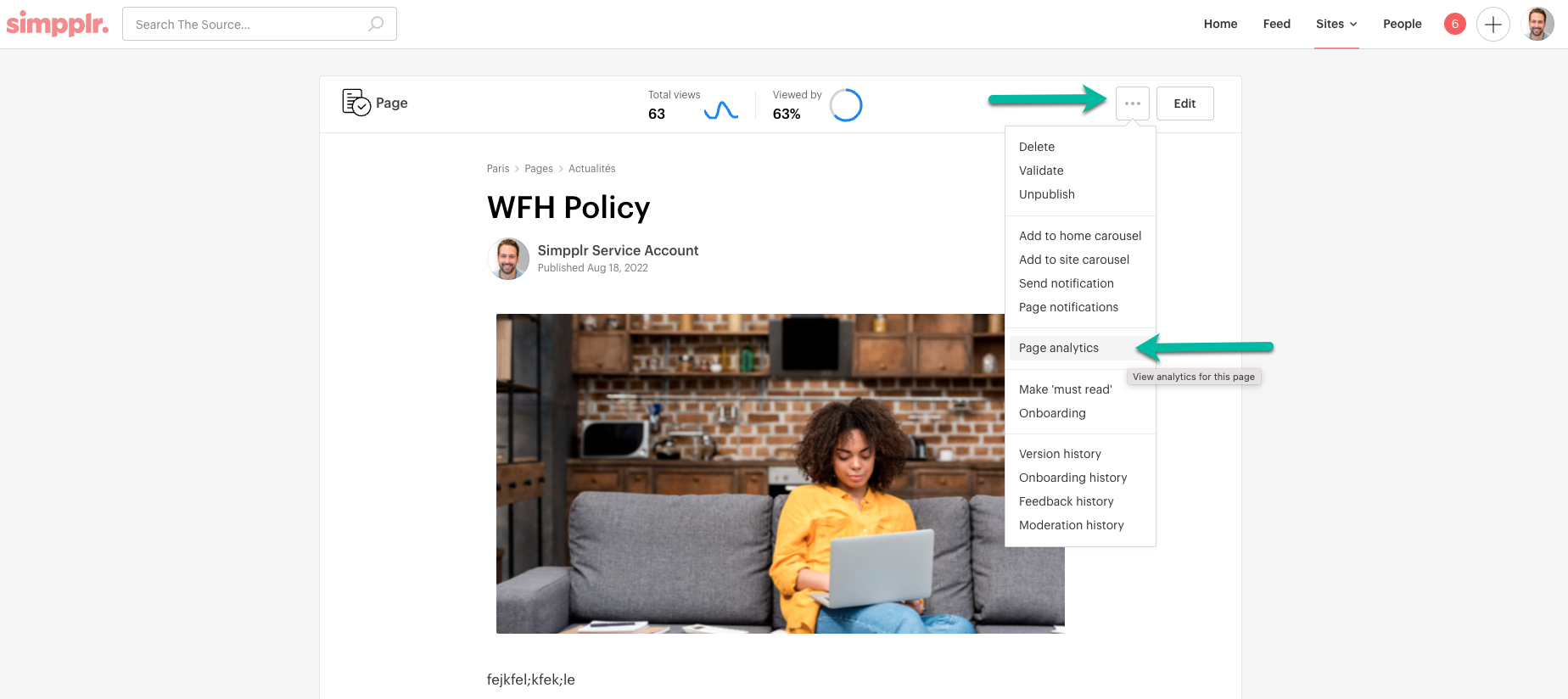 From the page analytics, you can see:
Number of page views (as well as unique views)
Top views from segments, departments, location, or a custom grouping
User engagement including likes, posts, replies, shares and favorites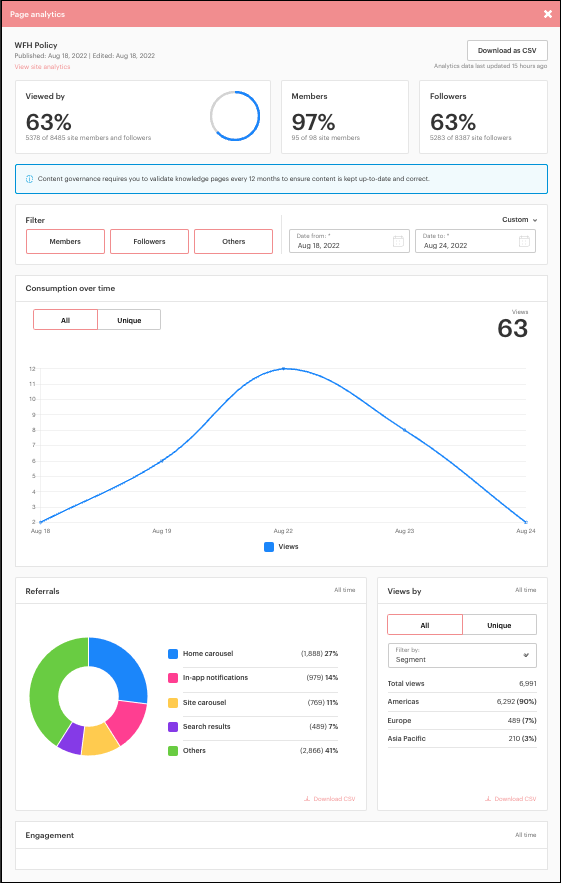 You're also given a notice when your content has low engagement. This notice will prompt you to update or unpublish your content should you wish.
Global analytics
App-level (or Global) analytics offer insights into your entire intranet, including site visits, content views, number of users across the intranet, and more. This is accessible through the User profile menu or Manage application menu for System admins, App managers and anyone else given access.
The Overview tab presents high-level information such as:
Number of active sites
Total content published
Content views and engagement
Number of app contributors, participants, observers and logins over the last 30 days
For more information on app-wide analytics, check out this article.
Insights - How to measure success
To gain better insight into measuring success, you need to understand how your users are interacting with the intranet. To do this, decide if they're "pulling" information, meaning that based on their interaction, they have a purpose and know what they're looking for. Then review Search, Smart feed, and navigation metrics to decide if users are successful in their purpose.
Some question you may want to ask regarding success are:
Is search working well? Do users find the right, applicable content to them based on search terms? If not, consider adding more topics to content, or adjusting it as needed to make it easier for users to find.
Does the Home dashboard (or site dashboard) show popular content I want users to see?
Is the feed providing relevant information, or is it becoming bogged down with unimportant conversation?
Not every user will "pull" information. In this case, you will need to find the best ways of "pushing" information. Use experimentation and decide what works best for your audiences through notifications, newsletters, carousel promotion, alerts, assigning influencers, must reads and many other ways. Pushing information is the best way of ensuring engagement with your intranet.
Understanding user consumption behavior
Monitor your analytics regularly to measure which ways your users are interacting with your intranet. For example, if you notice most users regularly view content through a dashboard, start promoting more content on the dashboard.
Analytics definitions
Adoption definitions
Contributors: People who have authored content and feed posts
Participants: People who have interacted with content/posts by liking, sharing or replying AND are not Contributors
Observers: People who have logged in, AND are not Contributors OR Participants 
No logins: People with active profiles who have not logged in within the defined parameter
App adoption (most and least): Percentage of users by department or location who have or have not logged into Simpplr
Most and least views: Number of page views (not unique) by department or location. Sorted by total number of page views (not unique) most to least or least to most 
Content definitions
Unique content views: Number of unique combination of people plus any content views
Unique engagement: Number of likes, comments, replies, shares and favorites on content
Total content views: Total views on content (not unique) within the defined parameter
Average views per content type: Number of content views in the defined parameter divided by total number of currently published content published of all time by content type (page, event, album, blog post)
Knowledge pages
Published: Number of total knowledge pages published
Validated: Number of validated knowledge pages
Validation required: Number of validations needed on knowledge pages
Validation expired: Number of validations that have expired on knowledge pages
Social interaction definitions
Engagement: The number of likes, comments, shares, replies and favorites on feed posts and content
Most engaged: A combination of number of likes, feed posts, replies, shares and favorites. Sorted by department or location, from most engaged to least engaged
Social campaigns: Total number of social campaigns created in the defined parameter
Total shares: Total number of shares on Facebook, Twitter and LinkedIn in defined parameter
People definitions
Overview: Number of people who logged in over the last 90 days with an active profile
Content published: Users who have published the most content in the defined parameter, sorted from most to least
Favorites received: Users with the most favorited profiles, content and posts in the defined parameter
Likes made: Users who liked the most content, posts and replies in the defined parameter, sorted from most to least
Liked received: Users who received the most likes on content, posts and replies in the defined parameter, sorted from most to least 
Feed posts: Users who made the post posts in the defined parameter, sorted from most to least 
Replies: Users who replied most in feeds in the defined parameter, sorted from most to least 
Replies from other users: Users with the most replies on their posts in the defined parameter, sorted from most to least 
Shares received: Users whose content/posts were most shared in the defined parameter, sorted from most to least 
Profile views: Users with the most viewed profiles in the defined parameter, sorted from most to least
Profile completeness: Users who have completed each Profile completeness field (profile picture, phone number, about text, birthday date). Fields are fixed
Analytics update frequency and FAQ
How frequently are analytics updated in Simpplr?
Global analytics are updated daily for both data capturing and display. Site- and page-level analytics are captured every three hours, but the analytics display is updated at midnight every day, or three hours after the content publish time; whichever comes later.
The data displayed is updated daily. Currently the analytics scheduler only displays data up to the previous day. 
What does the analytics scheduler (SchedulerAnalytics) do?
The analytics scheduler will capture and update data in the backend for site-level and page-level analytics every three hours. The update is determined by the timezone of the admin user who set up the scheduler. The scheduler also captures and updates data in the backend for app-level analytics every day at 12:15 am in the timezone of the admin user who set it up. 
The scheduler does not update any of the analytics screens (the app does that on its own nightly).
Note:
Analytics need to be set up by an active account. If that account should become inactive at any point in the future, analytics will not behave normally.


What happens if the timezone of the account that set up the analytics scheduler changes?

If the scheduler was first set up in PST (where the scheduler runs at 12:15 am), and the Salesforce Admin user who set it up moves to a CST timezone, the scheduler will change from running at 12:15 am to 2:15 am PST.

If the timezone changes to outside the hours of 12:15 and 3:15, the scheduler will NEVER run. Because of this, the admin who moves timezones should always be sure to stop the scheduler, then reschedule it in the new timezone once they're there.