■
Within Simpplr, you will see various features on the top navigation. When you click any of these features from your Home dashboard, you'll see the latest content from the sites you follow. Below are some brief explanations of the main Simpplr features:

Home

Dashboard - Your Dashboard is the first page you will see when you log in to Simpplr. It contains the carousel content that your App manager wants to make sure everyone see when you log in. It also contains the various tiles that give you an overview of the latest content created from the sites you follow.

Feed - Feed contains the posts from the sites you follow, posts that people @mention, and posts that people share with you. When you add a post on your feed, you can choose to share with your followers, a site and to a person.

Pages - Pages are usually about topics that don't change too often. For example, company policies, benefits, IT FAQs, and "How To" would fall under Pages.

Albums - Latest photos and videos from the sites you follow.

Blog Posts - Everyone in Simpplr has a blog. These are similar to pages, except at the People level, not contained within any sites.

Sites
Sites are the containers for all content published in Simpplr. Under each site, you will also see similar top navigation. Below are explanations of each feature within a site:
Site dashboard - This is where you land when you click into a site. Similar to the Home carousel, the site carousel appears at the top, and contains important information the Site managers want everyone to see. It also contains various tiles of the latest content of the site.

Site feed - These are discussions happening within the site. You can add posts, share links, create polls and share files on the site feed. If you post in the site feed, users who visit the site will see your post.

Files - These are site-related files. For example, in the HR site, you might find open enrollment forms, employee handbook, etc.

Events - Events that are related to the site. Events can be company meetings, parties, trade shows, etc.

Albums - Any photos and videos related to the site.
People
The People tab at the top navigation allows to to browse or search all employees in your organization. You can filter people by Department, Location, Expertise, or any custom fields your App manager has set up to be filterable.
You can also search the name of any given user to find them. Note the Search box only returns results for user names. So you cannot search for an employee ID or alternate field, for example.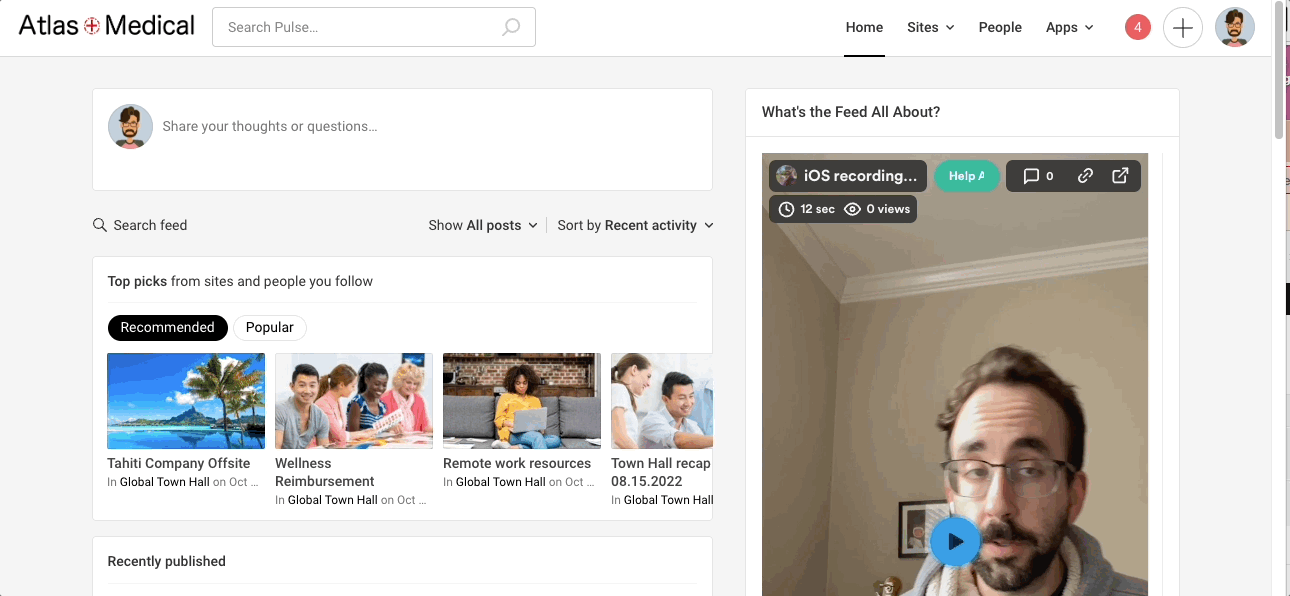 Apps
This tab is your Apps Launcher. This will expand to show you your org's most commonly used applications, so you can easily navigate to them directly from the intranet home page. for more on the Apps Launcher, click here.