■
To create blog in your own profile, click on the + icon at the top navigation, then click Add a blog post. Once the blog is created, you will see it in your profile.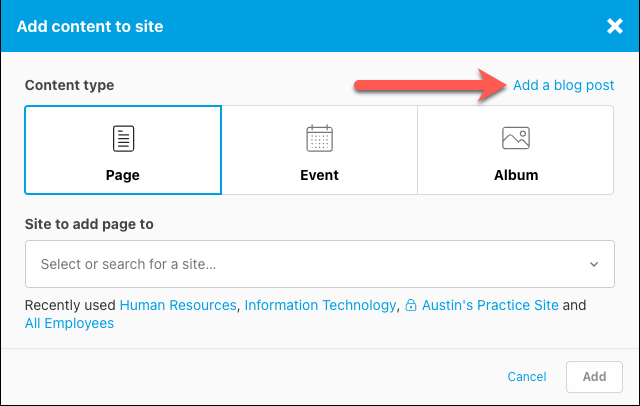 Blogs act much like Pages, only they're tied to an individual user's profile instead of being tied to a certain Site. They can however be shared on the home carousel, feed or a messaging platform like Slack or Microsoft Teams if the user has the correct permissions.
App managers are also able to assign Influencers to be the only ones who can write and publish blog posts.
Blogs are great for getting your voice out to your organization in your own way! It's important to note though, at times employees mix their personal blogging and corporate blogs at work. There is a fine line between the two, and it can be difficult to maintain the balance. Many of the blogging issues seem common sense, such as not working on your personal blog while at work, or taking photos of your workplace without permission, or even complaining about your annoying coworkers.

Here are a few pointers for you as a corporate blogger:
In almost all the scenarios, the views expressed in the blog are yours alone and do not necessarily represent the views of your employer.
Respect the company's confidentiality and proprietary information.
Ask your manager if you have any questions about what's appropriate to include in your blog.
Be respectful to the company, employees, customers, partners and competitors.
Understand when the company asks that topics not be discussed for confidentiality or legal compliance reasons.
Ensure that your blogging activity does not interfere with your work commitments.