Overview
HRs and hiring managers can easily flag onboarding content across sites without having to organize them manually. They can create an easy-to-follow path for new hires to obtain information needed to successfully onboard.
Onboarding manager
App managers can grant Onboarding privilege to a list of users who can then flag/unflag content for onboarding, at both organization level and site level. These users are called Onboarding Managers.
App managers can also specify which sites are enabled for site admins to flag/unflag content as onboarding at the site level. All content flagged for onboarding is at the site level. Featured sites are always included by default.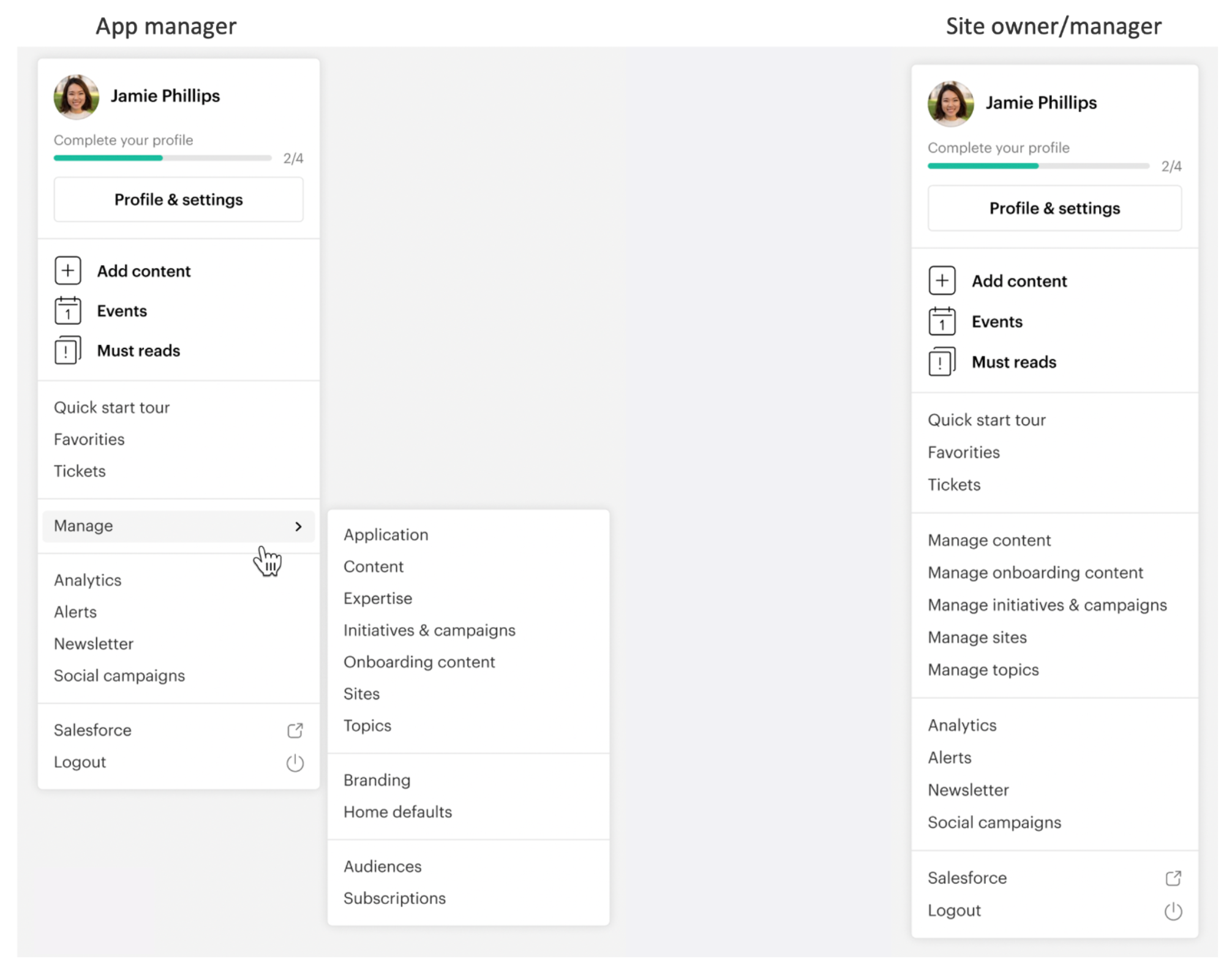 Flagging and managing onboarding content
Site content managers, site managers, and owners of an onboarding-enabled site can flag/unflag any of that site's content for onboarding.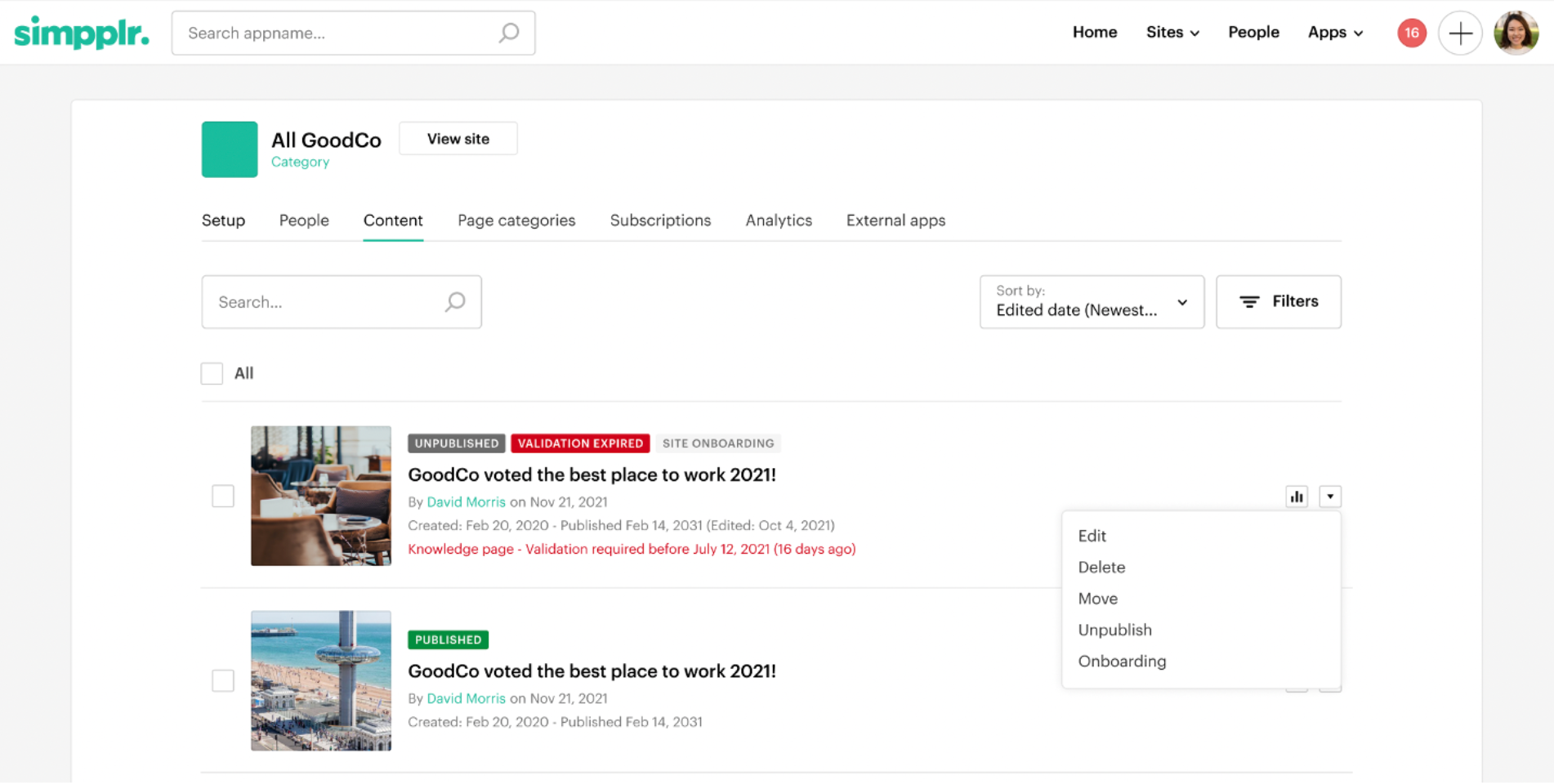 Onboarding Managers who have viewing access to a site can flag any content from that site for onboarding. If the site is public, the content can be flagged as organization-level onboarding content.
Onboarding managers can also switch any organization-level onboarding content to site-level. Or, they can promote site-level onboarding content to organization-level, if the site is public.
Onboarding history
A user who has permission to view moderation history for a piece of content can view its onboarding history, as well as who flagged it for onboarding, by going to the Onboarding history tab.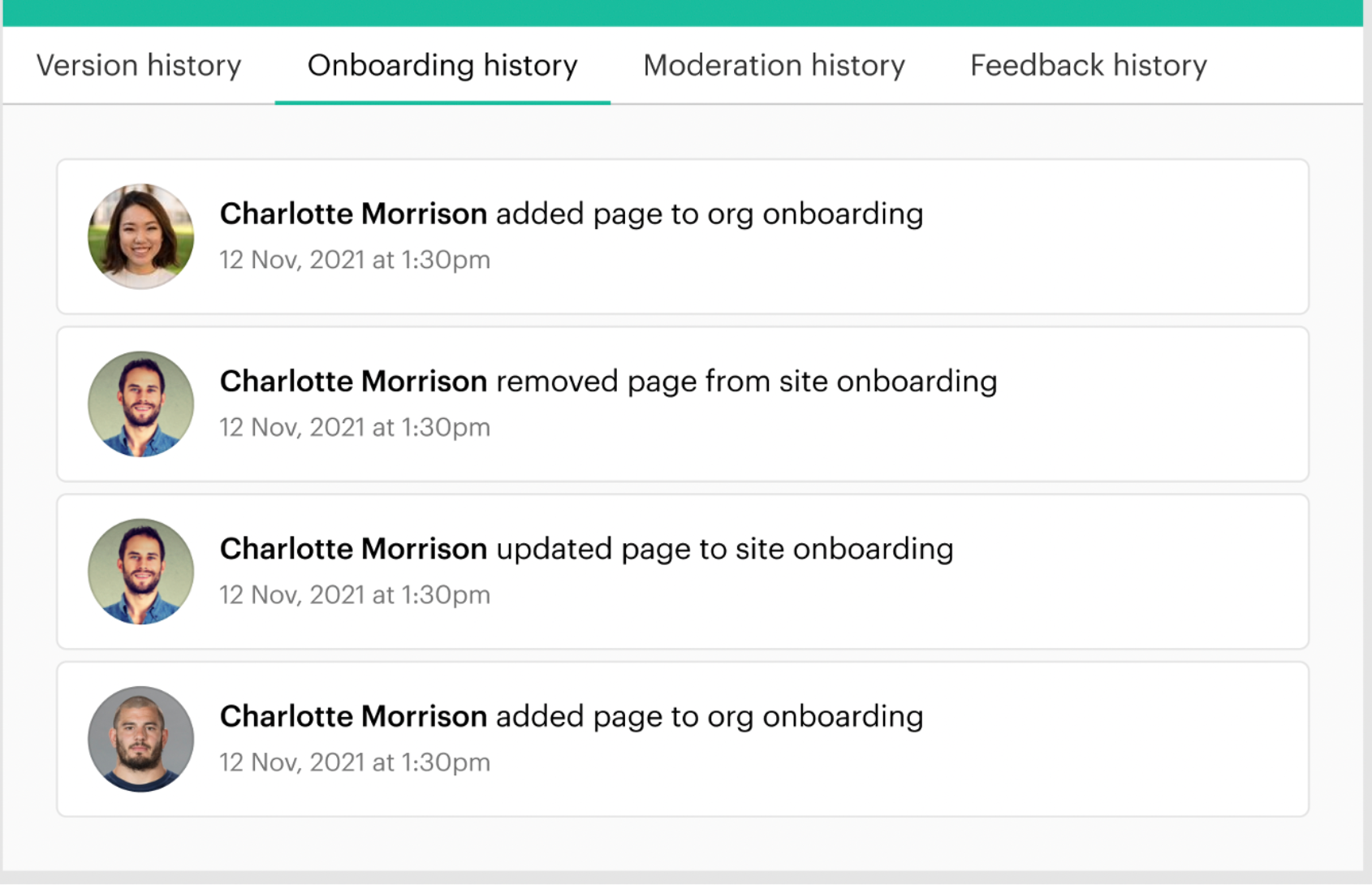 Onboarding path

New hires will receive a welcome email from Simpplr on their first day that will redirect them to Simpplr home dashboard.
On the home dashboard, new hires will be greeted with a welcome message. From there, they can kick-off the app tutorial tour (Quick-start tour).
An Onboarding content screen is seen at the end of the Quick-start tour. This screen will be only visible if a user hasn't seen it before AND the user is a new hire.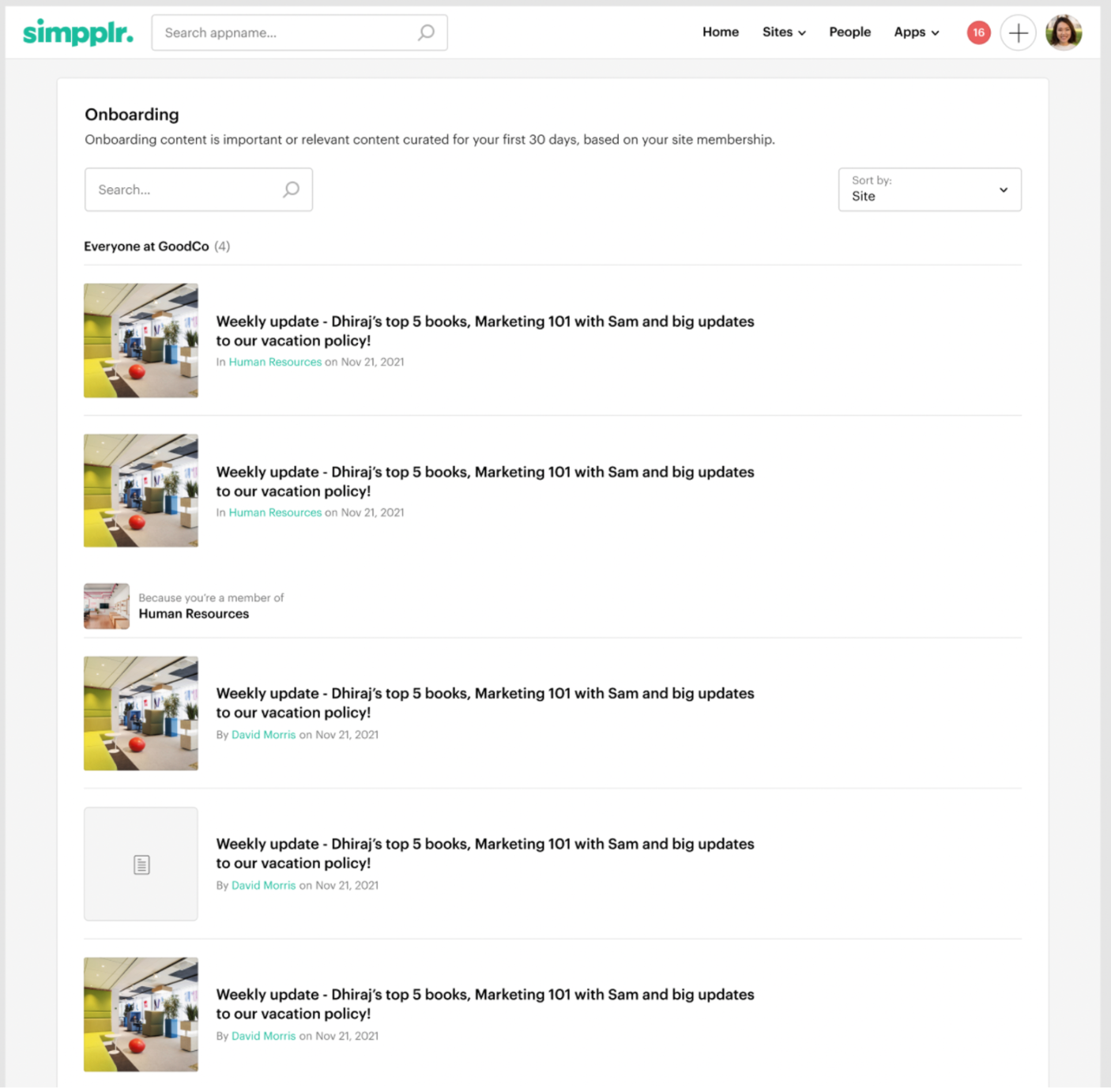 From my onboarding content screen, you can:
View a reading list of all onboarding content, including two types:

Org-level: all org-level onboarding content, only from sites you can access.

Site-level: all site-level onboarding content from sites where you're a member of.

View the current status (read/unread) of each onboarding content in the list, and the status will automatically update each time you visit the list.
A piece of onboarding content will be considered read when the user opens it. Unlike must-reads, there is no manual acknowledgement required.
Onboarding tile
The Onboarding tile is a tile type that app managers and site owners/managers can add to their home and site dashboards.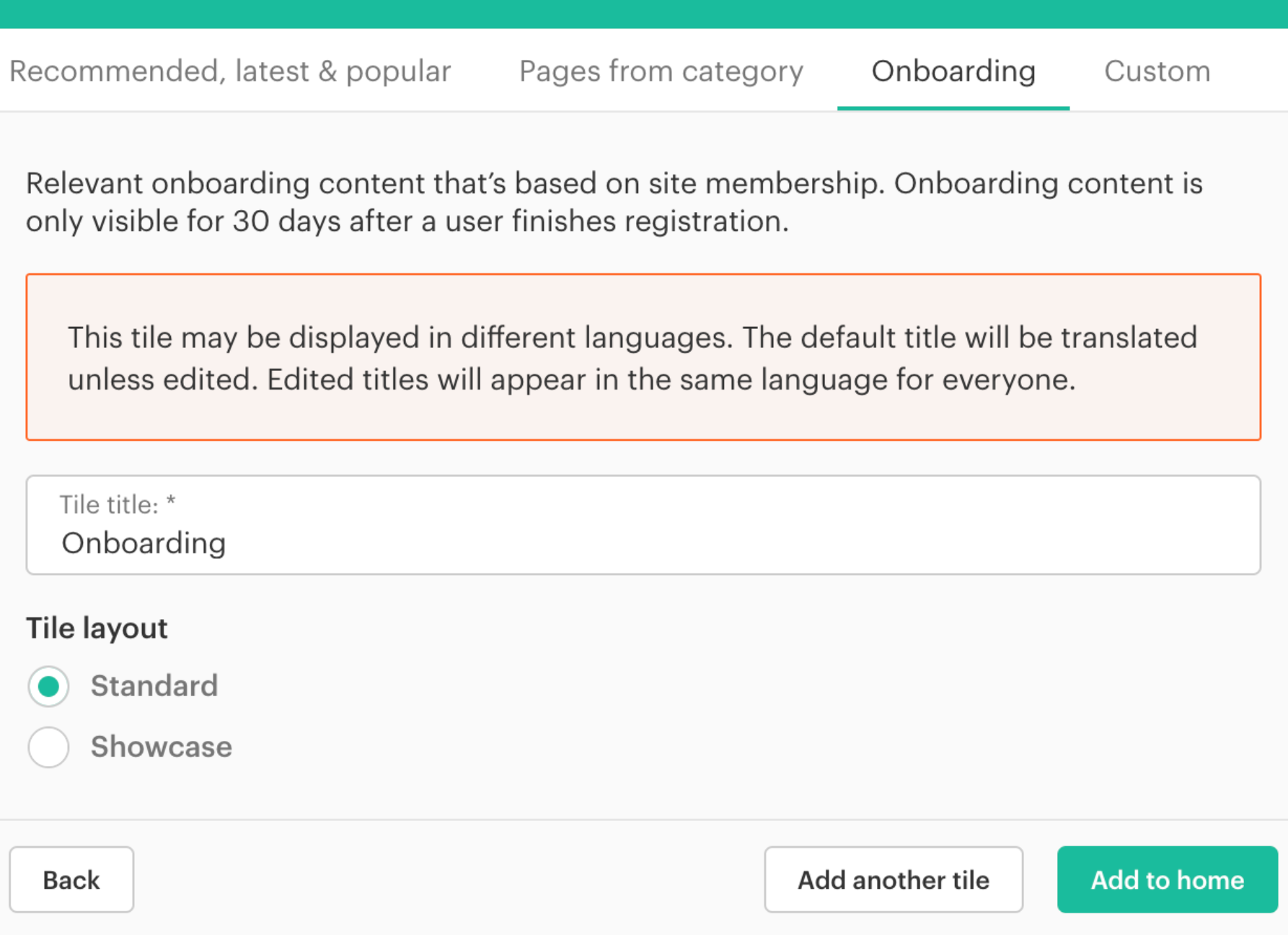 Access onboarding content
The default locations where new hires can find and access onboarding content are:
User menu > Onboarding > Onboarding content screen
Home dashboard feed
Site dashboard feed
Site content tab
Onboarding tile in home and site dashboards (if enabled by app manager and site owner/manager).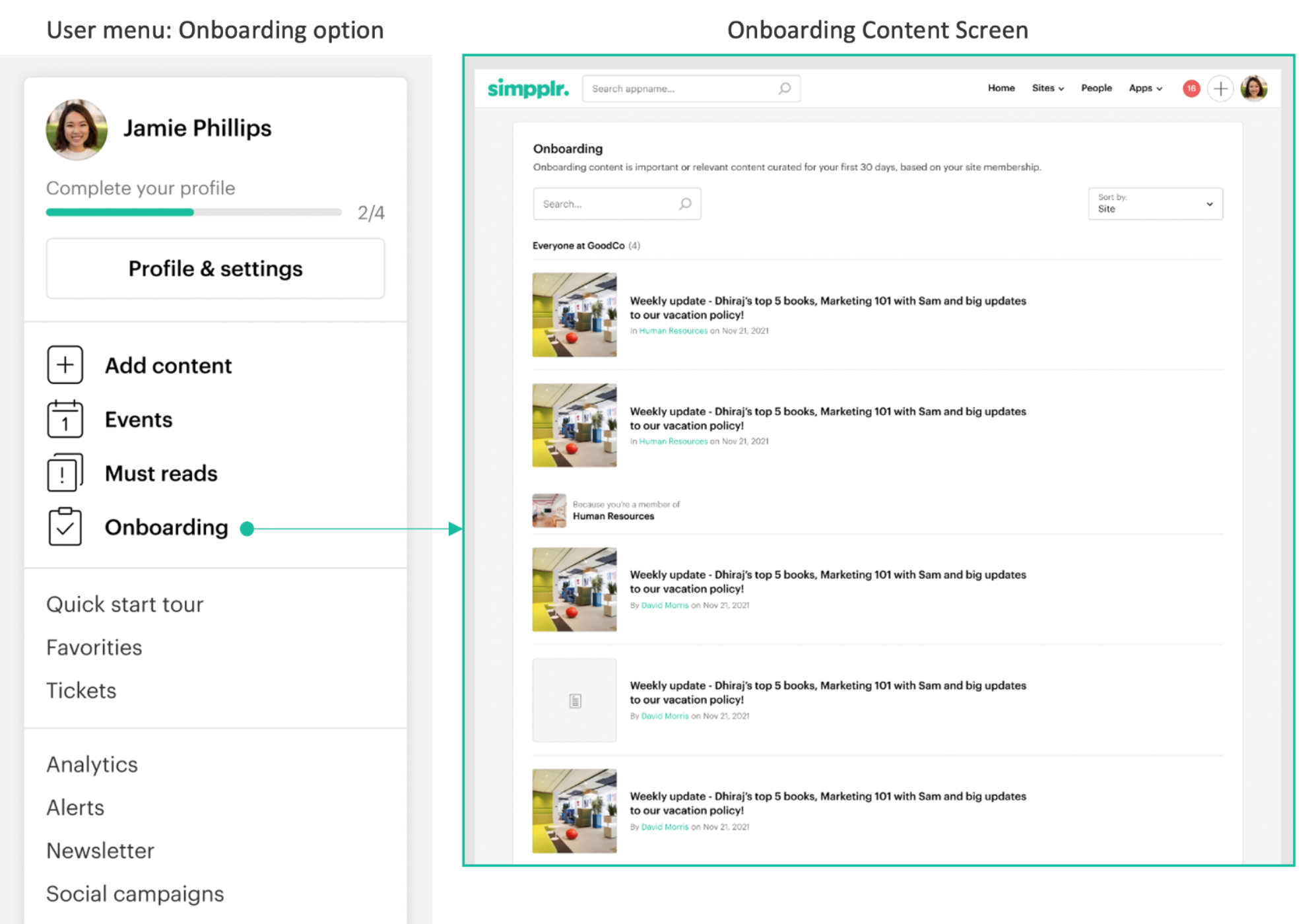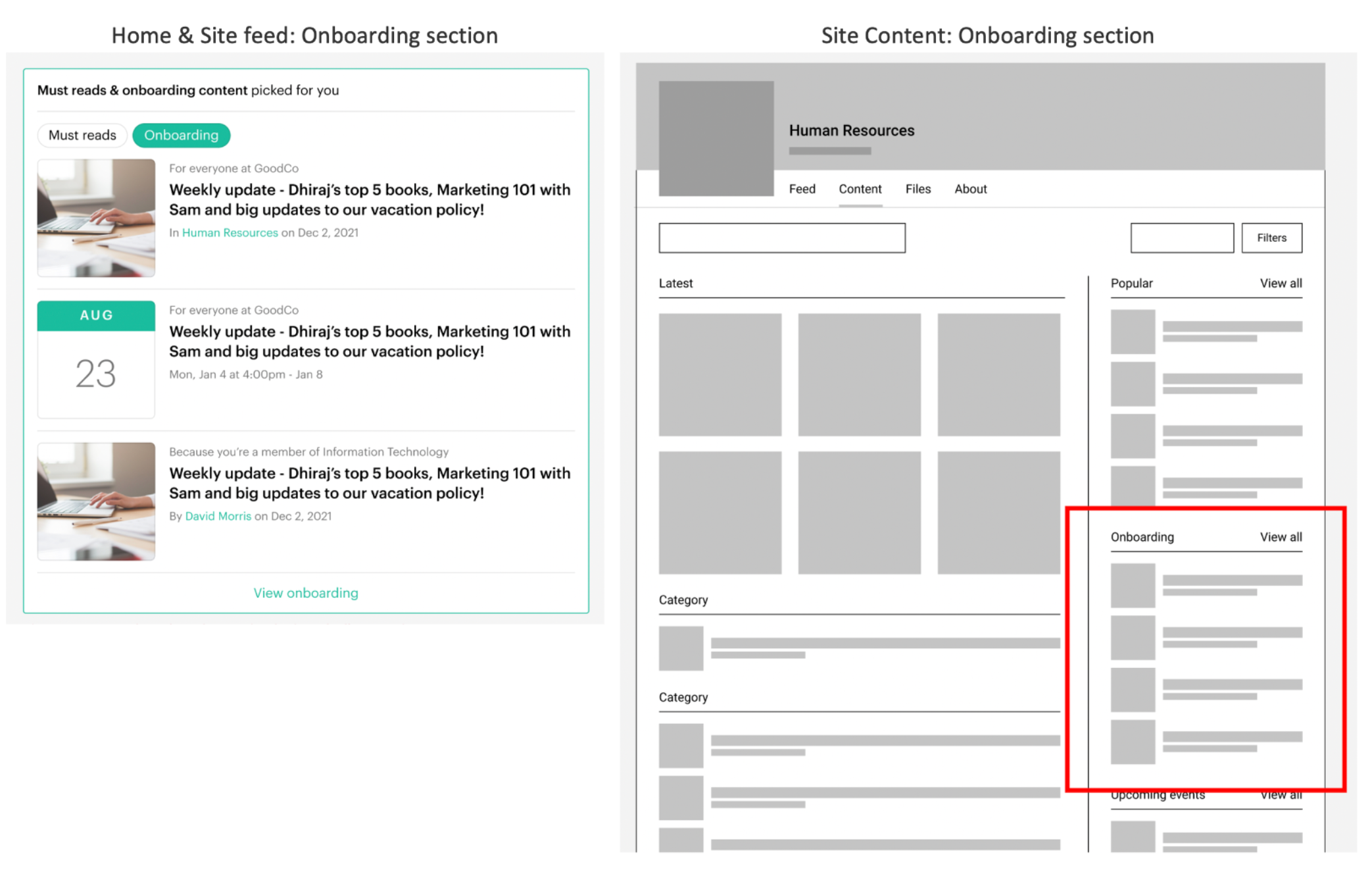 30-day onboarding period
A new hire will have 30 days, from the date of joining, to read through the onboarding content available. After 30 days, the new hire will be considered a graduate, and:
Will receive an in-app notification congratulating him/her on completing the onboarding period.
The congratulatory message will be also displayed in onboarding content page and tile in home dashboard, along with the message: All onboarding content has been moved to your favorites.
The Onboarding content section will be removed from both home and dashboard feeds.
The congratulatory message in the onboarding content page and home dashboard tile will stay for 30 days after graduation, after which onboarding tile and onboarding option in the user menu will be auto-removed.

Onboarding digest email
New hires will receive a mandatory weekly digest email that includes all unread onboarding content, upcoming onboarding events, and must-reads.