Table of Contents
How to sign up for training
Follow the instructions below to create your Docebo LMS account. Once you create your profile, you'll have full access to Simpplr's course catalog of training. You'll also be able to enroll in custom learning plans designed for your role within Simpplr.
Note:
Docebo is a third party Learning Management System outside of Simpplr. You're creating a new set of credentials/profile when enrolling in training.

Click the link below to go to our Learning Management System (LMS) on Docebo.

https://simpplr.docebosaas.com/learn

From the landing page, click Register to begin creating your new learning profile. Then follow the steps below.

Enter your work Email address. This will be your Username when logging in. Do not use your personal email address.
Enter your first and last name.

Create a password. This must contain at least 6 characters.
Choose your preferred language from the dropdown.
Finally, enter the Branch Code Cust001 to gain full access to our course catalog. This must be typed exactly as shown here.



View and check the box accepting the terms of the privacy policy. When finished, click NEXT at the bottom.

Fill in the name of your organization/company, then click REGISTER.


Bookmark the home page so you'll have easy access for later on!
Congrats! You're now registered and have full access to our library of eLearning modules. From your home page, you can either enroll in an individual course, mini-modules for a quick refresher on a certain topic, or a whole learning plan!
Which courses should I take?
We recommend enrolling in whichever Learning Plan corresponds with your role in the Intranet Management team. For example, App managers should enroll in the Application Manager Learning Plan. It contains all the applicable courses to your role.
If you don't see a Learning Plan matching your role, or you're not a member of your org's Intranet Management team, we recommend beginning with Introduction to Simpplr, then moving on to End User and/or Content Management.
If you're not sure of your role, talk with your Simpplr Consultant or CSM.
Below are some screenshots detailing the course catalogs once you log in to the LMS.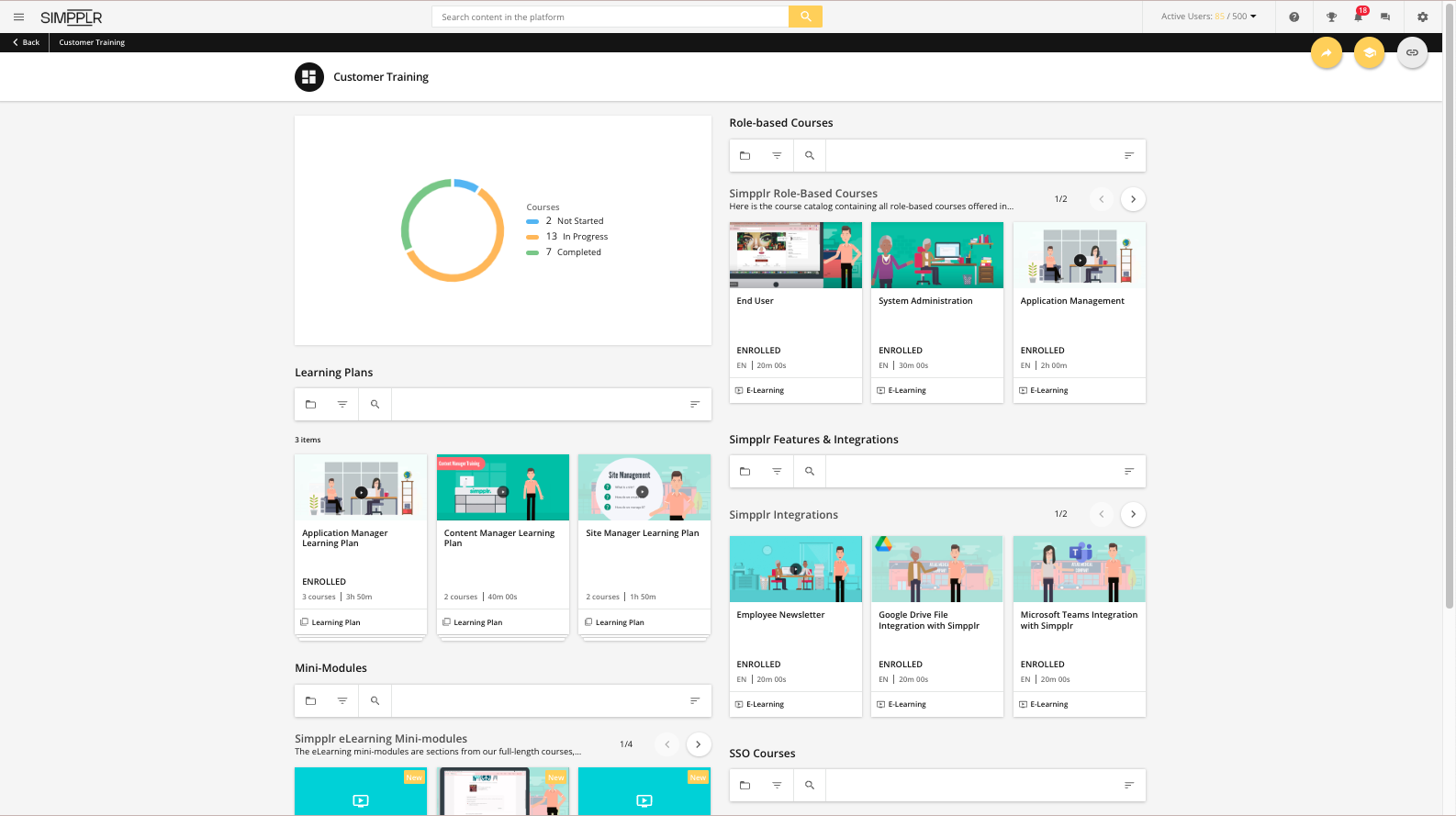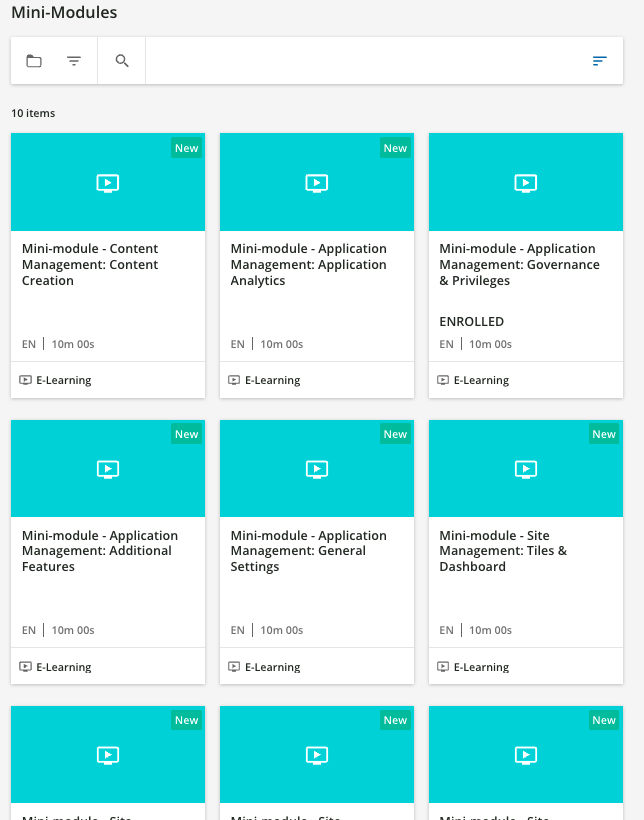 List of available courses
The full-length courses available to enroll in are:
Application Management
Site Management
Content Management
System Administration
Intro to Simpplr
End User Training
Employee/Premier Newsletter
Google Drive File Integration with Simpplr
Sharepoint File Integration with Simpplr
Slack Integration with Simpplr
Microsoft Teams Integration with Simpplr
Azure Active Directory SSO Integration with Simpplr
Mini-modules available:
Application Management: Segments
Legacy Newsletter
Application Management: Application Analytics
Content Creation
Application Management: Governance & Privileges
Application Management: Additional Features
Application Management: General Settings
Site Management: Tiles & Dashboard
Site Management: Site Features
Site Management: Site Creation and Overview
Site Management: Analytics