Events are one of the three types of site content, along with Pages and Albums. Events can be celebrations, meetings, anniversaries, and more.
Viewing events
Go to the Content tab of a site for information on upcoming and popular events (if Event content type is enabled for that site).

Go to the Events option from the profile drop-down, to view all events in the intranet. If Google Calendar is integrated, users can click on Google Calendar to see all Google Calendar events. Events are listed chronologically, starting with this week.
Add an event
There are two ways to enter the Event creation flow:
1. The global + button on the navigation bar, right next to your profile icon.
2. Go into any site, then click on + button at the rightmost of the site header.
3. Click Add Event in the Events tab of a Site.

You'll enter the Event creation flow:
1. Upload a Cover Image (Recommended size: at least 1080 pixels wide)
Crop it appropriately for the Cover & Carousel and click Next

Crop it appropriately for thumbnail and click Save

Select one of the Cover image layout options. The layout allows you to choose different sizes of the cover image to show up on the Page. Click on each layout to see a preview of what the layout will look like.
2. Add an Event title.
3. Enter the start date/time and end date/time.
4. Add a Location. This could be a physical address or a URL of an online meeting.
5. Add Directions (if applicable) or an online map URL, like a Google map URL of the Event location.
6. If you want People to RSVP, click RSVP Required. You'll see all RSVP options.
7. Enter Event content. You can type your content in the Your Content here field.
Paragraph styles

Callout and quote boxes

Bold text

Underlined text

Struck through text

Bulleted lists

Numbered lists

Text alignment

Horizontal lines

Text/ text background colors
If you want to enter HTML code, click on the first icon </> to access the HTML editor.

You can choose from a range of text editing options:-

You can insert images from local drive, Intranet, or by URL.

You can insert videos by URL or with an embedded code.

Note: If you have Native Video enabled, you can upload click the camera icon in the toolbar to add it to the content body, or upload the video as an attachment. If you'd like to enable native video, talk to your Simpplr CSM.

You can insert emojis.
8. Add Files, which can be from local drive, Intranet, Box or Google Drive. Files will appear as attachments below the Event Content.
9. Add Organizers (when you start typing, you should see a list of users that match the names for you to select).
10. Add relevant Topics to make your Event easily searchable.
11. Select to Publish immediately or from a specific date.
12. Select how long you would like to publish the Page. You can select Indefinitely, which will leave the Page active until manually Unpublished, or to publish for 3 months, 6 months or until a specified date.
13. Add a Summary. The summary appears below the title on the Events tab.
14. Check or uncheck Allow Feed Posts. Allowing Feed posts will add a Feed at the bottom of the Event for users to add comments.
15. Click Create. If you are the Site manager, your content will appear right away. If you are not the Site manager or Site owner, you will be notified of the approval status once the Site Manager reviews and approves the Content.
Note
You can also click Save Draft and continue to work on the draft later.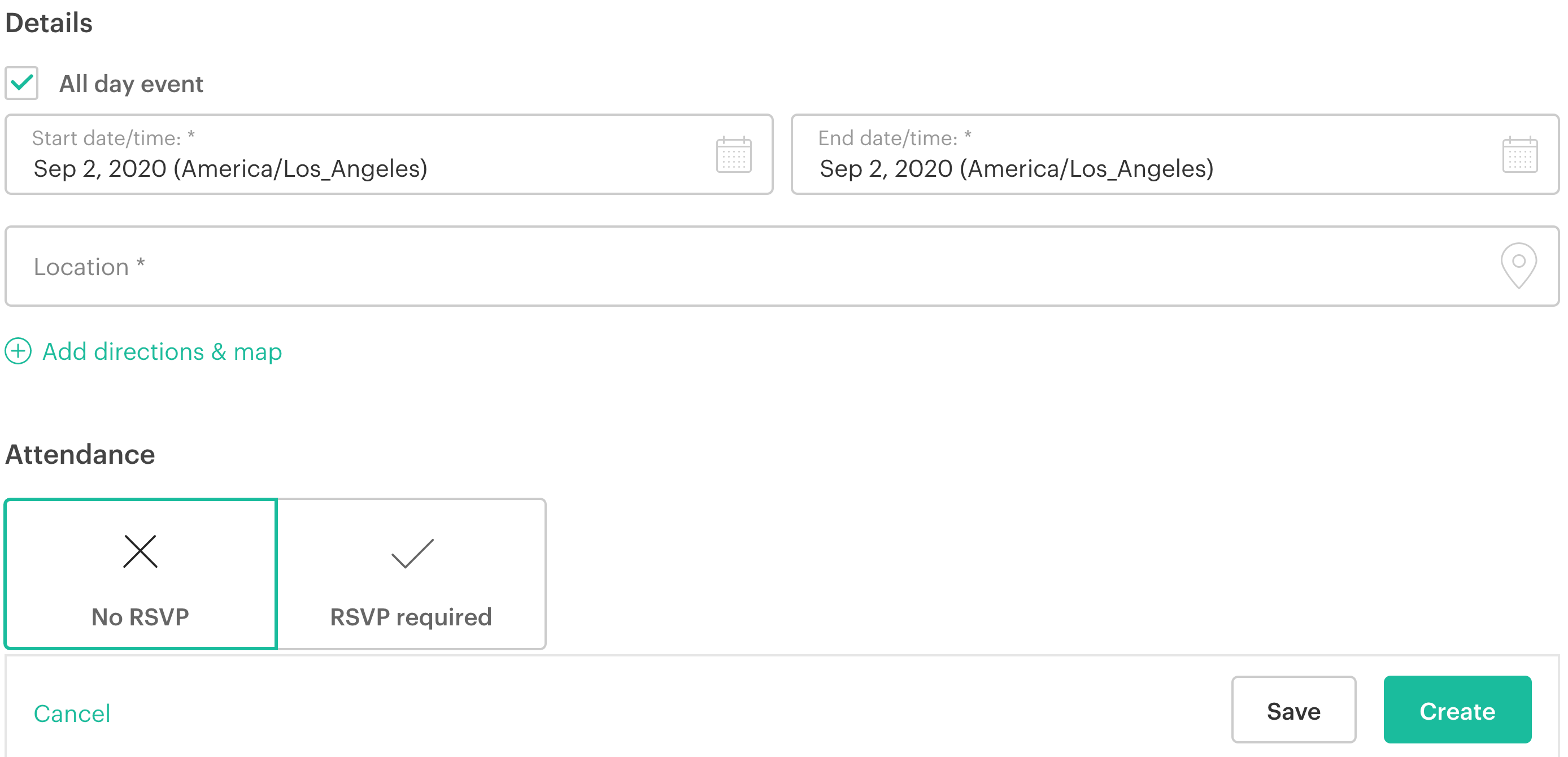 Manage Events
Managers and admins have a host of capabilities for controlling their users' events.
Attendee list
For events that are open for RSVP, site admins and event authors/organizers can remove people who RSVP'd. This gives them full control on managing attendees list and take actions when necessary. Event capacity is displayed on the event detail page, just like everywhere else.
Event Notifications
Author/organizers/attendees will receive email and in-app notifications by default. They can turn off these notifications in the settings, or the app administrator can override the setting:
When event is deleted.

When event that's yet to end is unpublished.

When event title/date/time/location/direction/map/description/files and attachments is updated.

Whoever edits the event can choose to send an email notification.

When someone is removed from an event RSVP list, they will receive email and in-app notifications by default.

When someone is invited to an event, they will receive email and in-app notifications by default.

When someone RSVPs or update their RSVP response to an event, event authors/organizers will receive daily email and in-app notification by default.

When someone RSVPs 'yes' to an event, he will now receive a confirmation email.