■
App managers are key to ensuring your organization is able to administer a functional and effective employee experience solution. As such, you should make sure that role has the necessary support and resources to be successful.
Keep updated
Keep your Intranet Management team informed and educated about Simpplr updates as they are made available.
Attend the webinars, register for Simpplr eLearning, or visit the Support Portal to view frequently asked questions and release notes.

Work with your IT department to streamline the upgrade process so you can keep your organization in the latest and greatest that Simpplr has to offer.

Review any new functionality questions or clarifications with your Simpplr Customer Success Manager.

Example: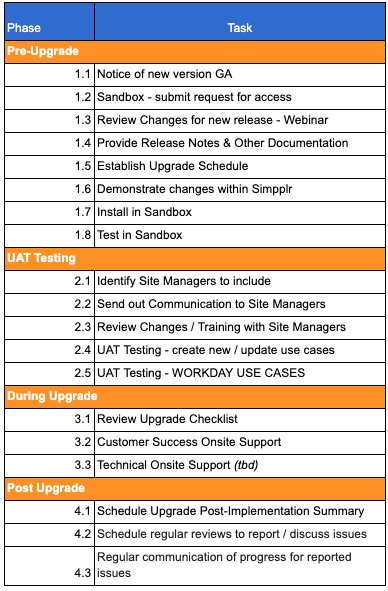 Establish a support structure
It's helpful to ensure that your users have the necessary support and resources to augment their use of the intranet.
Have a support ticketing system for your users' intranet inquiries and issues.

Conduct Site manager trainings for new functionality from any relevant quarterly releases.

Use Simpplr as a point of escalation for issues your organization doesn't know how to solve.
Schedule Simpplr meetings
Make sure you have a periodic touch point with Simpplr to keep your finger on the pulse of the evolving employee experience industry.
Establish regular meetings with your assigned Simpplr customer success manager so you have a venue to voice any issues, inquiries or progress.

Help understand your organization's internet maturity, and what milestones you can set for your internet as it evolves to enhance its value to your organization over time.

Revisit and collaborate on your organizations strategic goals as they change with the needs of your organization as a whole.

Leverage your Customer Success Manager's knowledge of best practices.