Overview
Employee newsletter is a newsletter creation and management platform available as a paid add-on. It is an add-on product to the core Simpplr intranet and will require an additional license to use. Simpplr currently supports the legacy Newsletter feature for existing customers. For info on the legacy Newsletter feature, click here. 
Note:
Your Simpplr instance
must
be on the
Ida release
or later to implement Employee newsletter. You will also need to have your IT team whitelist Simpplr's dedicated IPs depending on your org's security settings. Otherwise there is a risk the Newsletters will be sent to Spam. The IP addresses are 54.240.71.135 and 54.240.71.136.
Table of Contents
App setup
In order to set up the send from address or addresses, App managers need to configure the DNS for each address. As of the Ida release, there is an option in the Manage application > Setup menu for Newsletter where this can be configured. For more info on this, click here.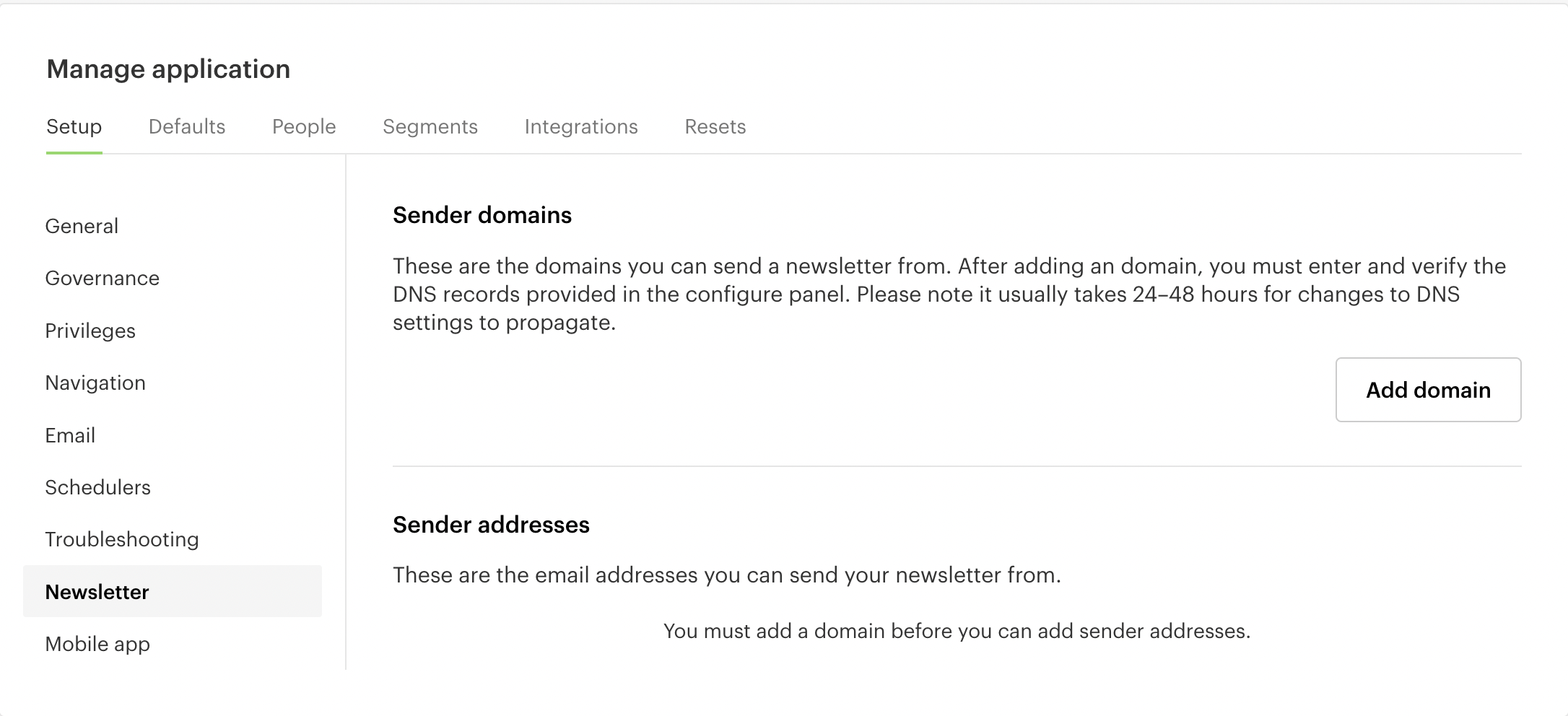 Usage
Once enabled for an organization, the newsletter will be accessed as it is now. Simply go to your user menu dropdown and select Newsletter.
List
Once on the Newsletter landing page, you will notice a new and improved user interface. Updates include better filtering options, an easier to read table, and more intuitive column sorting.
For organizations that have upgraded to Employee newsletter from the core offering, you'll also see an option to View past newsletters in the top left corner. This will take you to a read-only version of the core newsletter UI where you can view analytics for any newsletter sent in the previous system. Newsletters scheduled to be sent out in the core system will be sent out as scheduled, but no changes will be able to be made.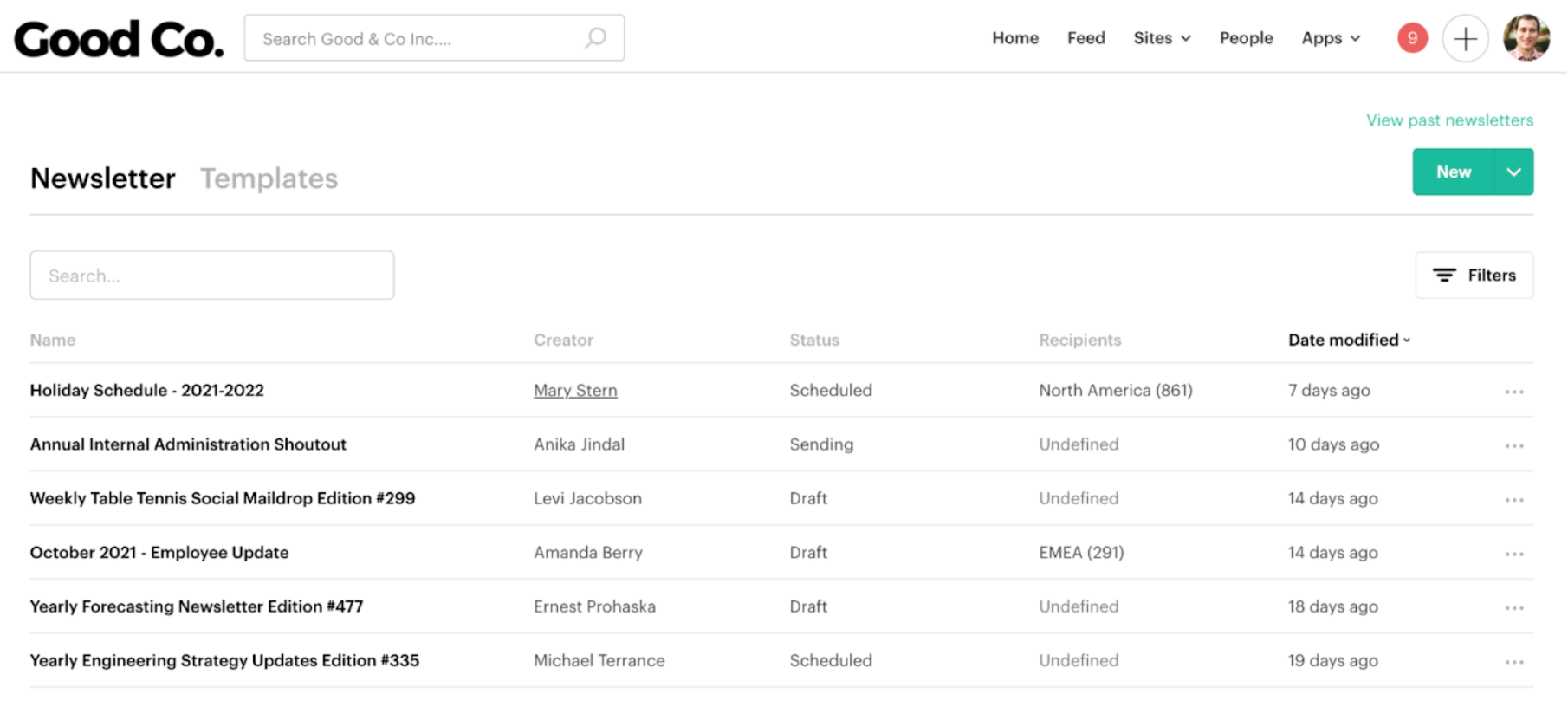 Components and flow
The Employee newsletter is a template-based newsletter builder. To start building a newsletter, you must create a new template or select an existing template from which to start assembling a newsletter. Once the template is selected, you can drag and drop various standard newsletter components into a content editor. Once satisfied with the look and content, you can preview, save as a draft, or move on to schedule and send the newsletter.
Creating templates & themes
There are three options to create a new template.
From the list page, you can:
 click on the Templates & themes tab and then click New

 click the caret next to

New

and select

Template
 click New template to begin creating a template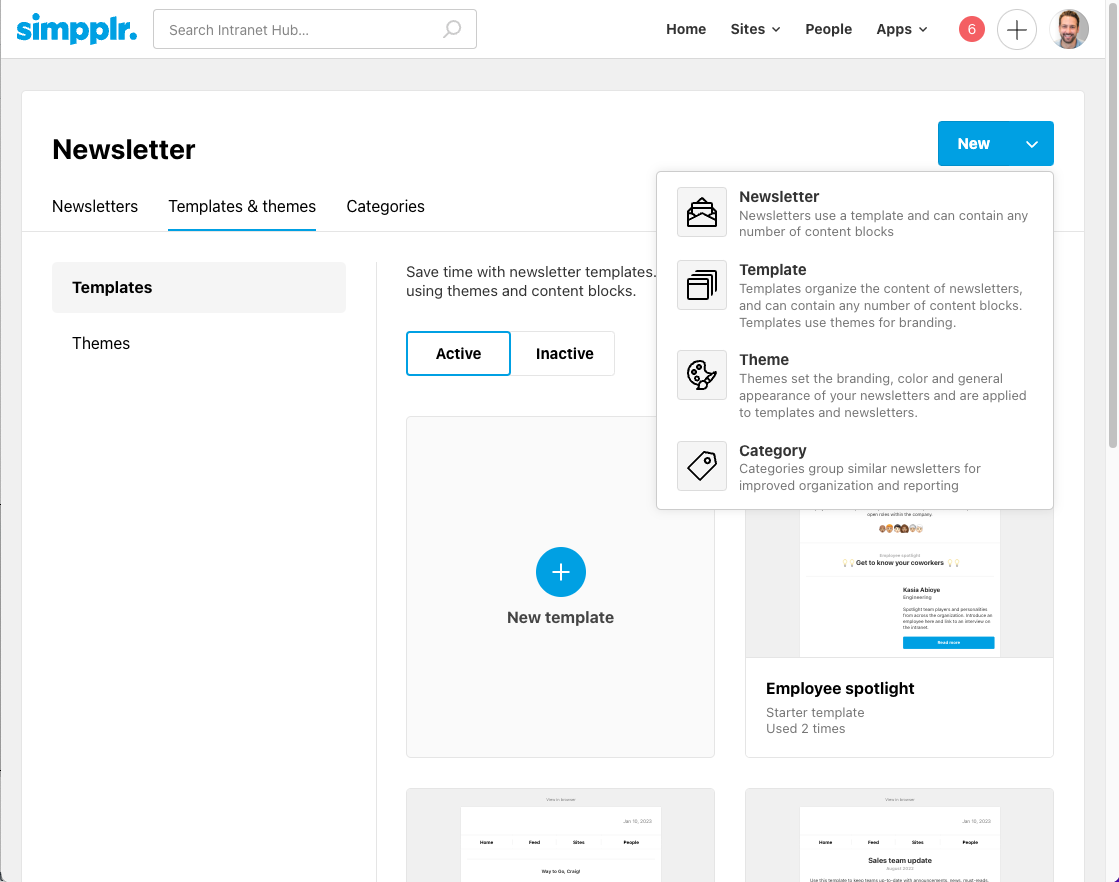 Once you've started, you will be taken to the template editor. From there you can adjust standard settings for:
Name

: Each template must be named. The name of the template will not be visible to employees. To add or edit the name, click the upper left header (for new templates it will default to

New template) and add a name.

Creating and Choosing a Theme
Themes allow you to customize the branding for your newsletter, including the header and what social media links to include at the bottom of the newsletter.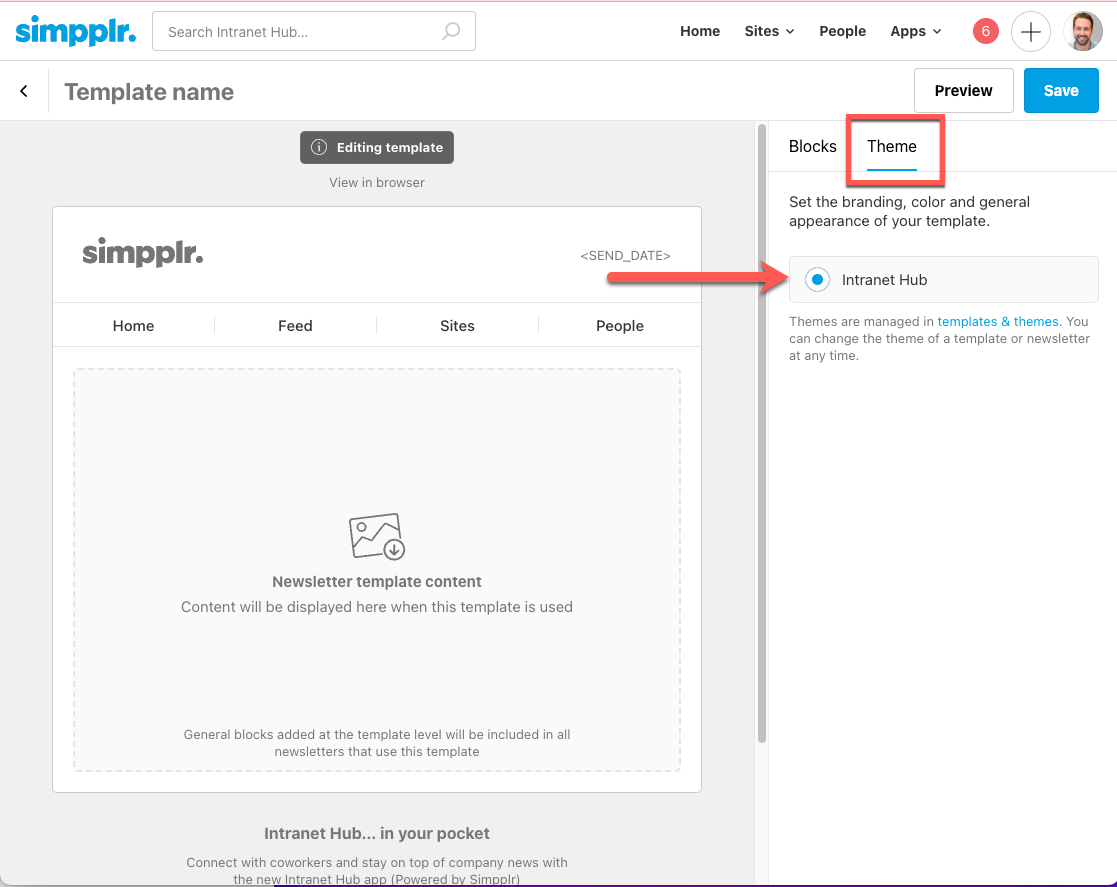 You'll be given the option to select your org's intranet branding or a custom color. You can navigate to the link "templates & themes" to create a new theme specific to this newsletter template. This will take you to the Templates & themes tab.
To get started in creating a new theme:
Select Themes, then New theme.
You'll be taken to the theme editor, where you'll find two tabs; Navigation and Settings. In the Navigation tab, you'll see options to customize the Header, Social media and Mobile promotion.

Header: Layout will allow you to place your company logo anywhere on the header, or upload a custom image if you wish. We recommend using an 800 x 100px (minimum) image size. Note there is no height maximum, and the banner will scale to meet your image's size requirements, but we recommend keeping your image height to around 100px to have a better looking banner.
Header color: This changes the header color. By default, this will match your app branding, but you can change it to Primary color, Light, Dark, or a Custom color.
Logo: choose to use the application/org logo, or upload a custom logo.
Navigation links: Choose to show the links at the top of the header to help users easily navigate the newsletter. These can be toggled on or off.
Social media: Choose whether or not to include your org's social media links in the footer of the template. If you choose to include these, you'll be asked to enter the full URL for each platform.
Mobile promotion: Here you can enable or disable the Simpplr mobile app promotion links from the Apple App Store and google Play Store.

In the Settings tab:

Primary color: This determines button colors throughout the newsletter
Background: Choose what color background to make your template.
Page width

: This will adjust the width of the newsletter to its background.

Block spacing: This allows you to change the default spacing between blocks for the template. Choose a smaller value to automatically have blocks appear closer together, a larger value to have them appear further apart.

When you've finished customizing your theme. Click Save at the top of the editor. The theme will be saved to your running list. Head back to the Template editor and assign your newly created theme to it.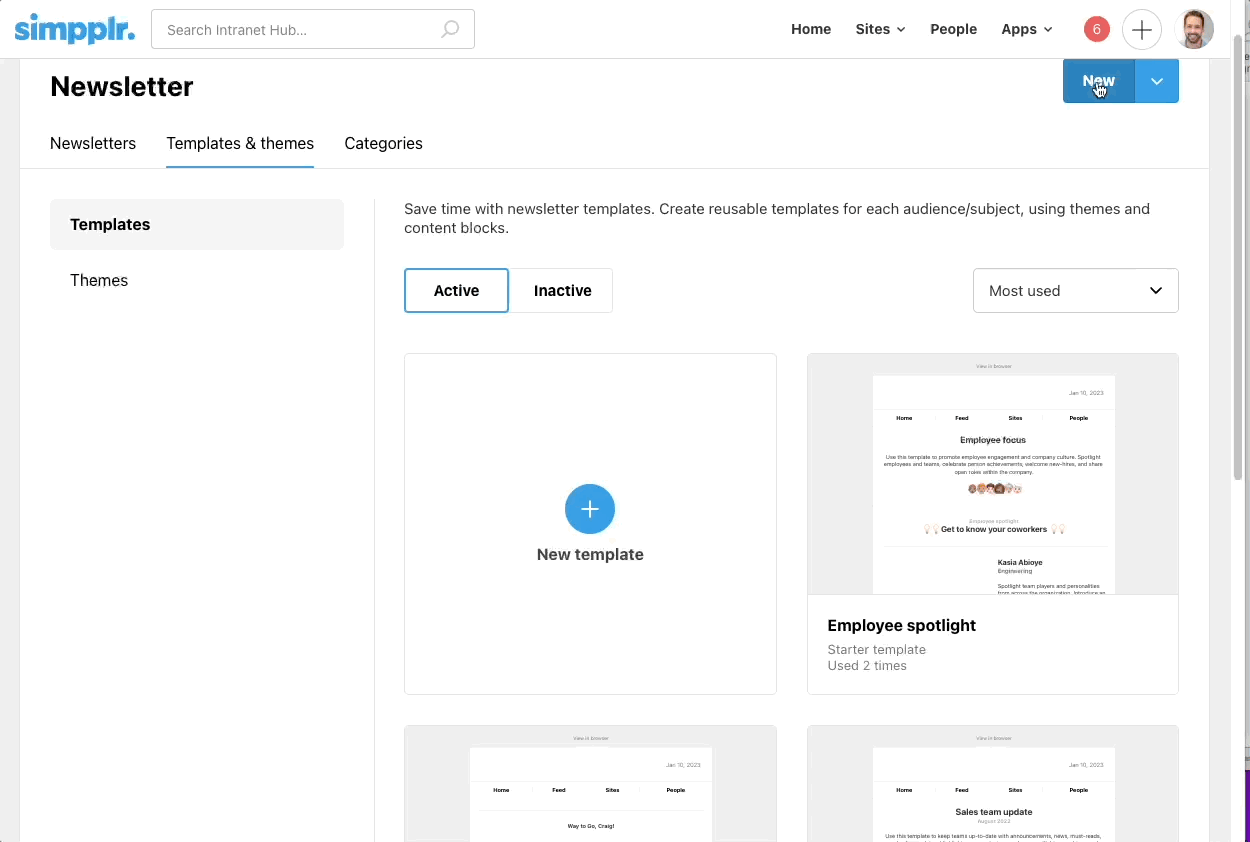 When you've finished customizing your template, click Save. Now when you create your newsletter, you can assign it the template you just cerated.
Creating a newsletter
To create a newsletter, on the newsletter list page click new when on the Newsletters tab, or use the caret on the New button to select New newsletter.
Once you have selected to create a new newsletter, they will need to select a template from which to start. Any of your pre-made templates will show as options, or you can create a new one.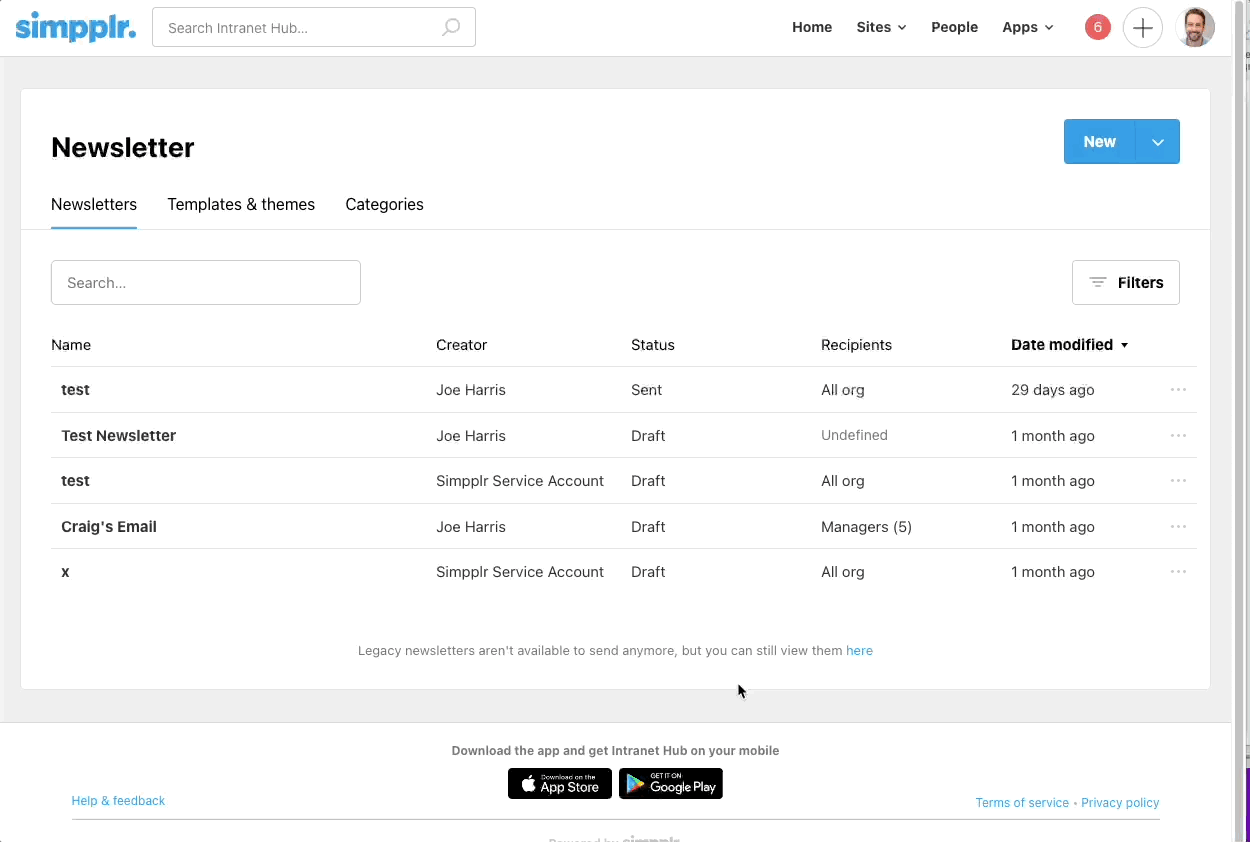 You can use the drag-and-drop editor to create a newsletter. You can choose from any number and configuration of general blocks and smart blocks. You can move the blocks around, preview, and change/add columns before proceeding to schedule it to be sent. Or you can save it as a draft for collaborators to look over.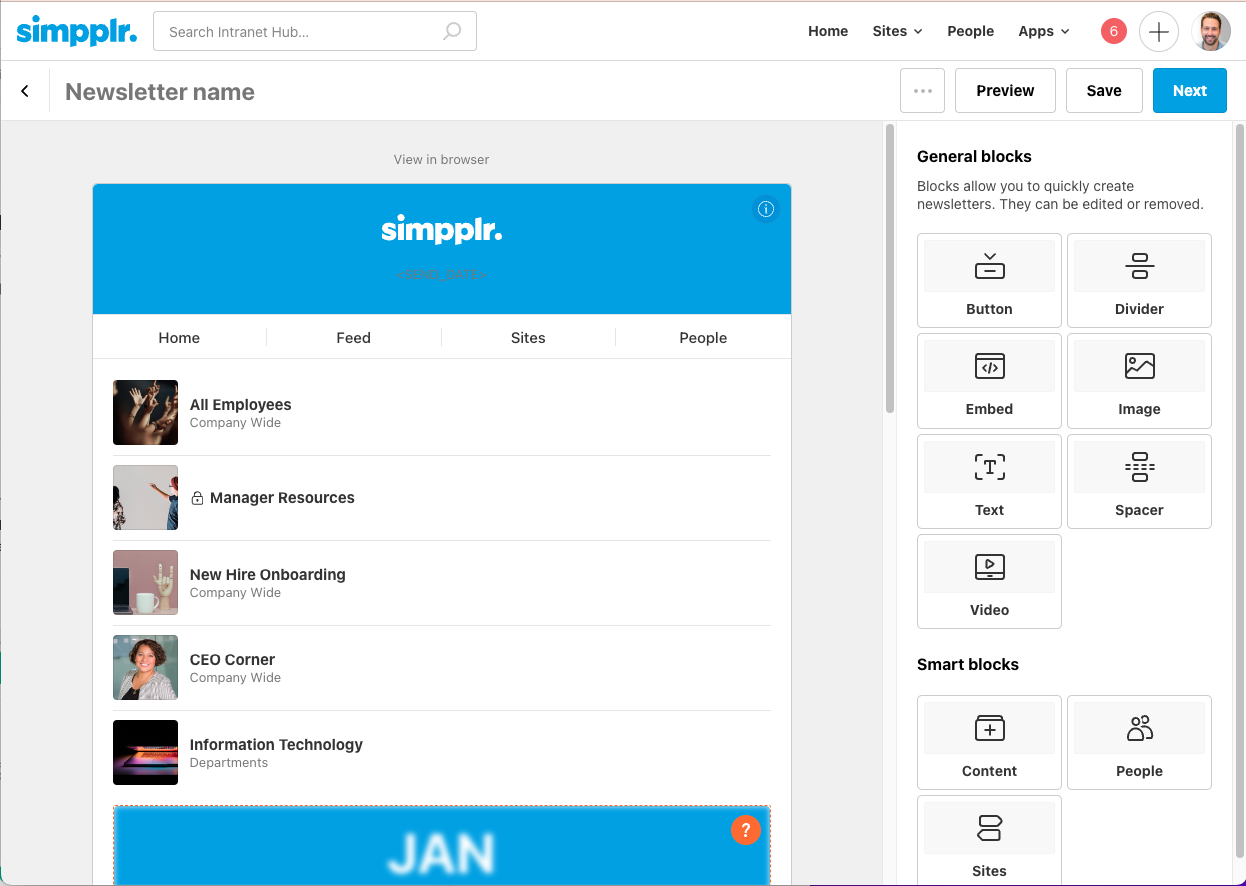 General blocks
General blocks are the basic building blocks of any newsletter. They encompass any user-entered content such as free text, images, embedded outside content, etc. Once dragged onto the editor, it will show the given options for the block on the control panel located on the right side of the screen. To later adjust the options for the given block, simply click on it and the control panel will now show again.
Button: Buttons are links that show up as buttons in a newsletter. They have two options for style and appearance. The button block also allows you to select alignment as well as standard controls in-editor such as remove, split into columns, and remove/add margin. Buttons require the user to add a fully qualified URL for the link.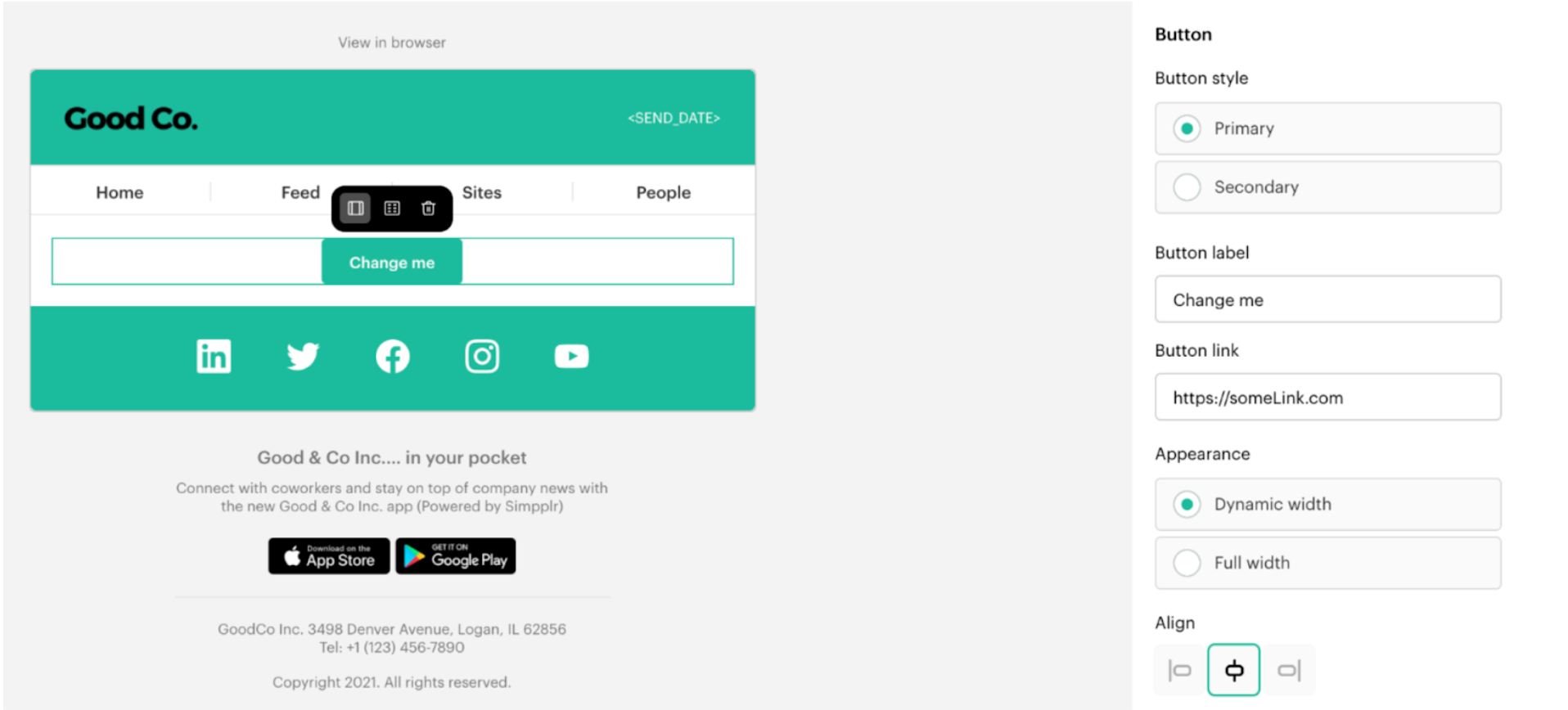 Divider: The divider block can be dragged anywhere on the newsletter to create a light grey divider line to break up content. It has standard controls in-editor such as remove, split into columns, and remove/add margin.
Embed: The embed block allows you to add public content from outside their intranet and show a rich preview of the content in their newsletter. It can be used for any URL. If the URL points to a public blog or article the basics of said page will be displayed or if a link to a video on a site like YouTube is added it will show the video thumbnail with a play icon. Once clicked it will open a new browser tab with the content. If the embed is not for a video, you can choose the format to be a large showcase item or as a standard item. All embeds have standard controls in-editor such as remove, split into columns, and remove/add margin.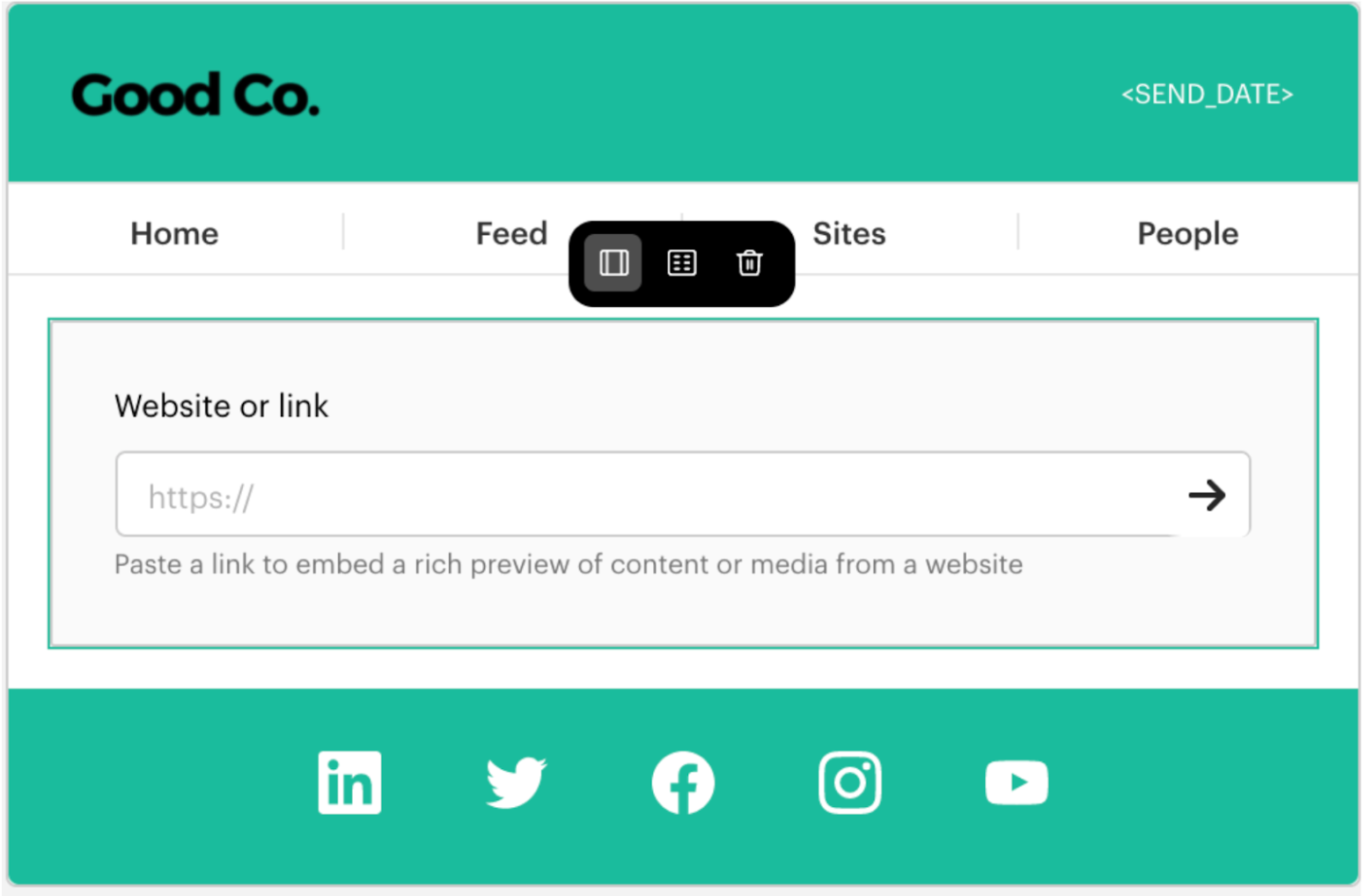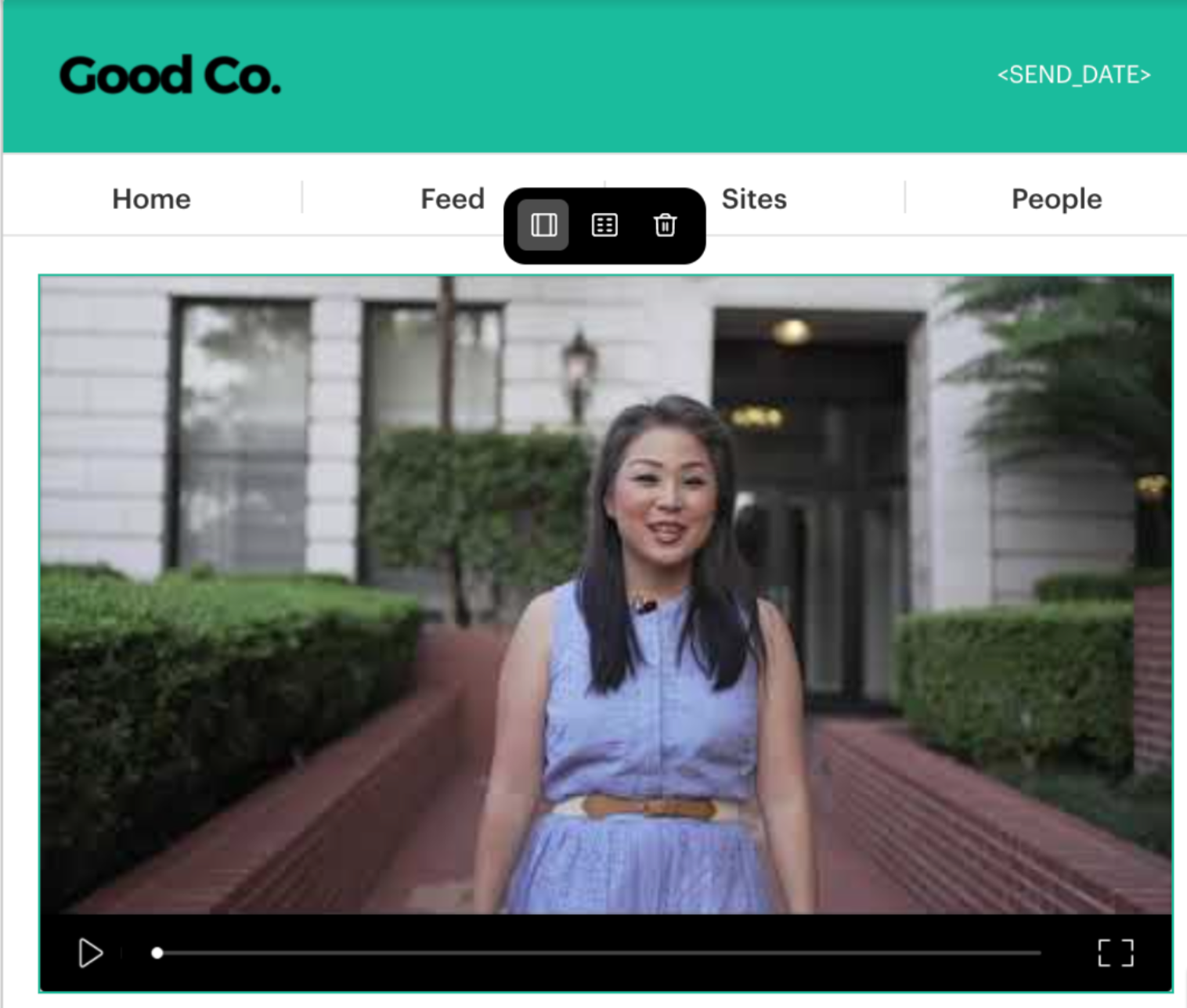 Image

: The image block allows you to add an image anywhere in your newsletter. You can either upload a new image from their computer or take advantage of integration to search Unsplash to find the perfect royalty-free image right from your newsletter editor. Once chosen or uploaded, you can change the size of the image while maintaining the aspect ratio by using your mouse to adjust the size by clicking on one of the corners and dragging it to the desired size. Optionally the image can also be made a link by clicking the checkbox and adding a URL. The image has standard settings to adjust alignment as well as in-editor such as remove, split into columns, and remove/add margin. 

Image Sizing: Images will be displayed at your specified dimensions, except on mobile where we ensure that image widths are never wider than the device's screen.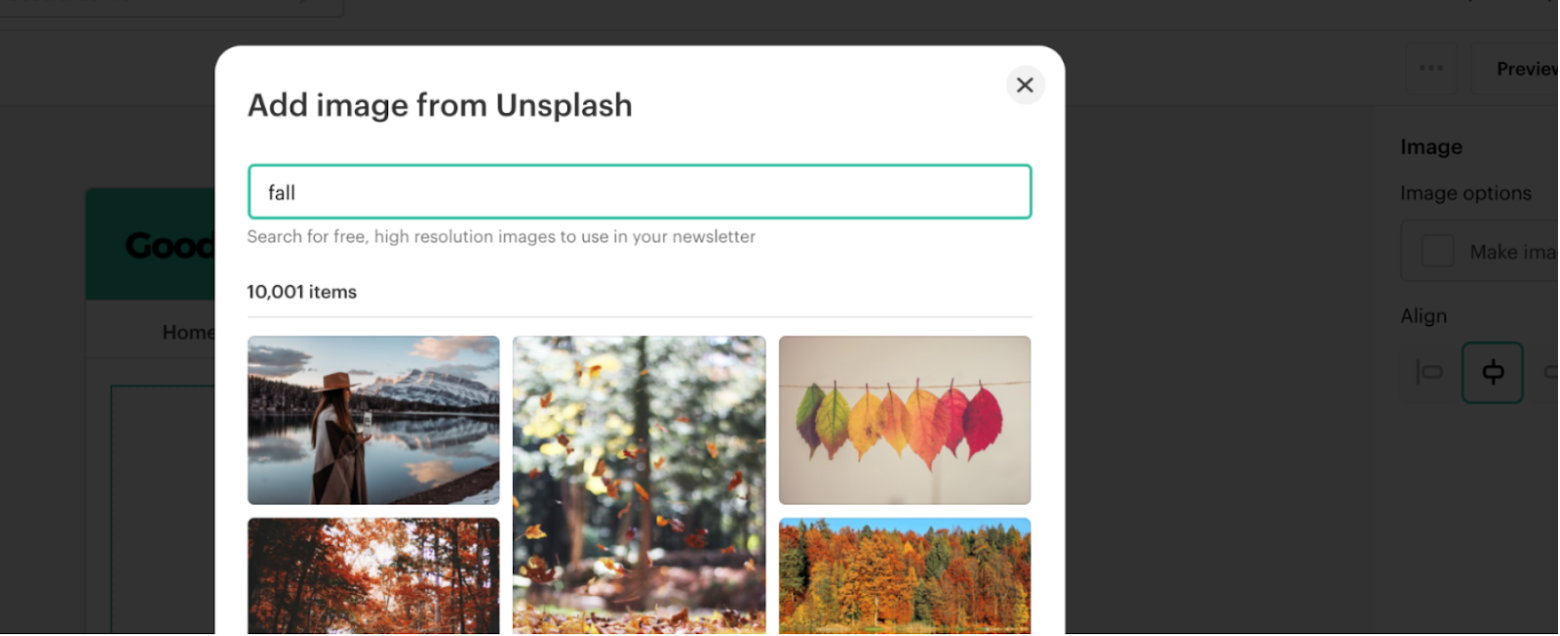 Text: The text box allows newsletter creators the freedom to add text where they need to. It can be as simple as adding a heading, an introduction paragraph, or as much as is needed to convey the message they need. Once text is added, a user can highlight and stylize the text as needed. Style options include font size (normal, title, heading 1/2/3/4, subtitle), bold, italic, underline, strikethrough, font color, alignment, bulleted lists, numbered lists, and hyperlinks. Text blocks also have standard controls in-editor such as remove, split into columns, and remove/add margin.
Spacer: This adds space between blocks. You can set this to Small, Medium or Large spaces.
Video: This block is available for those who have purchased the Simpplr Native Video add-on. Here you can add videos directly to your newsletter. 
Smart blocks
Smart blocks dynamically add intranet content to a newsletter at send time for each recipient. This allows newsletter creators to add content and make sure it is fresh and relevant when the newsletter is eventually sent.
Content

: The content block is the most dynamic block in the newsletter. It allows you to either manually choose content from their intranet to send in the newsletter, or use the popular or latest options in the control panel to have content added only when sent. If choosing the dynamic content, you can further specify content types to include, the source of the content, the number of items to display, and the appearance of each item ranging from a large showcase item to a list item. Dynamic content will be based on and tailored to the user. The content block also has standard controls in-editor such as remove, split into columns, and remove/add margin.



Custom content summary: When adding a smart content block to a newsletter you'll be able to show the excerpt of the text for each of the page or album using the Show excerpt checkbox. If you do not fill out the Custom summary field, it will display the first few lines from the content body.

Based on the layout of the content block, it will limit the text as below:

showcase view:  max 150 characters 
list view: max 100 characters 
layout view: max 70 characters (when you choose to split into two columns)

People

: The people block allows you to include intranet user profiles in a newsletter. You can select as many profiles as they like with the built-in search and then decide how to display the profiles from large cards, to a list, to avatars only. In addition, standard alignment options are available as well as standard controls in-editor such as remove, split into columns, and remove/add margin.

Recognition: The recognition block allows you to attach recognition activity from across the company, or from certain locations/departments. You can select a type of activity from Simpplr's Recognition feature. For more information on Recognition, check out this article. 

Sites: The sites block allows you to quickly link to your intranet sites. You can choose to add featured sites or choose specific sites to include. You have control over the number of sites displayed as well as, their appearance (cards or list), alignment options, and standard controls in-editor such as remove, split into columns, and remove/add margin.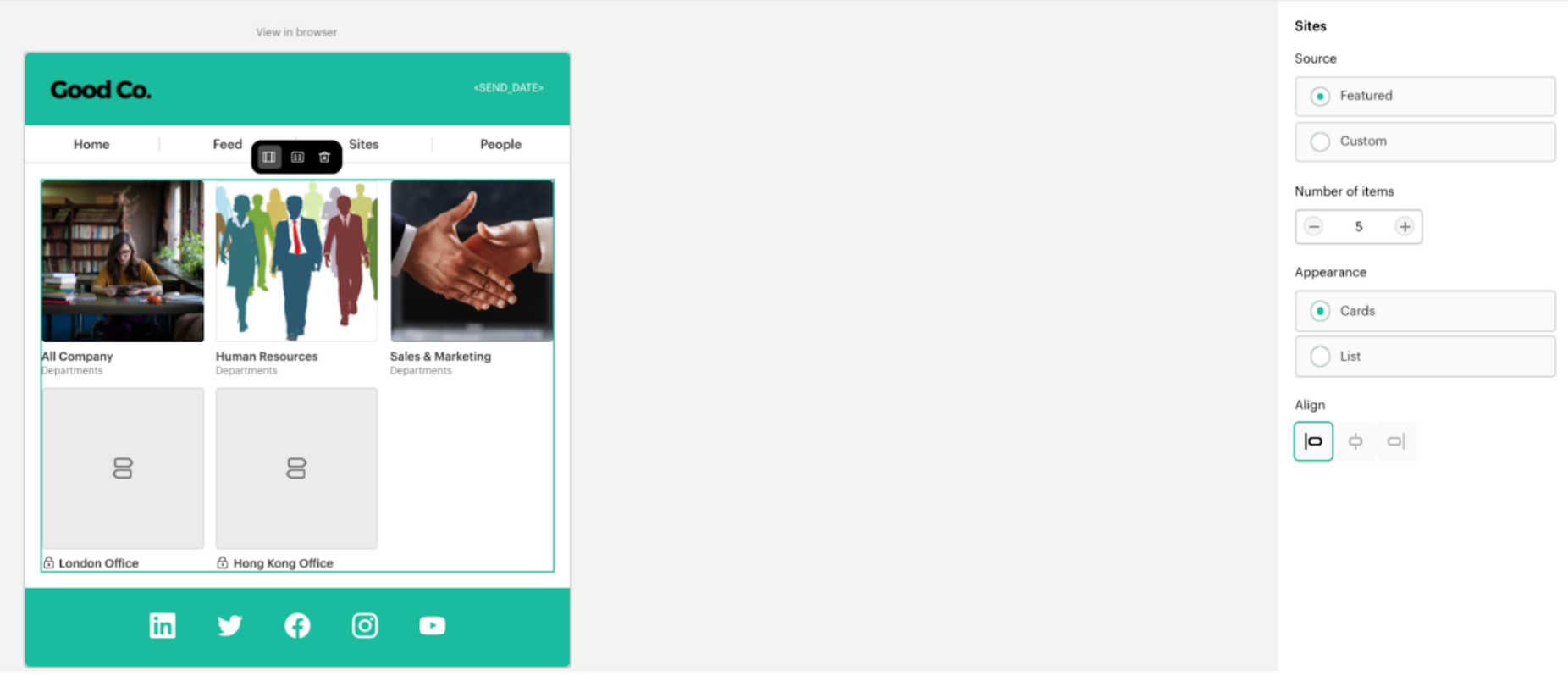 Preview
While the Employee newsletter has a fully functioning WYSIWYG editor, it can be helpful to preview how the newsletter might look in someone's mailbox. In addition to a standard preview mode, the Employee newsletter can now preview what the newsletter will look like on a mobile device.

Sending/Scheduling a newsletter
Once happy with a newsletter draft, click Next to proceed to the scheduling and sending of the newsletter.
Details
Confirm the newsletter name

Choose a subject line

Select an email address to send from
Recipients
Choose either everyone in the organization, a prebuilt Simpplr audience, or members of a specified site to receive the newsletter. As of the 23.09 release, you can choose multiple audiences or sites to send to.
Choose a From address and a Reply to address. To set up your sender address, head to Manage > Application > Email. The custom Reply to address is optional. If nothing is chosen, all replies to the email will be sent to the From address. Otherwise, entering a custom email address here will ensure all replies to the newsletter get sent to that email.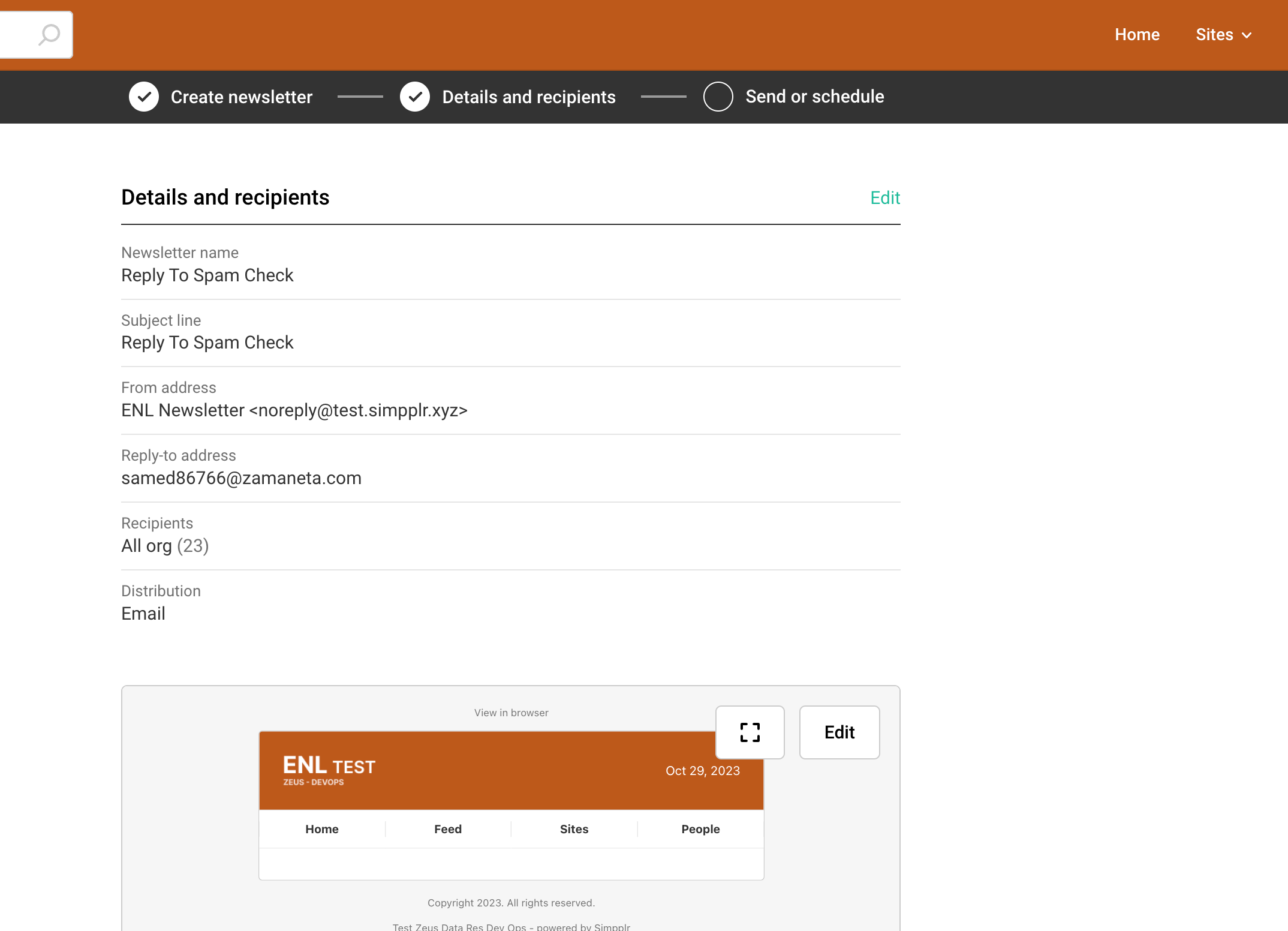 Note:
Newsletters will be sent to the audience in batches of 100 at a time. A batch will be sent out every 15-20 minutes.
Distribution
All newsletters will be sent out by email like before, but now you can choose to also send an SMS (text) message with a link to read the newsletter in a browser. The SMS will be sent to users in the recipient list that have a valid mobile phone number listed in their profile. A link will be sent out so that the employee can view the newsletter, if logged into Simpplr.
Note:
As of now, the newsletter is sent to everyone based on the sender's timezone. There is a feature enhancement planned that will distribute the newsletter based on the recipients' time zones.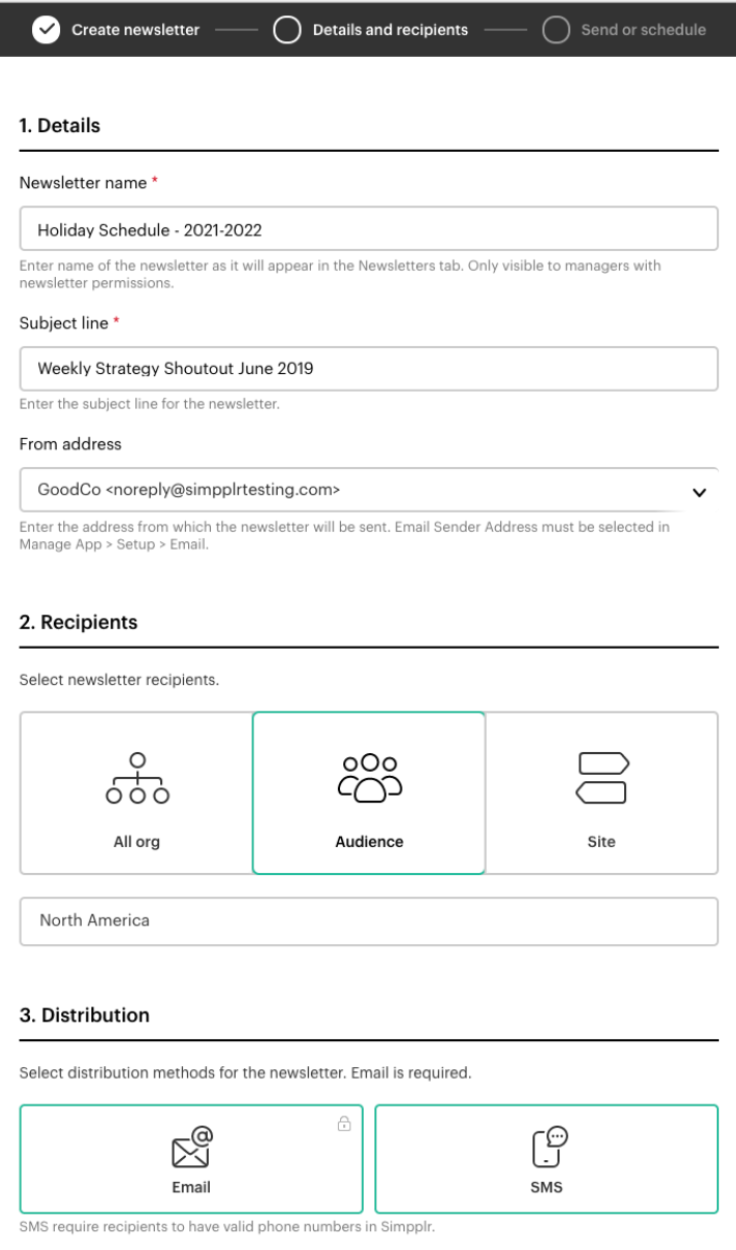 If a newsletter fails to send for any reason, the sender must manually resend the newsletter. Simpplr will not automatically resend newsletters.
Newsletters cannot be taken back and edited once distributed. 
What does 'On Hold' mean? 
Sometimes there's an unknown error happening on the backend when you send out your newsletter. The sender will receive a message stating that the newsletter is 'On Hold'. It means there is an issue causing it to not be sent. Simpplr recommends waiting approximately 30 minutes, then trying to send the newsletter again. If you receive this same error, or need more urgent assistance, contact our Support team. 
Analytics
Employee newsletter analytics have been updated for individual sent newsletters. All aggregate analytics for newsletters under the content tab have been retained and individual sent newsletter analytics have been completely re-imagined.
Recipients, opens, and clicks are still tracked but now there is reporting around what devices opened the newsletter, how the clicks break down by content type, as well as what the exact click count per link in the newsletter is. In addition to the analytics overview, there is also a heatmap view that allows you to view the newsletter with the click data overlaid onto the screen.
Users are also able to download a CSV file containing metrics on opens and bounces. Bounces occur when ussers opened the newsletter, but did not have any interaction with it before closing.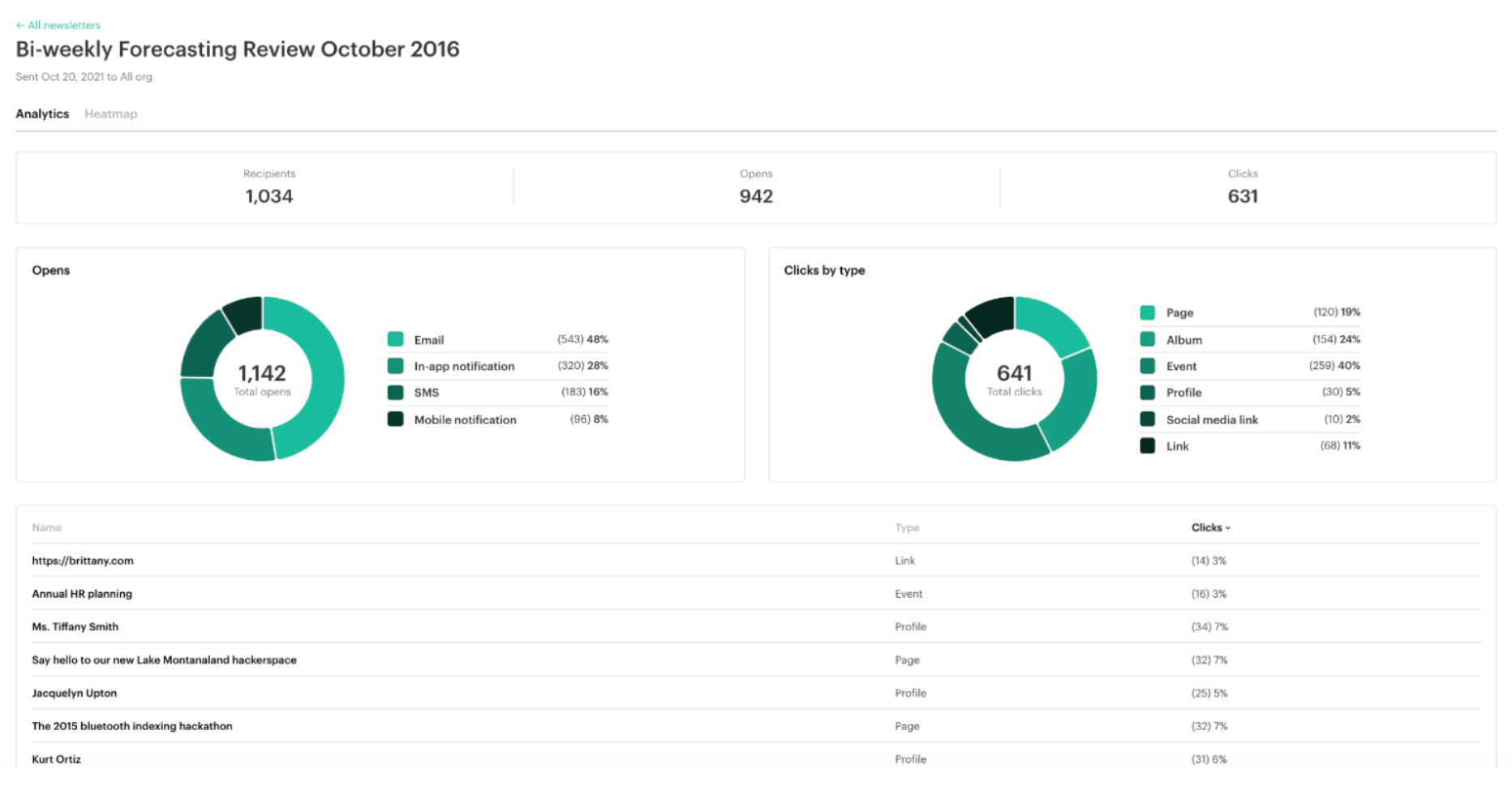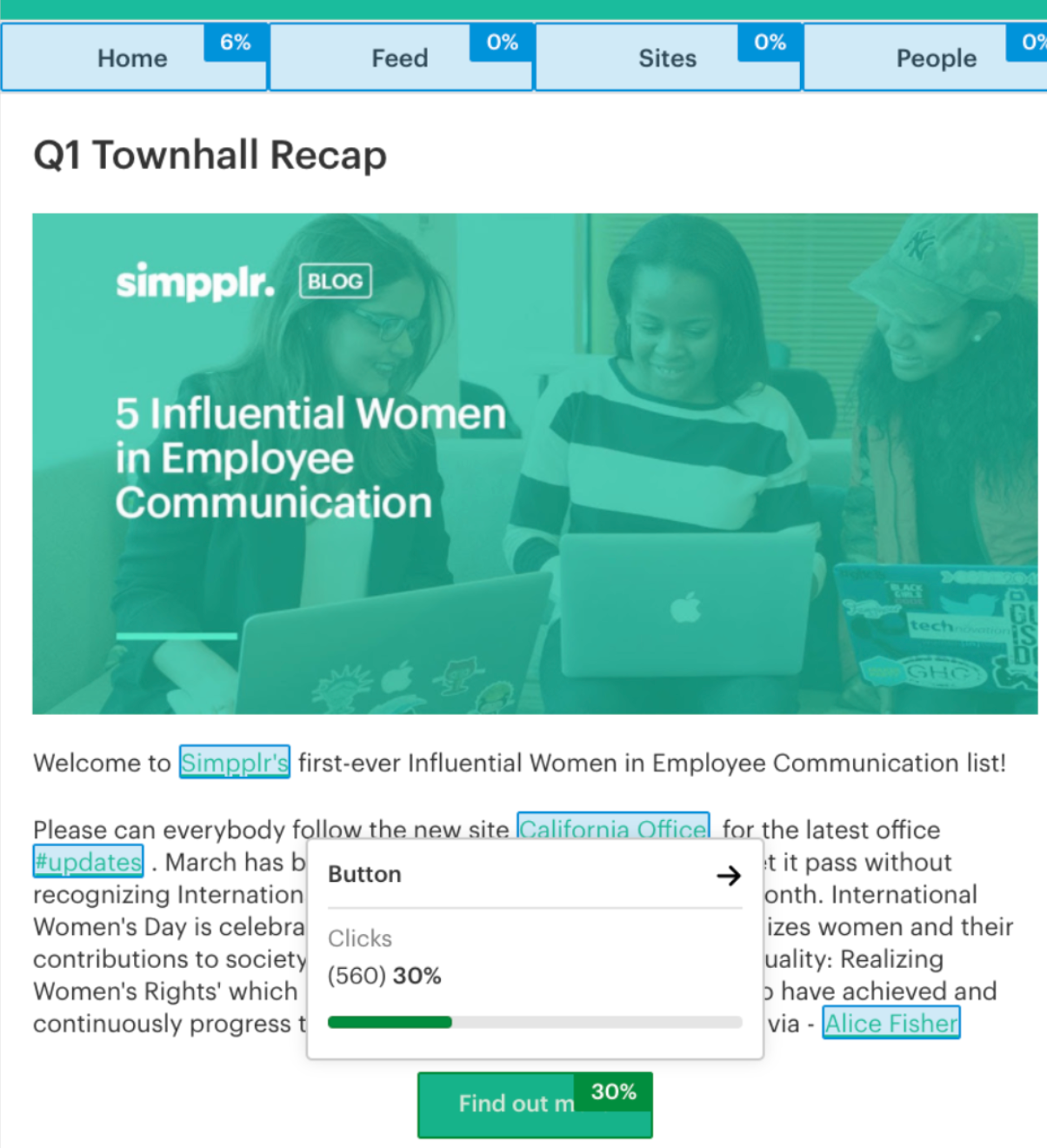 Additional points
Segments are currently not supported

Anyone with permissions to access the legacy Newsletter access before will have access to Employee newsletter
Categories
Categories can be added to newsletters. When creating a newsletter, you can select a category, or add a new category, under Details.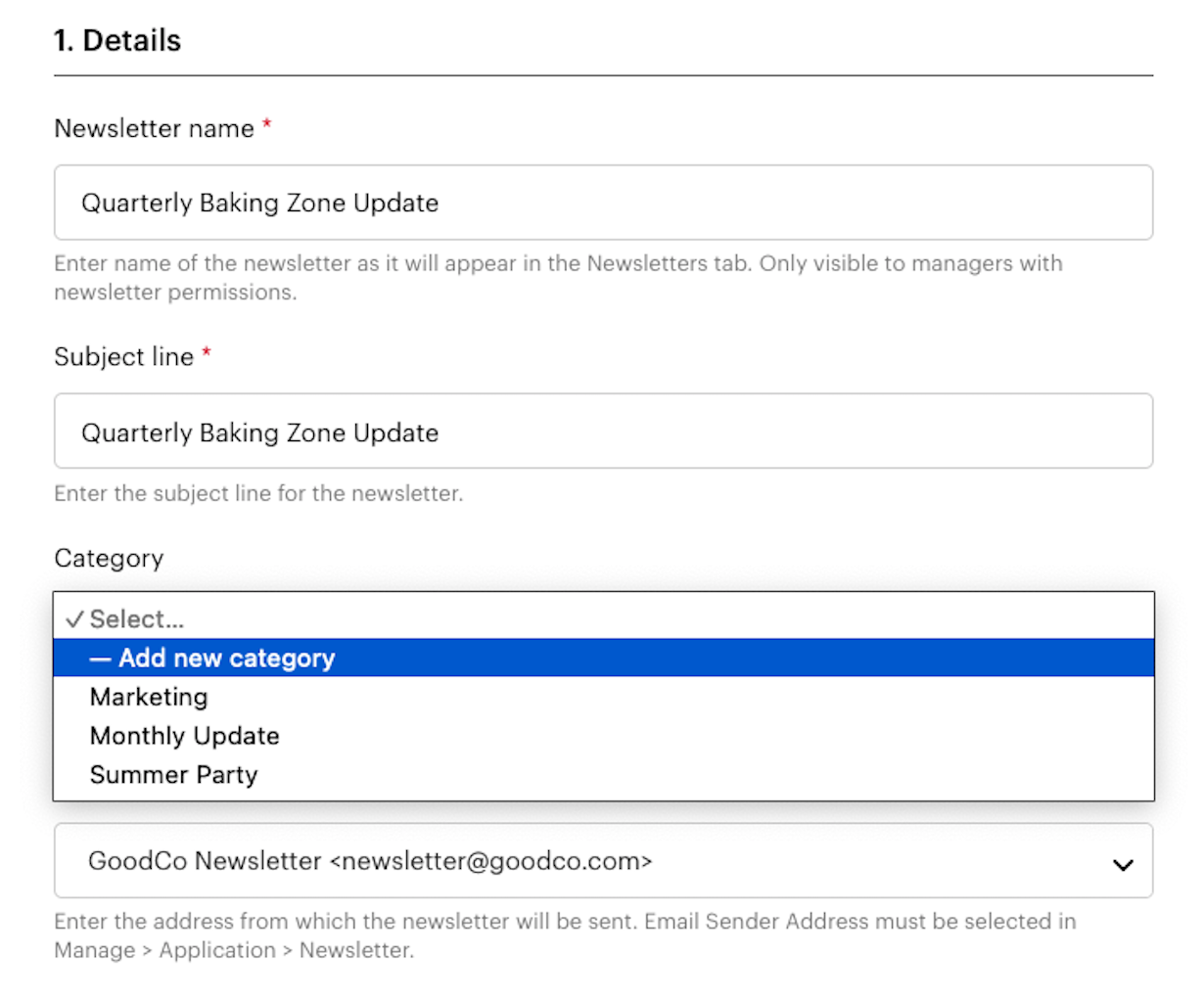 The Categories tab lists all newsletter categories.
Click a category to view its analytics.
Recipient fields
Recipient fields allow you to tailor text fields to the recipient using Simpplr data. By adding the Name recipient field, for example, users who receive the newsletter will see their Simpplr name populating the field. You can choose to populate the user's first name, last name, or both.
To add a recipient field to newsletter text, click Recipient fields in the toolbar. Or, you can input < to open the list of available recipient fields.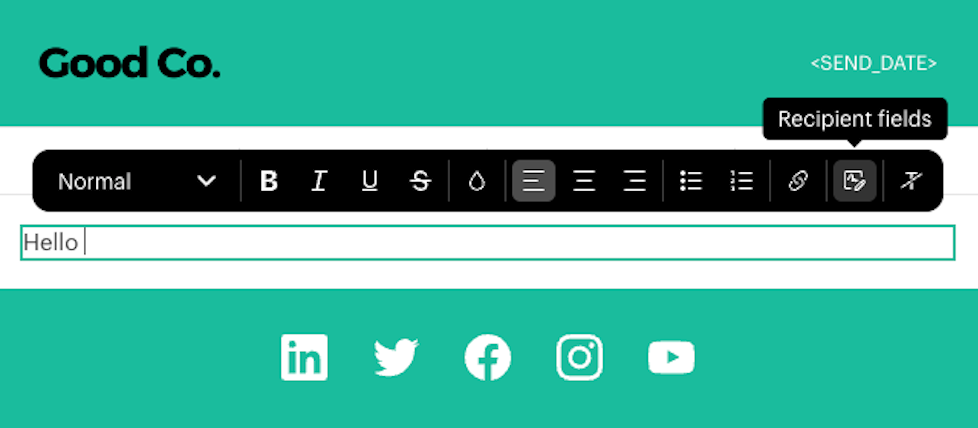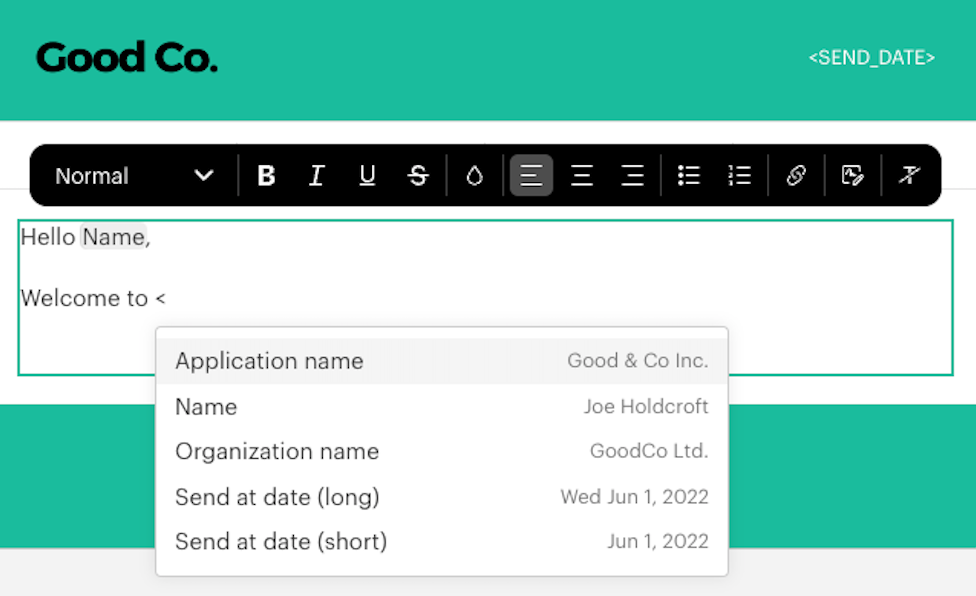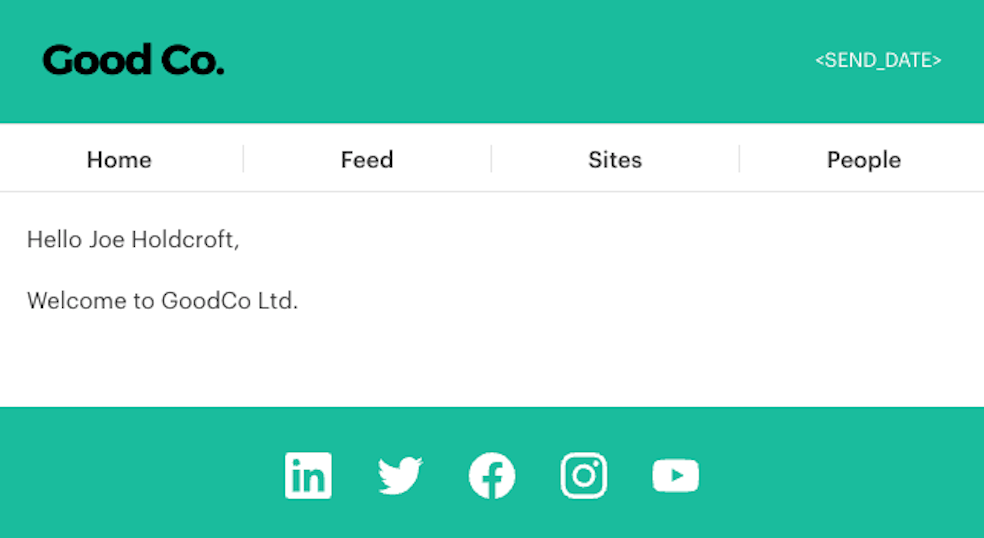 Newsletter archive
To access an archive of all newsletters that have been sent to you, go to User Menu > Newsletter archive.
Your newsletter archive is searchable, and searches can be filtered when looking for specific newsletters.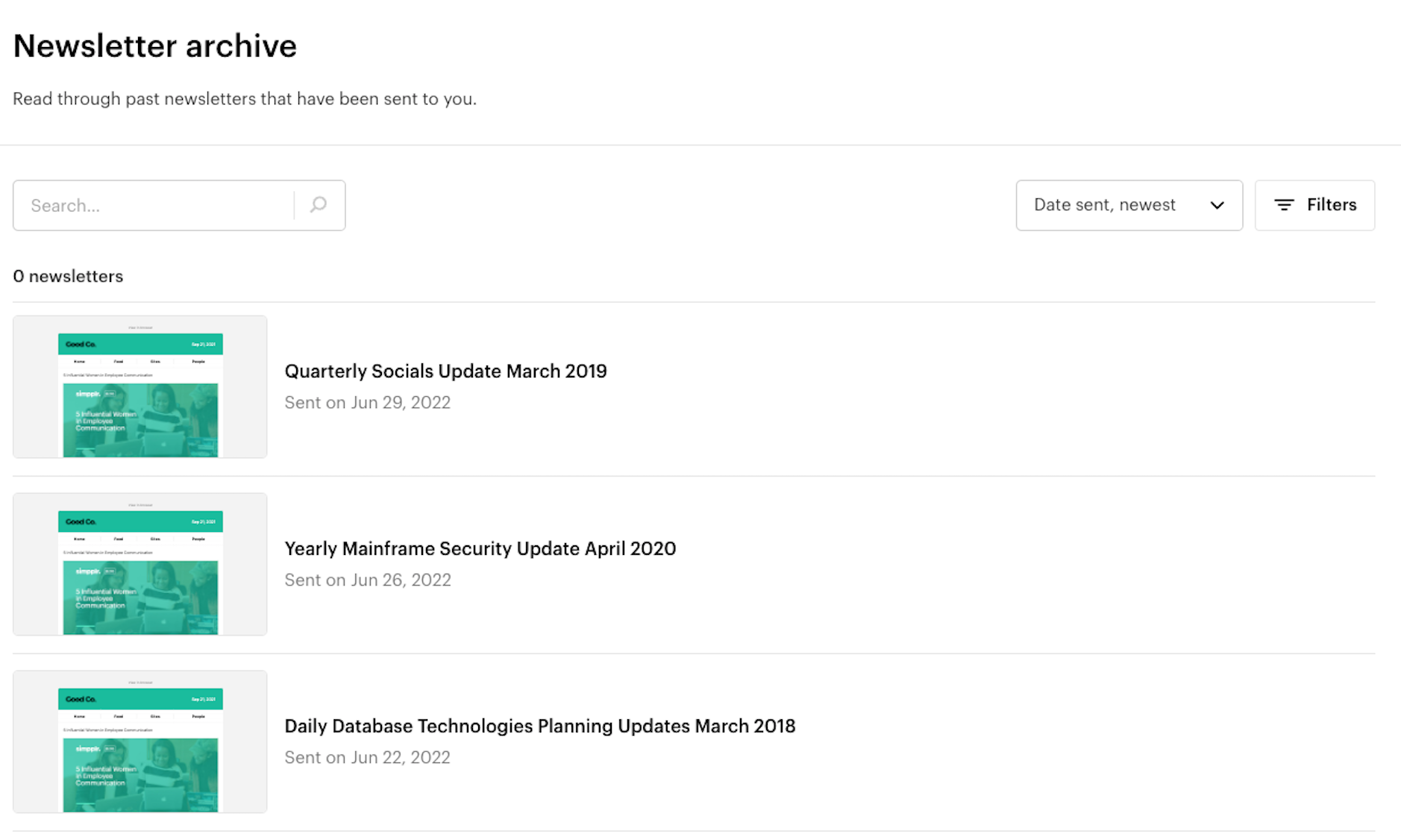 Newsletter end user experience
For your users, the newsletter will be sent via email by default. They have the option to view it in their email, or open it in a browser. By choosing View in browser at the top of the email, the user will be taken to the intranet to view the newsletter. 
If you are the sender of the newsletter, when viewing it in a browser, you'll be given the extra option to cycle through past sent newsletters.
Email view:

Browser view: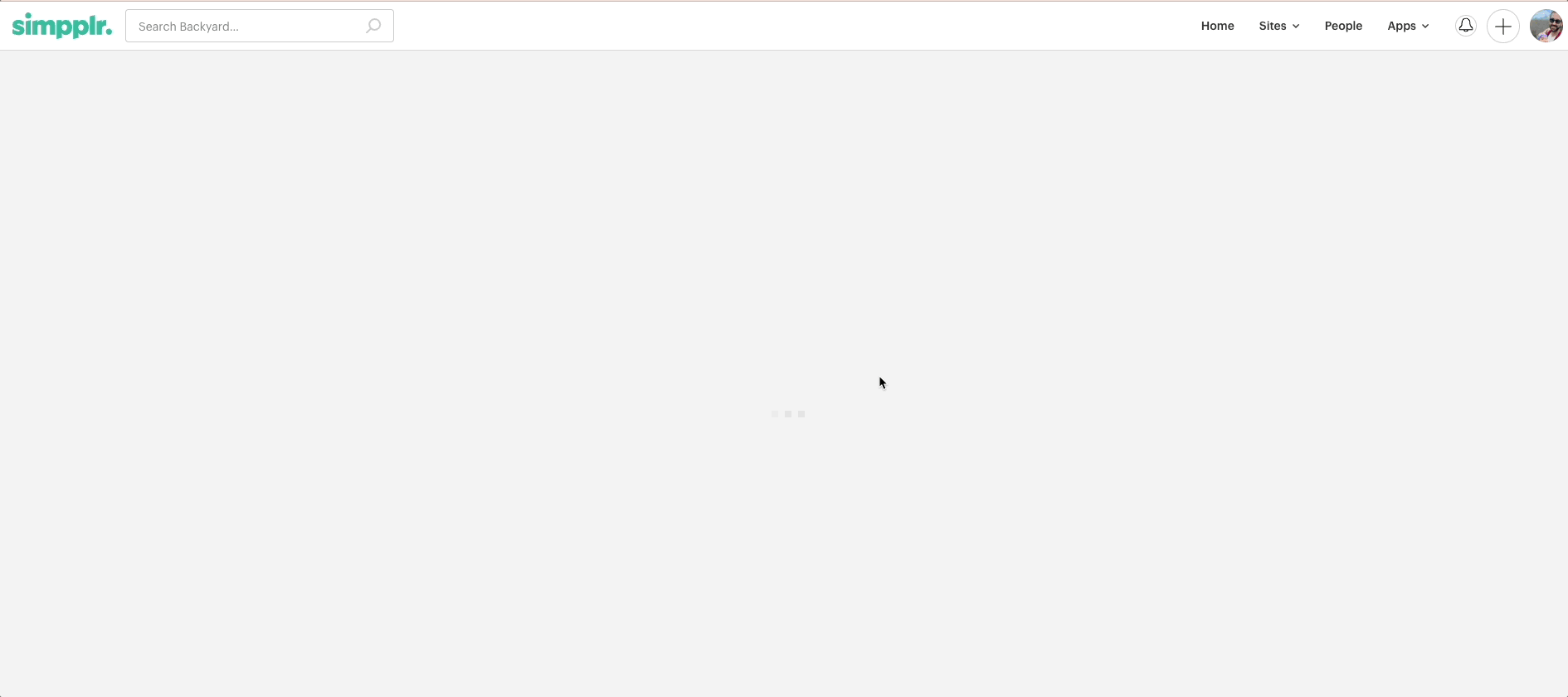 Multi-channel distribution
Newsletters can be sent across several distribution channels. You can also select the distribution channel when configuring a newsletter, then share it to a channel or send it directly to a user. You can select from the following distribution channels:
SMS
Email
Microsoft Teams 
Note, newsletters will always be distributed via email, regardless of other options chosen. 
For example, let's use Microsoft Teams. Once you've sent a newsletter, you can share it to a Teams channel with an optional custom message from the newsletter listing page. Recipients can click on the link to the newsletter once it has been posted in Teams.
First ensure the Teams integration is connected to your profile by:
Clicking on Profile and settings > Edit profile and settings > External apps and making sure Microsoft Teams is connected.
If Microsoft Teams is enabled to your org and connected at the user level, there are two ways you can share a newsletter to Teams:
While creating a newsletter, under distribution, click Share to Microsoft Teams. Select the applicable team and channel.
If a newsletter has already been sent, you can share it with Microsoft Teams by going to Manage > Newsletters and clicking the ellipsis > Edit on your selected Newsletter. Click Next, then select Share to Microsoft Teams. A modal will open, prompting you to select the Team and Channel and add an optional message before sharing. (This can only be done with Microsoft Teams, not SMS or email).
Analytics
You can filter by distribution channel in Newsletter analytics, then further refine by department and location.

Recognition block
The Recognition block lets you filter what kind of Recognition content is pulled into the Newsletter. Latest will pull in the most recent recognition content. Select recognition lets you specify which award types, locations, and departments to pull in. Then you can filter by source and recognition type.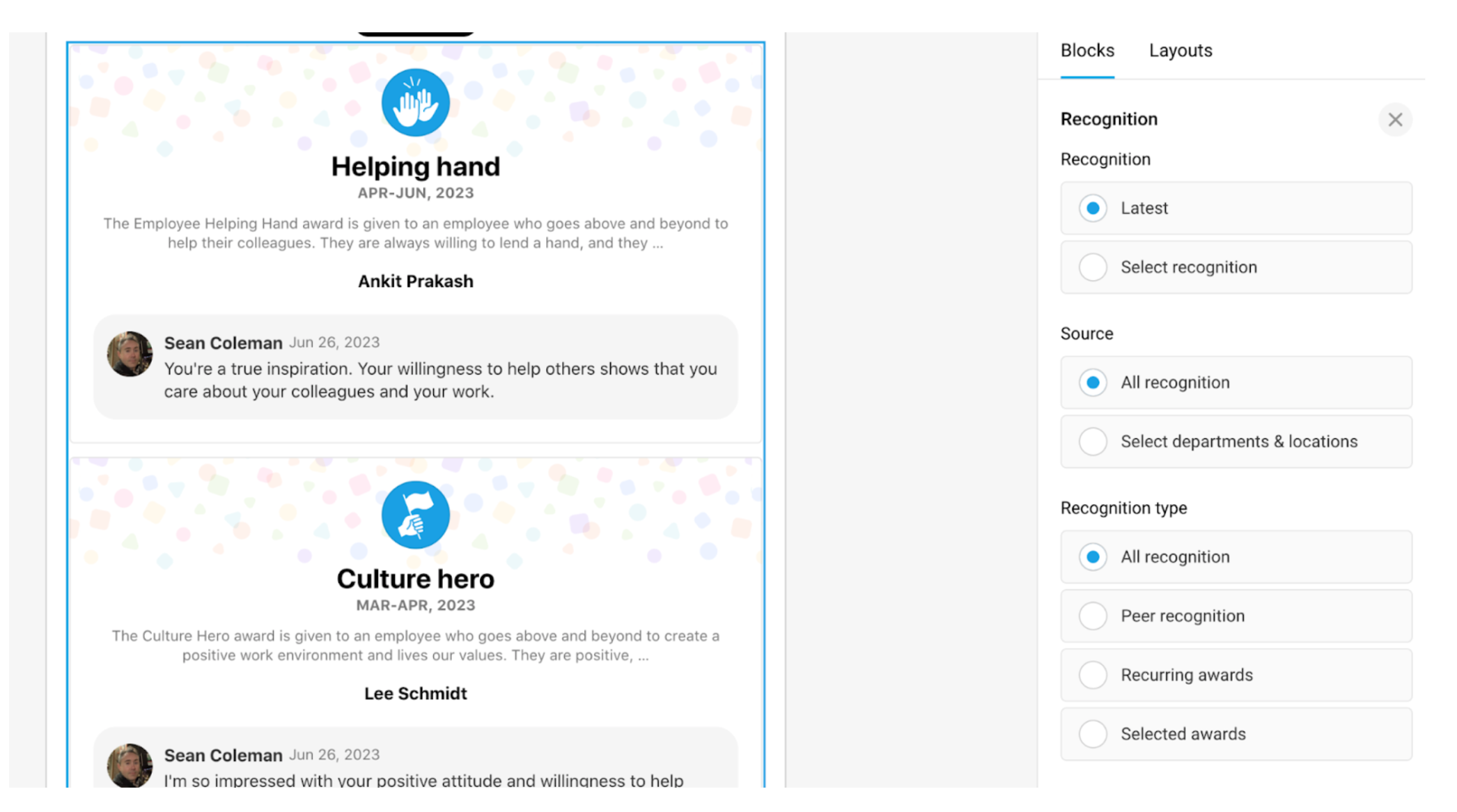 Layout blocks
There are seven pre-designed layout blocks that make it easy to create newsletter layouts. Layout blocks group content items together. With these layout blocks, you can quickly create a good looking newsletter. Just click on the desired layout block to drag and drop it onto your design.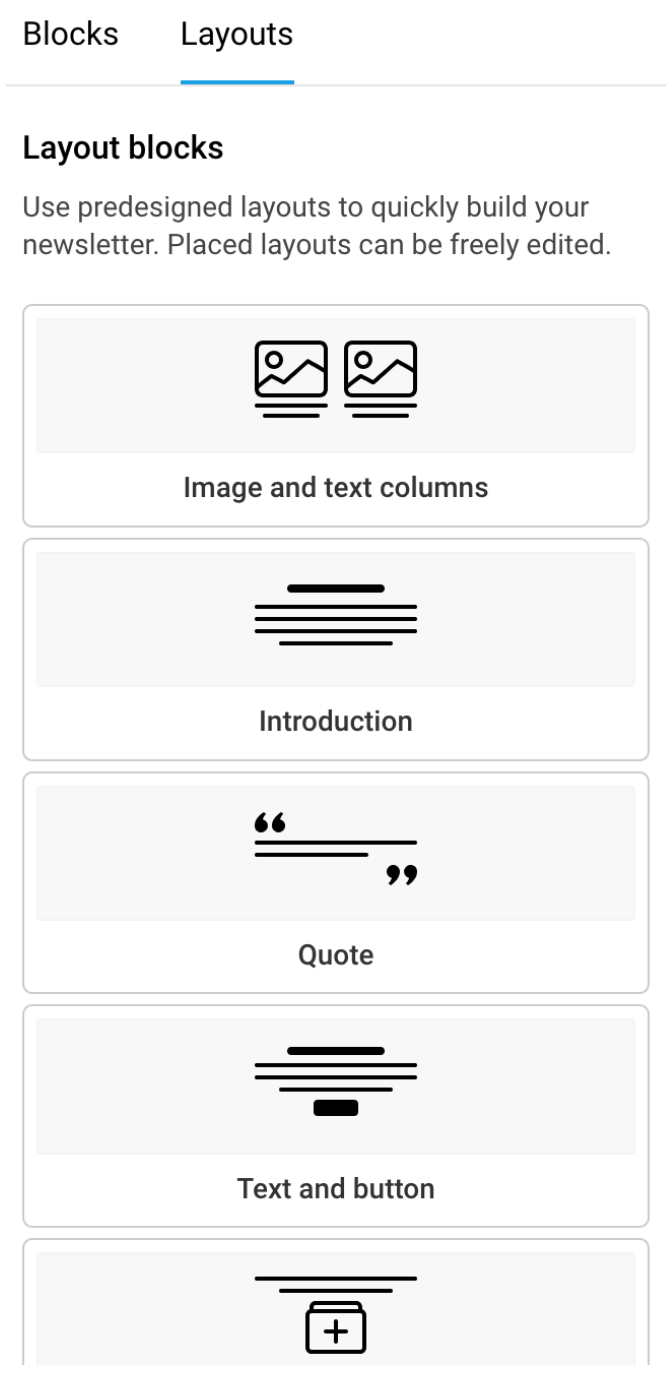 Archive a newsletter 
You can archive an out-of-date newsletter by going to Manage > Newsletters and clicking on the ellipsis next to the newsletter in question. Archived newsletters still contribute to newsletter analytics.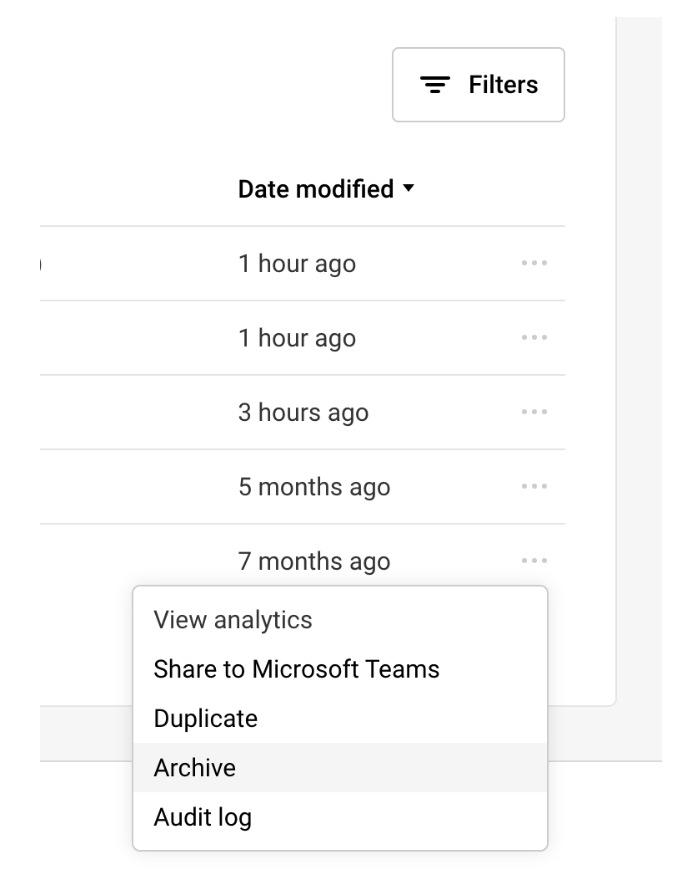 To view archived newsletters pages, click Filters and View archived newsletters. Here you can un-archive newsletters. They'll return the newsletter listing page and be visible to users as if they were never archived.