■
Note:
This article highlights best practices regarding page categories on sites. For instructions on how to create page categories,
click here
.
Site managers can create page categories to organize site pages. This is done on a per-site level, meaning page categories created on one site will not be reflected on another site.
Unlike topics, which act much like hashtags on social media posts, aligning similar content and making things easier to find in search results, page categories help you find content more easily when filtering content on a site. Site managers can use them to their advantage to help group content for End users, creating a more streamlined experience.
Simpplr recommends adding page categories that help separate types of information throughout your site. For example, if you manage your company's HR site, you might want to have the following page categories to help keep content from running together and getting too crowded:
New Hires
US Policies
Global Policies
Company News
Processes

Benefits

Performance Reviews
Every time someone publishes a new piece of content on the site, they'll be given the option to choose one of the page categories created by the Site manager.
Below is an image example of an HR site and the page categories used.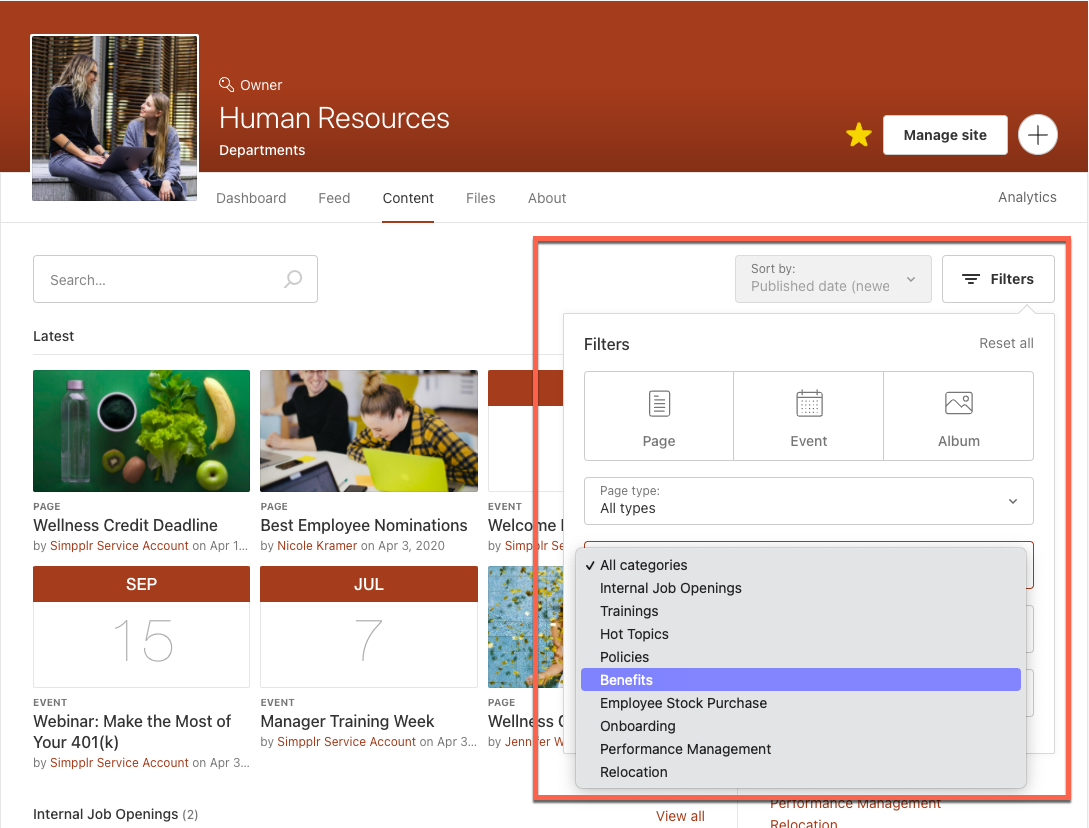 One practice is to have your page categories broad enough to where more topics could fit in each one, then include the more specific topic in your content title. For example, for the page category "Benefits" you may have many more topics under that, such as:
Mobile Phone Reimbursement

Broadband Reimbursement

Meal Reimbursement

Health Insurance

Gym Facility

Worker's Compensation

Accidental Insurance & Term Insurance

Shift Allowance

Parking Policy

Certification Reimbursement

Reimbursement of Professional Membership

Leave Travel Allowance

Medical Reimbursement

Relocation Assistance
You may want to create a page for each of these topics, naming them as such. If so, use the page category "Benefits" and title your content "Mobile Phone Reimbursement".
Or maybe you have an employee handbook that covers all of these topics in one PDF. In that case, it may be better to create a page category called "Employee Handbook" and in the page containing the PDF, assign topics to the content.
Rearrange categories
Rearranging your page categories may be useful to help highlight the most important content at the top of the list, while moving less important items further down the page.
To reorder your page categories:
Go to the site, then click the Content tab.
Scroll down to the list of content ordered by category and click and drag any category list to rearrange it. The order in which you rearrange categories here will reflect the same on a Page categories tile.