■
From the site home page you wish to manage, click Manage site to access site details.

Click View Site to go back to the site at any time.
Setup
The Setup tab has all settings from the Add site form, plus some more advanced settings.
Name

- It is required that you give your site a name. 

About

- Tell People about your site. This information will appear in the "About" Page and the "About" tile of the site.

Category

- Select the Site category that applies to the Site that you are creating.

Access

- 

Public

Sites are accessible by all users. 

Private

Sites can only be accessed by Site members. Site managers can add members to the Site or users can request an invitation. The Site name is visible to non-members.

Unlisted

Sites are Private Sites that are not visible to non-members in the Site listing or in the search results. You cannot convert an existing Private or Public Site into an Unlisted Site.

Broadcast only - Allows only certain Users to create new posts in the Site. Members can only comment on existing posts and they cannot create new posts. The Broadcast only feature will not work if the Feed is set to Timeline only. The following Users can create posts on Broadcast Only Sites:

Public sites

- Site owners/managers, App managers, and System admins 

Private sites

-  Site owners/managers and System admins

Unlisted sites

- Site owners/managers and Users with Unlisted Site administrator permission
Content - Select the content types that are available within the site. By default Pages, Events and Albums are selected. Deselecting any of these will stop users from being able to add that type of content to the site.
Allow content submission

- If enabled content from members must be approved by an App manager or Site owner/manager. If disabled only App managers and Site owner/managers can add content to the site.

Landing page

- Choose whether you would like to have a Dashboard on your site. If you do have a Dashboard it will automatically act as your Landing page. Dashboards can contain a Carousel, Tiles and a Feed. If you choose not to have a dashboard you can decide which page of the site will be your Landing Page.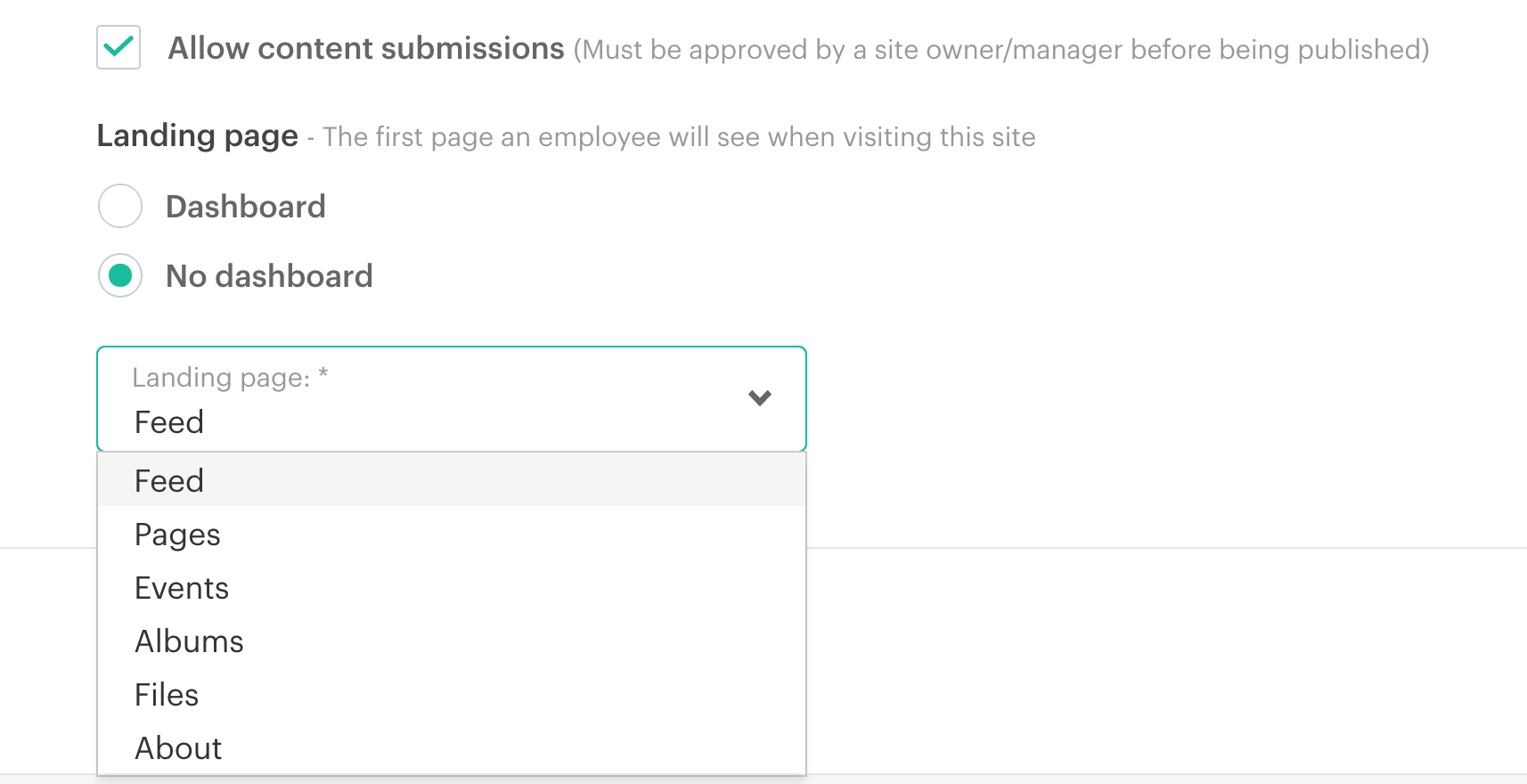 External Storage

- If your organization uses one of our integrations with an external file management system then you can connect your site to it here. This can only be done by a Site owner who has already connected their account in

My Settings > Ext Apps

.

Site feed

- Choose whether to use the Default placeholder text (set by an App manager in

Manage App > Setup > Governance

) or a custom placeholder text for this specific site.

Content posts - Choose whether Users can post and reply on Content. If enabled you can choose whether to use the Default placeholder text (set by an App manager in Manage app > Setup > governance

) or a Custom placeholder text for this specific Site.

Click Save to save your changes.