■
Simpplr allows you to add iframe code (embedded videos, widgets, etc.) directly to your site or home dashboards, as well as pages when creating content. 
The source website must support iframe. This means when you click the Share button on any video, feed, etc., you're given the option to copy the iframe code.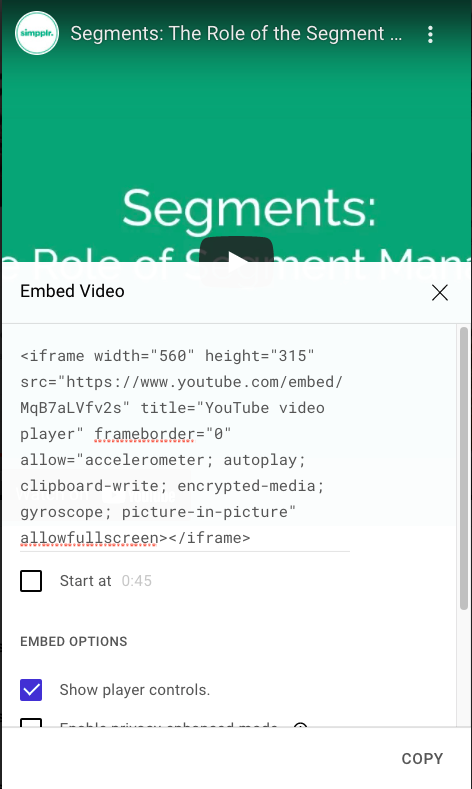 Note:
The Application Manager must first ensure HTML tiles are enabled for your environment by going to Manage > Application > Governance.

 
Add iframes to a dashboard
From your dashboard click the Edit dashboard icon in the bottom right corner.
Choose the Text, HTML & links tile option.


Give your tile a title and paste the iframe code into the HTML box. Then choose your tile height. This determines the size of the tile display on the dashboard.


Note:

App managers have the option to add the tile to all users' home dashboards as well when creating a Home tile.

When finished, click Add to home or Add to site dashboard. The tile will appear as an embedded element on the dashboard. To adjust the height or width, click Edit on the tile and change the height or width numbers in the code.
Add iframes to a page
When adding a new page, in the content section, click the More (...) icon, then the Embed >  Code option from the editor. This will open the code window.
Paste the iframe code and click Add. This will show you what the embedded content looks like on the page.

You can now continue with your content as you normally would.