■
This article provides instructions on adding and deactivating users one at a time in Salesforce. For instructions on bulk-adding users using the Salesforce data loader, click here.
Adding new users one at a time in Salesforce
To access your Salesforce instance and add new users to your Simpplr intranet:
Navigate to the url of your Simpplr home page and remove everything after .com.

Click Setup and type Users into the Quick Find box.

Click New User and enter the required information, plus any information your org uses to organize users such as Title, Division, or Company.

Select the User License you want to assign your user. Salesforce license is a System admin license, whereas the Salesforce platform is a standard End user license (this includes Site manager and Site owner). You won't need to worry about Identity, Chatter External, or Chatter Free.

Now assign the Profile type. For End users, Site managers or Site owners, choose Simpplr User. For System admins, choose System Administrator.

Scroll down and uncheck the boxes next to both Receive salesforce CRM notices.

From Locale Settings, choose the user's time zone and language, then check the box next to Generate new password and notify user immediately if you want your user to be notified of their new profile. Once you're ready, click Save.

Note:

Often users wait to send users notifications and push password resets at a later time to get users logged in.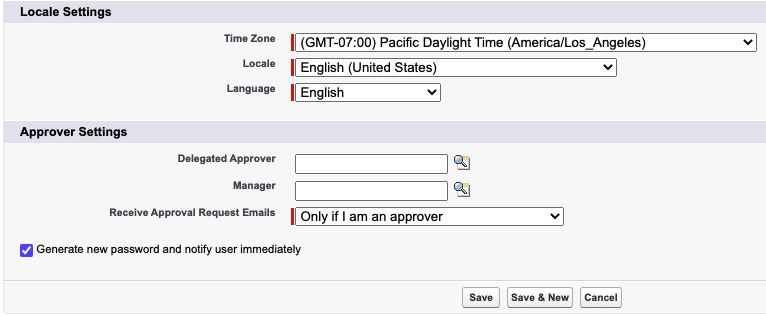 If at any time you change a user's license (for example, when adding a new System admin or removing a System admin license form a user), their permission sets in Salesforce will be removed. You will need to reestablish their permission sets after changing the license. To do so:
After changing the license, in the user's profile scroll down and click Edit Assignments in the Permission Set Assignments section.

Move the applicable permission sets to Enabled Permission Sets depending on the user's new permissions within Simpplr. If the user will be a:

When finished moving permission sets, click Save.
Deprovisioning users in Salesforce
Follow the same steps 1 and 2 as above.

Click Edit next to the user you want to deprovision.

From their profile, uncheck the box next to Active. Then scroll down and click Save.

Once you deprovision/deactivate a user, their license becomes available for use. To learn more about the number of available Salesforce licenses your org has, click here. To purchase more licenses for your Simpplr environment, contact your CSM or submit a ticket to the Support team.