Use this walkthrough to set up emails for your Simpplr app.
Simpplr Emails
Under Simpplr Emails, select the Enable Simpplr Email box to turn on Simpplr Email. If it is unchecked, no Simpplr emails will be sent to anyone.
You can also turn on/off Top Stories emails. Top Stories are the most popular content from the sites you follow. Simpplr calculates popularity based on the number of views, likes, and shares. Since the content in top stories are based on the sites you follow, everyone might get different content in the Top Stories Email.
Email Sender Address
You can select the From email address of your email notifications.
In the Email Sender Address field, you can select the From email address of your Simpplr email notifications. The email address has to be a verified Organization-Wide Email Address in your Salesforce instance.
Please note that the email address is pulled from the Organization-Wide Addresses in your Salesforce instance. If you do not see any email addresses in the pull-down menu, please follow the instructions below to add an organization-wide address.
Login to Salesforce, go to Set Up menu at the top. Then go to Administration Setup > Email Administration > Organization-Wide Addresses on the left sidebar to add an organization-wide email address.

Enter "Simpplr" in the Display Name field.

Enter a valid email address.

Make sure Allow All Profiles to Use this From Address is selected.
Salesforce will send a verification link to the email address. Please make sure to verify your email address for Simpplr's email notification to work.

To make sure email will be sent to all users, set email deliverability to All Email.
From Salesforce, go to Setup.
Go to Administrative Setup > Email administration > Deliverability.
Make sure Access Level is set to All Email.
To turn on email digest, go to Setup > Schedulers. Click on Add next to SchedulerBatchEmailDigest.
Please note that all Users also need to opt-in to receive email digest to receive the email. Once they login to Simpplr, click on the avatar at the upper right-hand corner, go to My Settings > Notifications > Email and select a preference under Digest.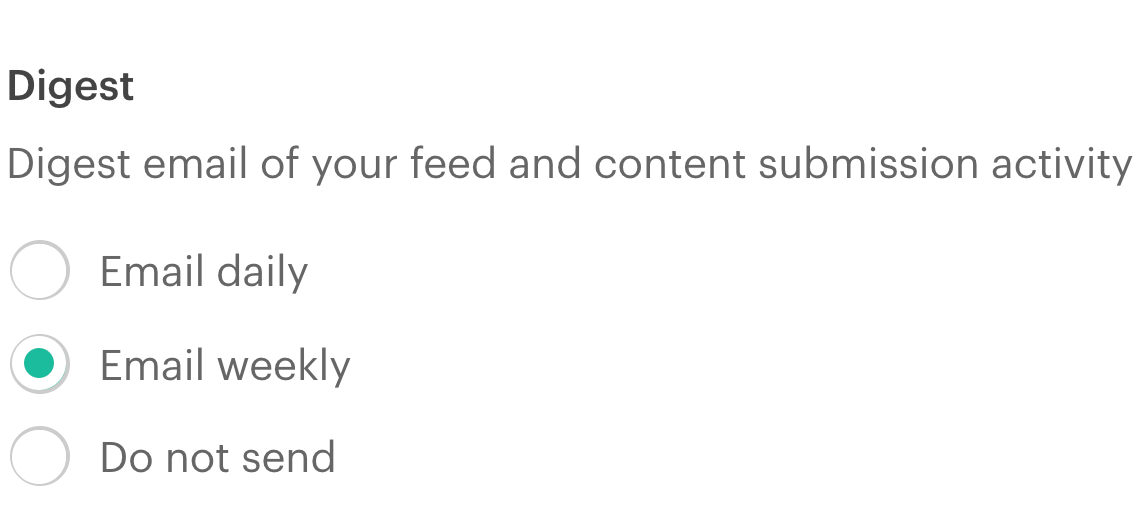 Chatter Emails
Under Chatter Email, you can select how you want to receive Chatter emails. You can use your existing profile setting (Existing profile assignment), turn it on for all Users (On for all profiles), turn it off for all Users (Off for all profiles), or turn it off for selected profiles.
If you select Off for selected profiles, you will see a list of profiles you need to choose to turn off email.