■
While Simpplr does not offer a direct integration with Microsoft Stream yet, you are able to copy & paste a video url from Stream, or embed the video file in a tile or on your content. You can also share whole libraries the same way you'd share an individual video.
Note:
Because this is not a full integration, the videos you share or embed from MS Stream will not be transcribed or searchable in Simpplr. 
Upload your MS Stream video
First, you'll want to make sure you've uploaded the video to MS Stream and set the appropriate permission levels to get your Simpplr audience to see it. 
Log in to your MS Stream account. Click Create in the top navigation. Select Upload video. We recommend your video be in .mp4 format.



Upload your video using the browse option.


Enter the name, description and language of your video. This can all be done in the Details section.



Set up your permissions. By default, you can have your entire company view your video. Alternatively, you can limit visibility based on People, Channels or Groups. You can create a Channel or Group from scratch.



Configure your options. We recommend turning off comments. When you're done, select Publish.



Once published, you can find your video under My Content > Videos. Find the video you want to share in Simpplr and select it.



Click Share located in the bottom left corner of your video. A new modal will appear. You will either select Share or Embed. 



You can use the Direct link to video option in Simpplr dashboard video tiles, or within Simpplr content (i.e. page, event, album, blog post). Copy and paste the link in either a Simpplr video tile, or within Simpplr content.  


You can embed a video within a Simpplr HTML tile, or you can embed a video within Simpplr content (i.e. page, event, album, blog post). Copy the embed code and paste it into a Simpplr HTML tile or within Simpplr content.


See the video to Simpplr
If you use the Direct link option, you won't see a video preview, but you will see a play button in the video tile:


If you use the Embed option, you will see a video preview in the HTML tile:  



In any form of content (i.e. pages, events, albums, blog posts), the Direct link to video option and the embed option deliver the same result:


Note:
You're also able to embed video libraries from MS Stream the same way you'd integrate an individual video.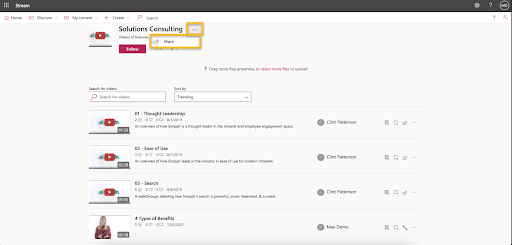 Why can't I view my video when using Safari?
Users on the Safari browser may encounter the following error when playing a video using MS Stream...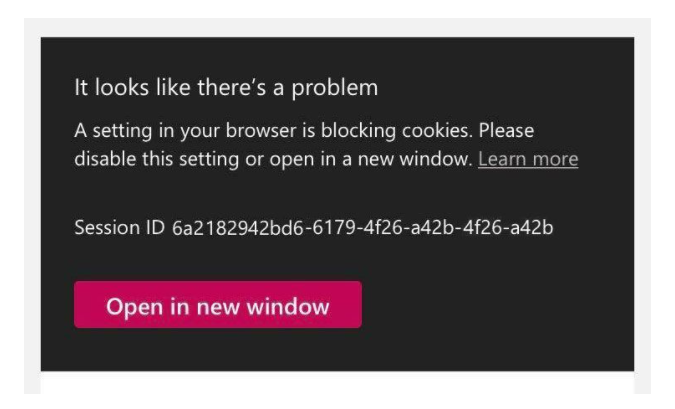 This is a known issue on Microsoft's end, and they are working to fix it.
Microsoft community has a discussion you can follow here:
 https://techcommunity. microsoft.com/t5/microsoft- stream-classic/video-not- playing-embed-problem-a- setting-in-your-browser-is/m- p/389866 
The current workaround is to disable Prevent Cross-Site Tracking in Safari or use a different browser.
You can also follow Microsoft's tracking of this issue here:
https://techcommunity. microsoft.com/t5/microsoft- stream-classic-ideas/allow- stream-videos-to-play-in- safari-without-needing-to- turn/idi-p/1623525