Note: This feature is currently in an Early Adopters Program (EAP), and not available to all users. For more information, contact your CSM.
Overview
Campaigns offer a means of grouping and tracking content assets for important internal comms initiatives, allowing for comprehensive monitoring and measurement of their success. Audience insights are provided to improve present and future campaigns.
Use campaigns to promote company objectives, products and services to designated employees across your organization.
Table of Contents
Campaign managers
Campaign managers can create and manage campaigns. App managers can assign new Campaign managers by heading to Manage > Application > Privileges.


Campaign managers will only be able to add currently published content to any given campaign. Draft or unpublished content cannot be added. If content is added toa campaign, then unpublished for any reason, it will be auto-removed from the campaign. 
Campaign listing
As the App manager or Campaign manager, to access campaigns, go to Manage > Campaigns. You'll be taken to the campaigns listing page, which shows all campaigns and information on their:
Target audience count
Campaign content item count
When a campaign was last updated
What is the overall reach of the campaign
Listed campaigns can be filtered by Active or Inactive. If you'd like to delete or deactivate a campaign, click the ellipsis.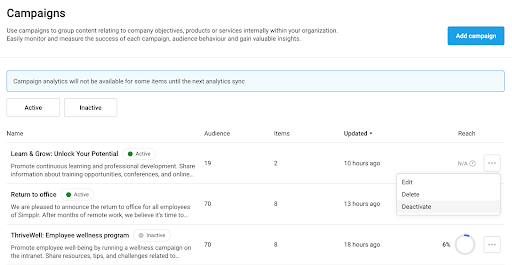 Create a campaign
To create a campaign:
Click Add campaign.
Enter a campaign name and about text. You have the option to attach files. 

The 'About' text should state the

purpose of the campaign, including specific goals, timelines and other relevant information.

Attachments can include any reference files, plans, or best practices that Campaign managers can refer to. These attachments are only accessible within campaigns and do not appear in the Simpplr global search.
Campaign information and attachments can be accessed in the About tab of the campaign once created.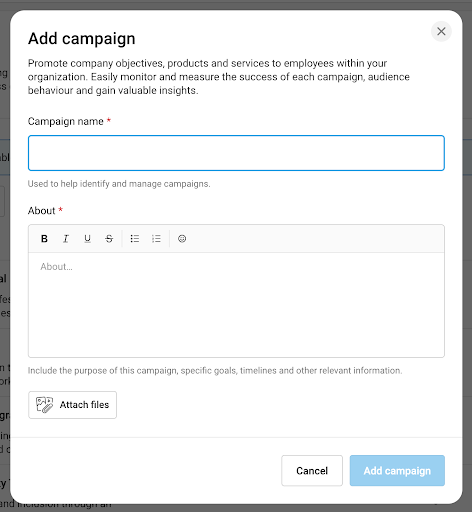 Campaign details
Once a campaign is created, or if it's selected in the campaign listing page, you'll be routed to its campaign details. From the campaign details, you can add content to the campaign, view relevant analytics in the Overview, Content, and Audiences tabs, or view its information and attachments in the About tab. 
Add content to a campaign
Campaign managers can add relevant pages, events and albums to inform users about the theme of the campaign by clicking Add in the top right of campaign details or Add content if the campaign is currently blank.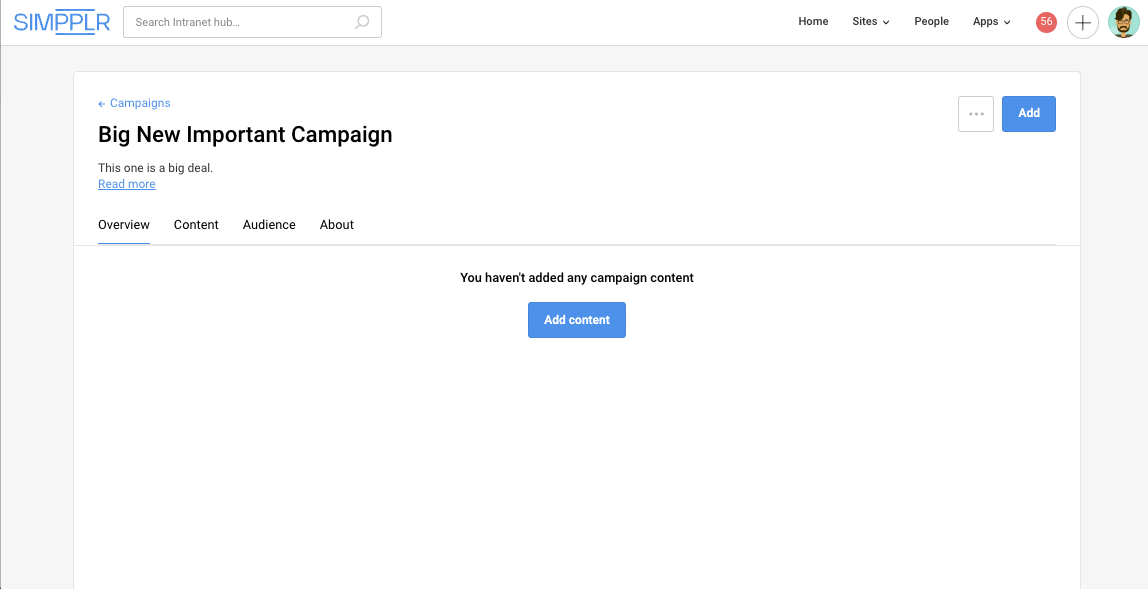 Content can also be added to a campaign from the content details screen by selecting a piece of content, clicking the ellipsis, and selecting Add to campaign. 
Note:
Only published content can be added to the campaign. Content from unlisted sites isn't searchable and cannot be added to a campaign.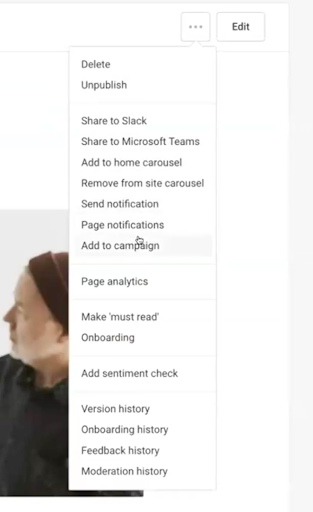 Campaign analytics dashboard
Overview tab
A campaign's Overview tab provides a snapshot of its:
Campaign content

The number of pages, events and albums added to the campaign

Audience

Members and followers of the site targeting campaign content

Reach

Percent of campaign audience that has viewed at least one campaign content item

Views 

Percent of campaign content items targeted at and viewed by campaign audience

Activity

Published content and unique views of campaign content over time

Referral sources

How the campaign's audience reached the content

Sites

List of sites from which content has been added to a campaign

Authors 

Authors of campaign content added to a campaign

Content tab
The Content tab helps Campaign managers monitor and manage campaign content items. For more information on a metric, scroll over it's ? icon. This dashboard will also show any removed content and its metrics up until the point it was removed.
Content and audience filters

Which site or content type is most popular in terms of reach and engagement

Content and engagement metrics

Number of pieces of content, target audience and reach

Content or site wise engagement

Target audience versus views metric

Promote content

Options to share to feed or Slack, or make must read

Content analytics

Access individual content analytics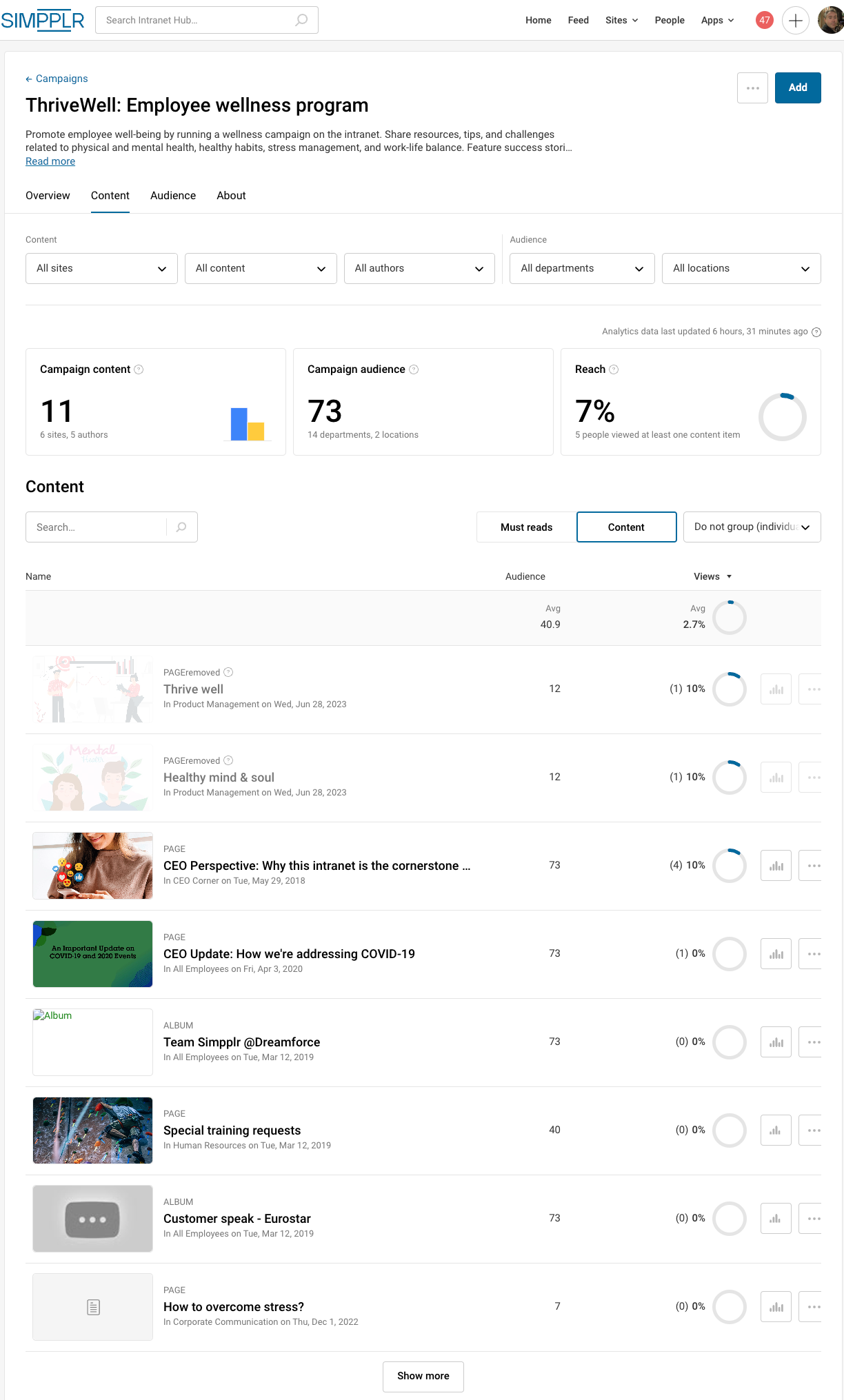 Audience tab
The Audience tab helps Campaign managers monitor audience engagement throughout the lifecycle of the campaign.
Content and audience filters

See which department or locations are most or least engaged with which site or content type

Content and engagement metrics

Number of pieces of content, target audience and reach

Audience engagement

List of people with number of pieces of content targeted versus viewed

About tab
The About tab reflects the information written in the About section when first creating the campaign. This is a great place to go to review the campaign's purpose, goals, timeline or whatever other relevant information you included when creating it.