Overview
If you want to customize the 'from' email address of your newsletters, so that they are not sent from noreply@simpplrnewsletter.com by default, you will need to follow the steps below.
Note:
Adding a custom sending address requires access to the DNS settings of your desired domain. You will not be able to complete the verification of your new sender address without access.
Note:
A domain can only be used for one email identity. If your domain is in use by another email sending service or simpplr instance you will either need to use a subdomain or remove it.
Add sender address
In the app from the user menu, navigate to Manage app > Newsletters.
On the newsletter setup page you can click the Add sender address button to add a custom from address. If you don't add a custom from address all newsletters will be sent from noreply@simpplrnewsletter.com.
Once you've clicked the button you will be shown the following modal.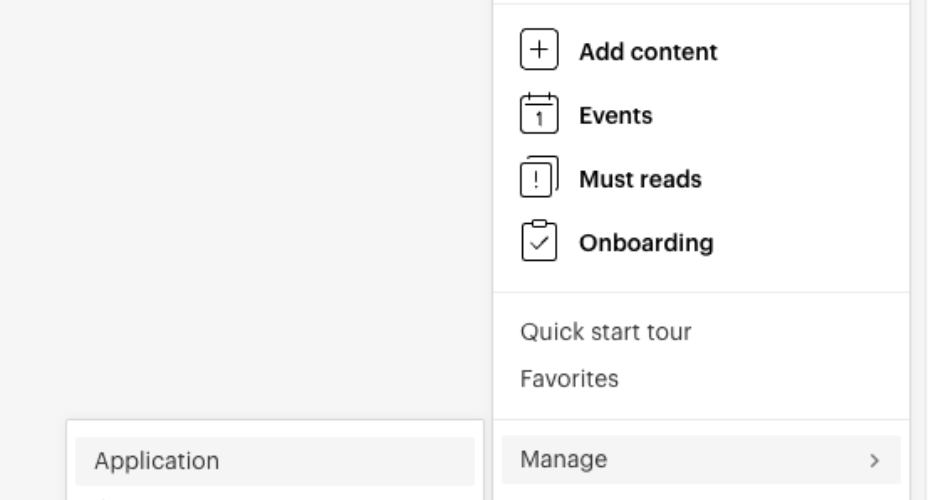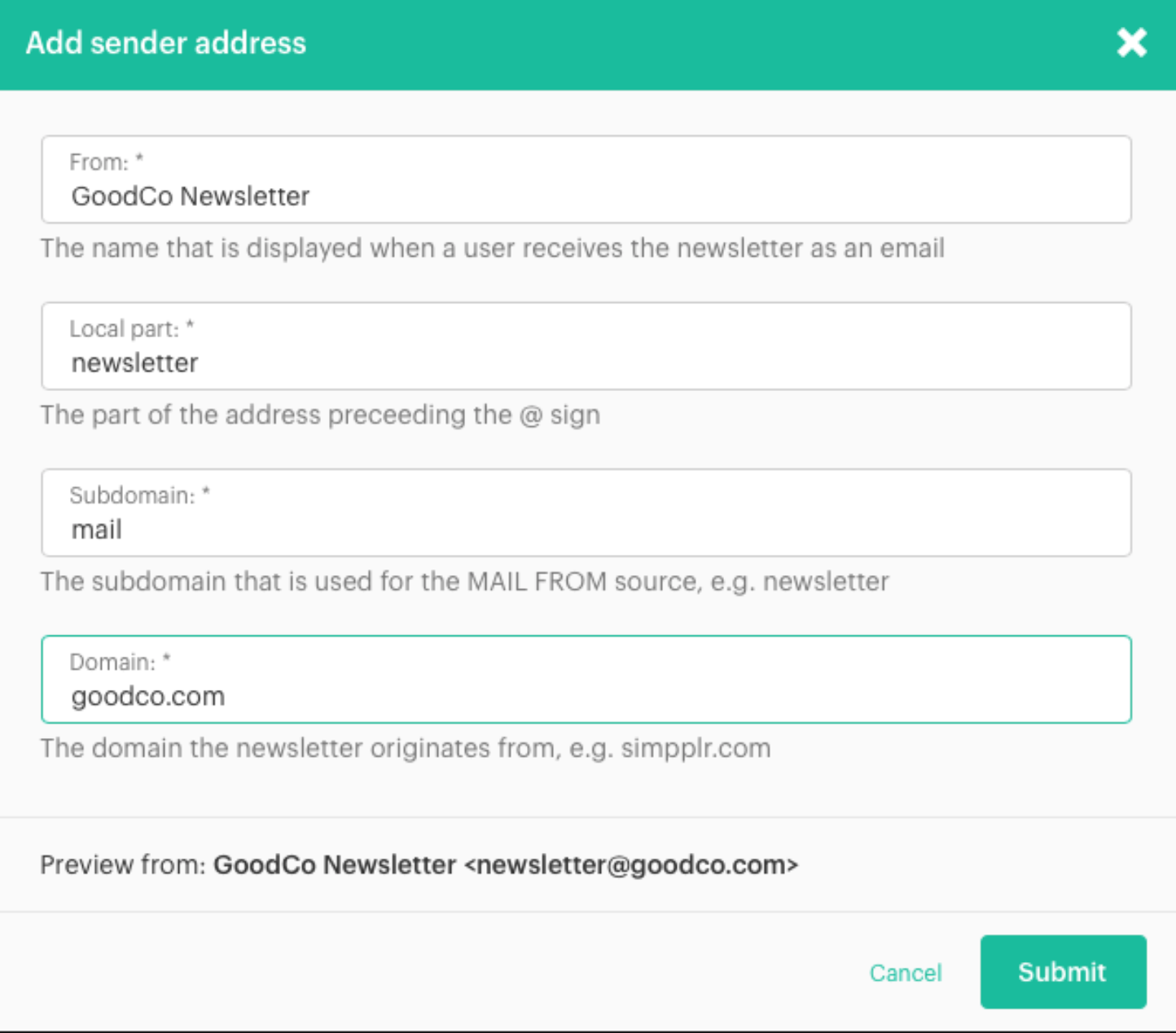 From

: Enter the desired name for your new sender address.

Local part:

Enter the username of the address (the part that goes before the @ sign in the email address e.g.

local-part

@goodco.com)

Subdomain

: Here you can enter a MAIL FROM subdomain. This is not something that is visible to end users and is used for bounce notifications and by recipient's email providers to validate incoming emails. If you're not sure what to enter just add 'newsletters'.

Domain:

Enter the desired domain name without the protocol (http/https) or 'www'. A domain can only be verified for a single email identity at a time. If your domain is already used by another email service or simpplr instance you can use a subdomain instead (e.g. newsletters.goodco.com).
At the bottom of the modal you can see a preview of the from address newsletter recipients will see.
Once you're happy with your new sender address click Submit. This will take you back to the Sender Addresses list. Here you can retrieve the DNS settings needed to verify your new sender address. Hover over the arrow next to your newly added address and click Configure.

This will open a modal where you can copy the records to be added to your DNS Nameserver of your domain. Each row in the list will need to be added as a separate DNS record with the type specified in the first column.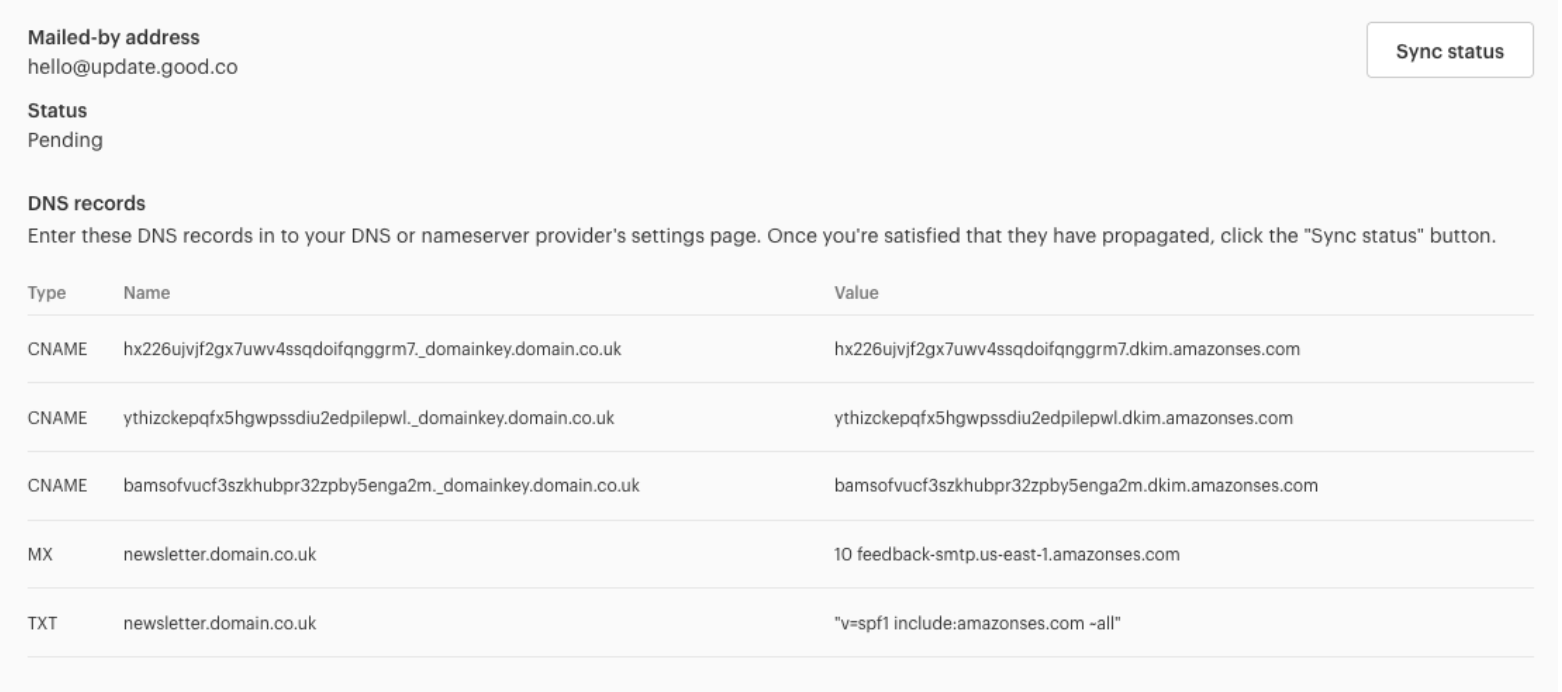 After you have added the new DNS records to your domain you can use the Sync status button to update the verification status of your sender address. Please note that DNS changes can take up to 72 hours to be propagated and we will be unable to verify your address until this has completed.
Once your sender address has been verified you will be able to use it in your newsletters.