Table of Contents
Introduction
Simpplr has an out-of-the-box integration with Microsoft Teams. It's a one-way push from Simpplr to Teams that exists at the site level, meaning feed posts from Simpplr sites can be posted directly to Teams channels. Posts in site feeds show up in the linked Teams channel. While team members don't typically live on their intranet, some do spend a lot of time in Teams and leave it open throughout the work day. So posting in Teams is another way to reach your audience where they are and bring them back into the intranet to read long-form content.
Create a webhook in MS Teams
Before connecting your Simpplr site to Teams, you must first create a new webhook directly from the Teams channel. To do so:
From Teams, click on the more options icon next to a channel.
Select Connectors.
In the Connectors modal, Search for 'Incoming Webhook' and select Configure.
Enter a meaningful name for the webhook, add an image, then click Create.
A URL is then generated below the image that can be used to communicate with the selected channel.
Copy the URL to Clipboard.
The webhook will start in this format: https://outlook.office.com/webhook
No authentication is required to post to the channel.
Enable integration in Simpplr
The first step in connecting Teams to your Simpplr instance is for your System admin to go to Salesforce. From Salesforce:
Go to Setup, then type in Remote in the Quick Find box on the left.

Select Remote Site Settings, then New Remote Site.

Name the Setting anything you want and ensure the Remote Site URL is https://yourcompanyname.webhook.office.com. Click Save. Ensure "yourcompanyname" is your company name (example below is "simpplr").

The next step is for the App manager to navigate to Manage application > Integrations > Messaging and checking the box next to Microsoft Teams. Then click Save.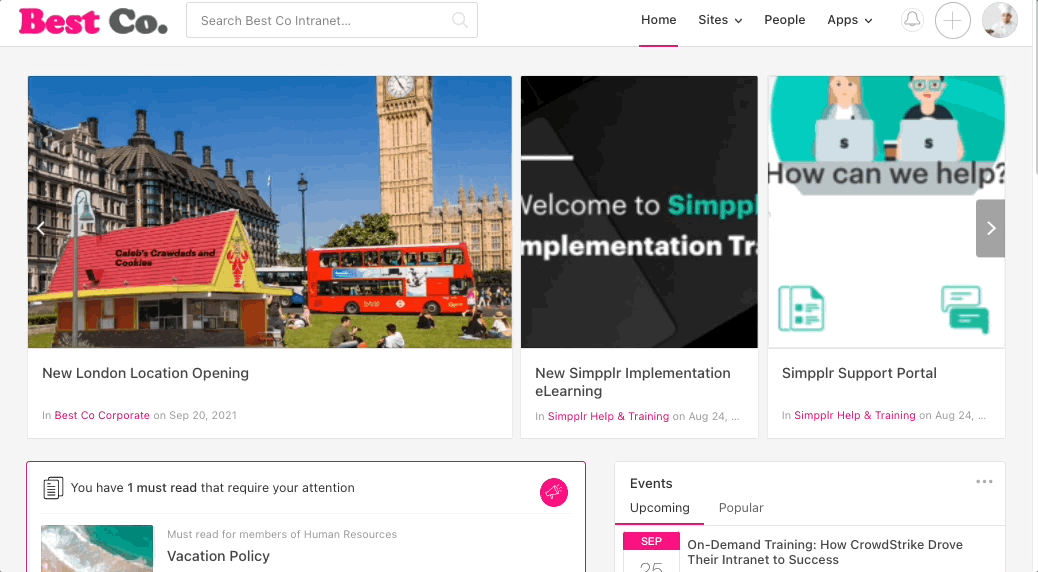 Now Site managers can connect their site feeds to Microsoft Teams. To do so:
Start by navigating to the site you want to post feed content from and click Manage site.

Go to the External apps tab and under Microsoft Teams, click Enable.

Enter the Webhook created above and click Save. You also have the option to select whether to allow to Only send feed posts

or

Send feed posts

and replies

.

Now feed posts from your Simpplr site will reflect onto the Teams channel you connected.