■
Simpplr's Confluence integration lets users easily search and filter through Confluence pages and blogs using Global search, as well as view content from their organization's Confluence instance.
Note
Simpplr only integrates with Cloud versions of Confluence.
Security information
When integrating Simpplr with Confluence, depending on your access levels within Confluence, you might encounter various permission requests.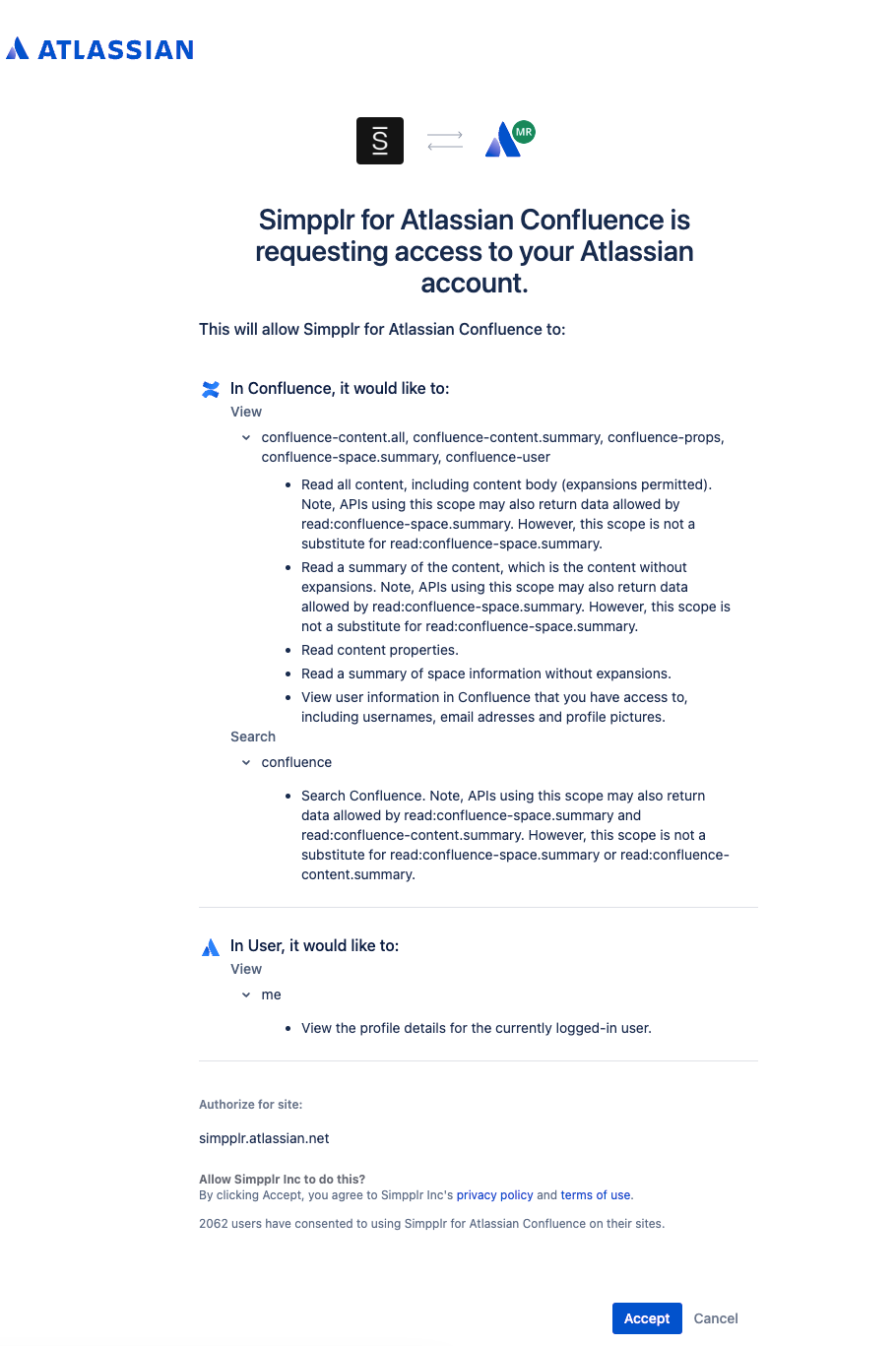 These permissions allow Simpplr to interact with your Confluence instance effectively and provide a seamless experience. Here's a detailed explanation of the permission requests you may encounter when connecting to Confluence:
In Confluence:
View Confluence content (confluence-content.all): This permission enables Simpplr to read all content within Confluence, including the content body and any associated expansions. The application can access detailed information about Confluence pages, blog posts, attachments, and more.

View Confluence content summary (confluence-content.summary): This permission allows Simpplr to retrieve a summary of Confluence content without expansions. Simpplr can access content details such as titles, authors, and metadata without fetching the full content body.

View Confluence properties (confluence-props): With this permission, Simpplr can read properties associated with Confluence content. Properties might include custom metadata, labels, and other attributes linked to Confluence pages and other items.

View Confluence space summary (confluence-space.summary): This permission grants Simpplr access to a summary of space information without expansions. It allows Simpplr to retrieve basic space details and metadata without fetching all space-related content.

View user information (confluence-user): This permission enables Simpplr to view user information within Confluence that you have access to. Simpplr can retrieve usernames, email addresses, and profile pictures of users.
Search Confluence: This permission allows Simpplr to perform searches within Confluence. Simpplr can retrieve search results that match your query. Note that while this scope includes search capabilities, it doesn't replace the need for the read:confluence-space.summary or read:confluence-content.summary permissions for detailed content access.
In User:
View current user profile (me): This permission enables Simpplr to view the profile details of the currently logged-in user. Simpplr can access information such as the user's name, email address, and profile settings.
Before granting any of these permissions, it's crucial to understand the level of access you're providing to Simpplr. If you're uncertain about a permission request, consider reaching out to your Confluence administrator or Security team for clarification.
Connect and Configure Confluence with Simpplr
As the Application manager and Atlassian admin user, in Simpplr, go to your user menu, then 

Manage > Application > Integrations > Support & ticketing

. Select the

Atlassian Confluence

checkbox.

Enter the Atlassian URL (e.g. https://simpplr.atlassian.net).
Click Connect Account. You'll be taken to Atlassian's interface for admin authentication.

Enter the account admin credentials. Once authenticated, you'll be re-routed back to Support & Ticketing in Simpplr. Confluence is now enabled. You can disconnect Atlassian integrations at any time by clicking

Disconnect

next to Atlassian.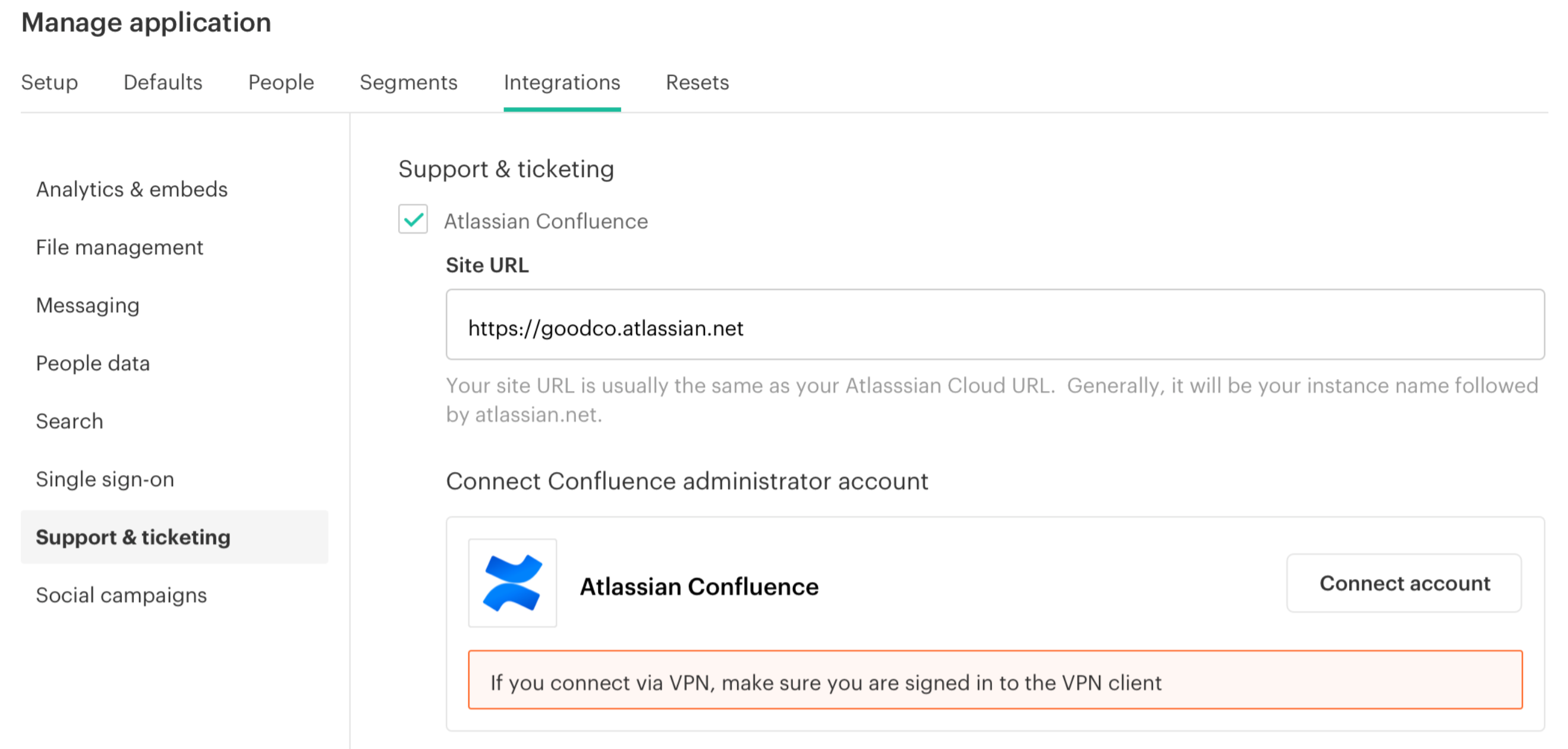 enter Atlassian URL and click Connect account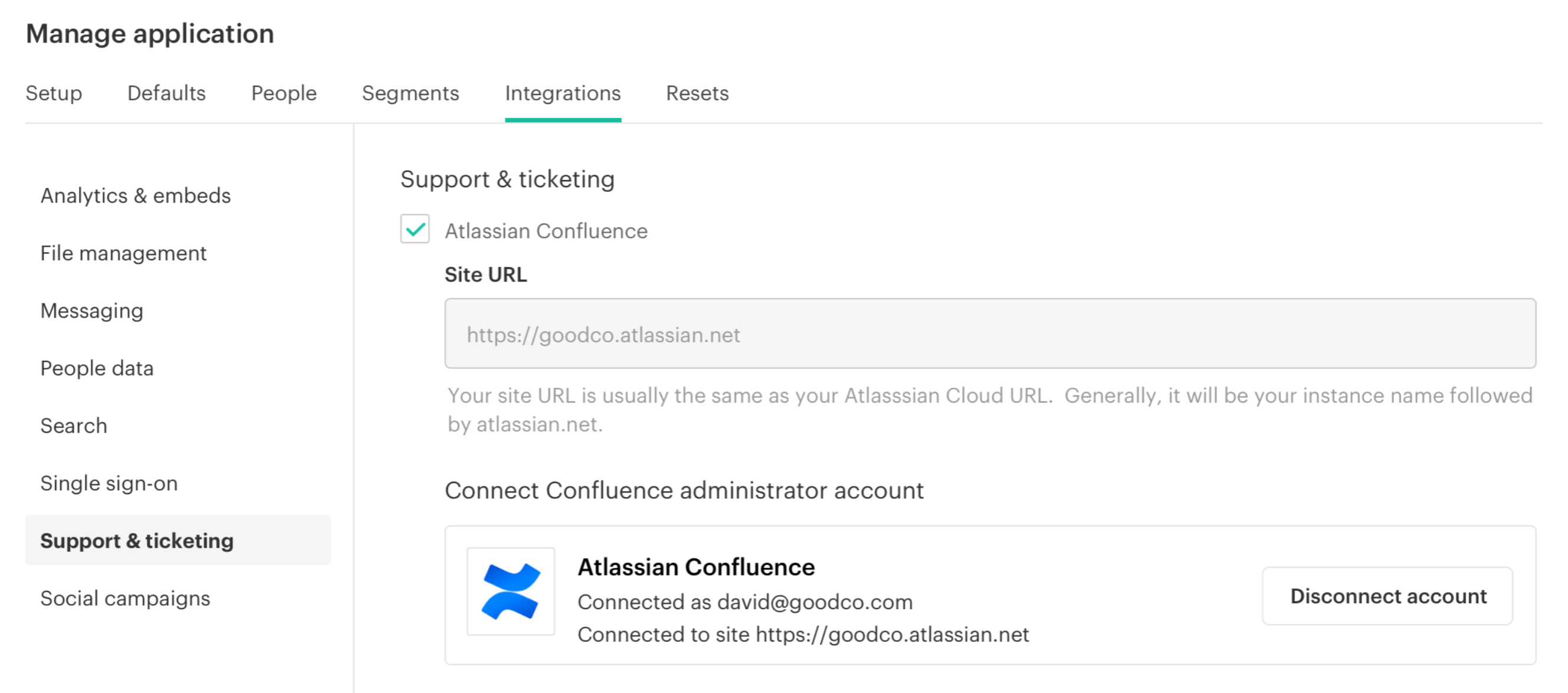 Atlassian account connected
Once connected, you'll have the option to add the name (also known as the alias) of the specific knowledge base if applicable, as well as specific spaces within Confluence. Then finally, if your Confluence knowledge base requires users to be on a VPN, you can show a message to users when connecting their accounts to be on the VPN.

Connect Confluence with your Simpplr app
After Confluence has been connected and configured with Simpplr, users can connect their Confluence account with their Simpplr account by performing the following steps:
From the user menu, head to Profile & settings > Edit profile & settings > External apps

.

Go to

Atlassian Confluence

and click

Connect account

.

You'll be redirected to Atlassian Confluence for authentication. Enter your Atlassian credentials.

Once your credentials are authenticated, your Simpplr app and Confluence will be connected. You can disconnect Confluence from your Simpplr app by clicking

Disconnect

next to Atlassian.

connect to Confluence

Confluence connected
Global search for Confluence pages in Simpplr
Once Confluence is integrated with your organization and connected to your personal app, your global search results will include a top results box specifically for Confluence pages. There will also be a Confluence knowledge base tab you can click to see all Confluence results. These results can be filtered by clicking filters.

search results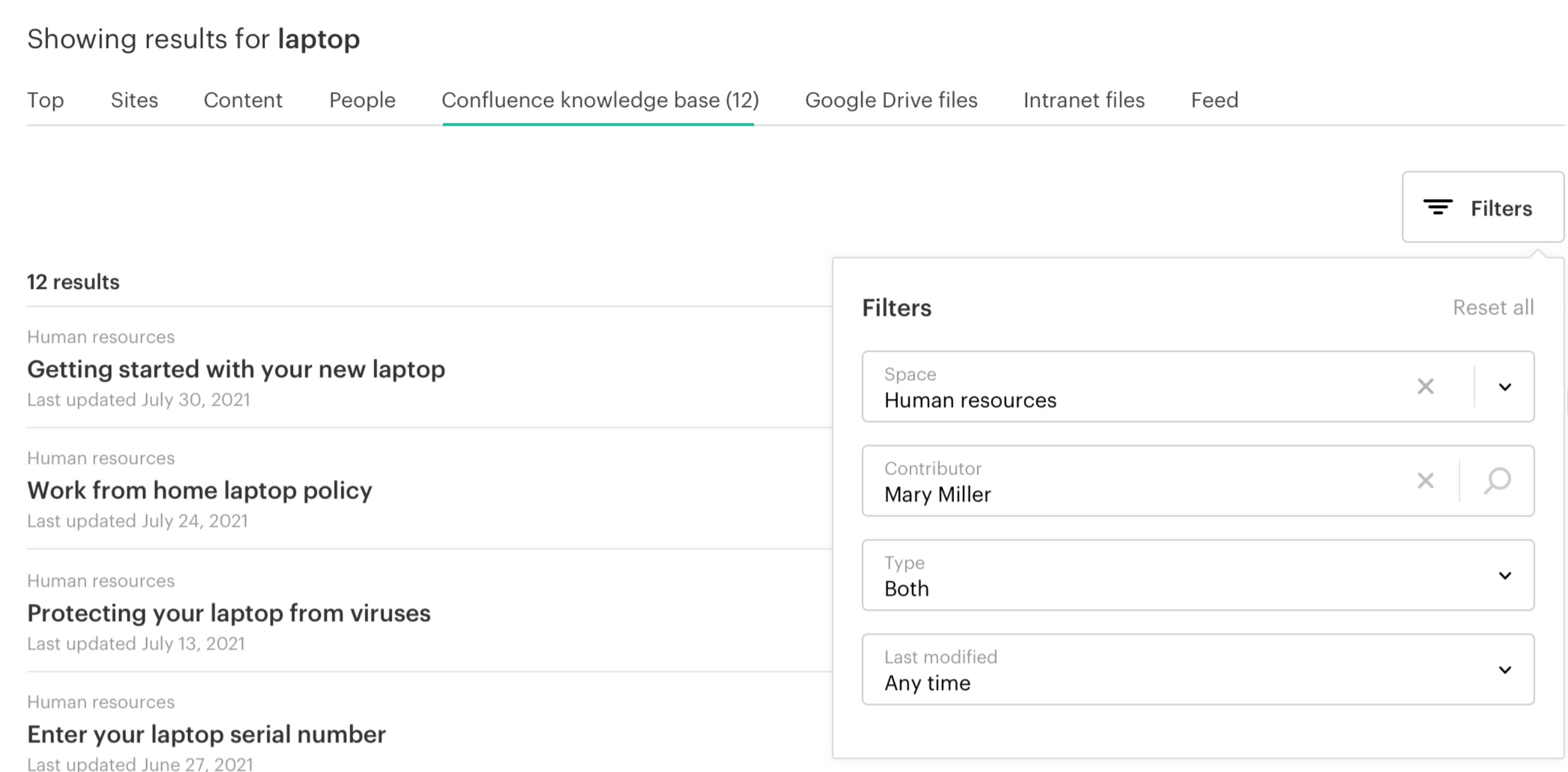 search results: Confluence knowledge base tab
Note
If you connect to Atlassian via VPN, you'll have to sign into your VPN when searching for Confluence pages. App managers can toggle on or off a warning message to users connecting their accounts that reminds them to be signed into VPN during connection. To do so, go to Manage > Application > Confluence > Show VPN warning message.
Create a public Confluence space to share with employees
For many organizations, employees do not have Confluence accounts, and cannot see the knowledge base information available. With Confluence, you're able to make public spaces that can be searched within Simpplr. This allows easy access for everyone in your org.
The following Confluence Support article will walk you through creating public spaces. Keep in mind that anyone can view information on a public space, so be careful about what you decide to share.