■
Table of Contents
Events are one of the three types of site content, along with pages and albums. Events can be celebrations, meetings, anniversaries, and more.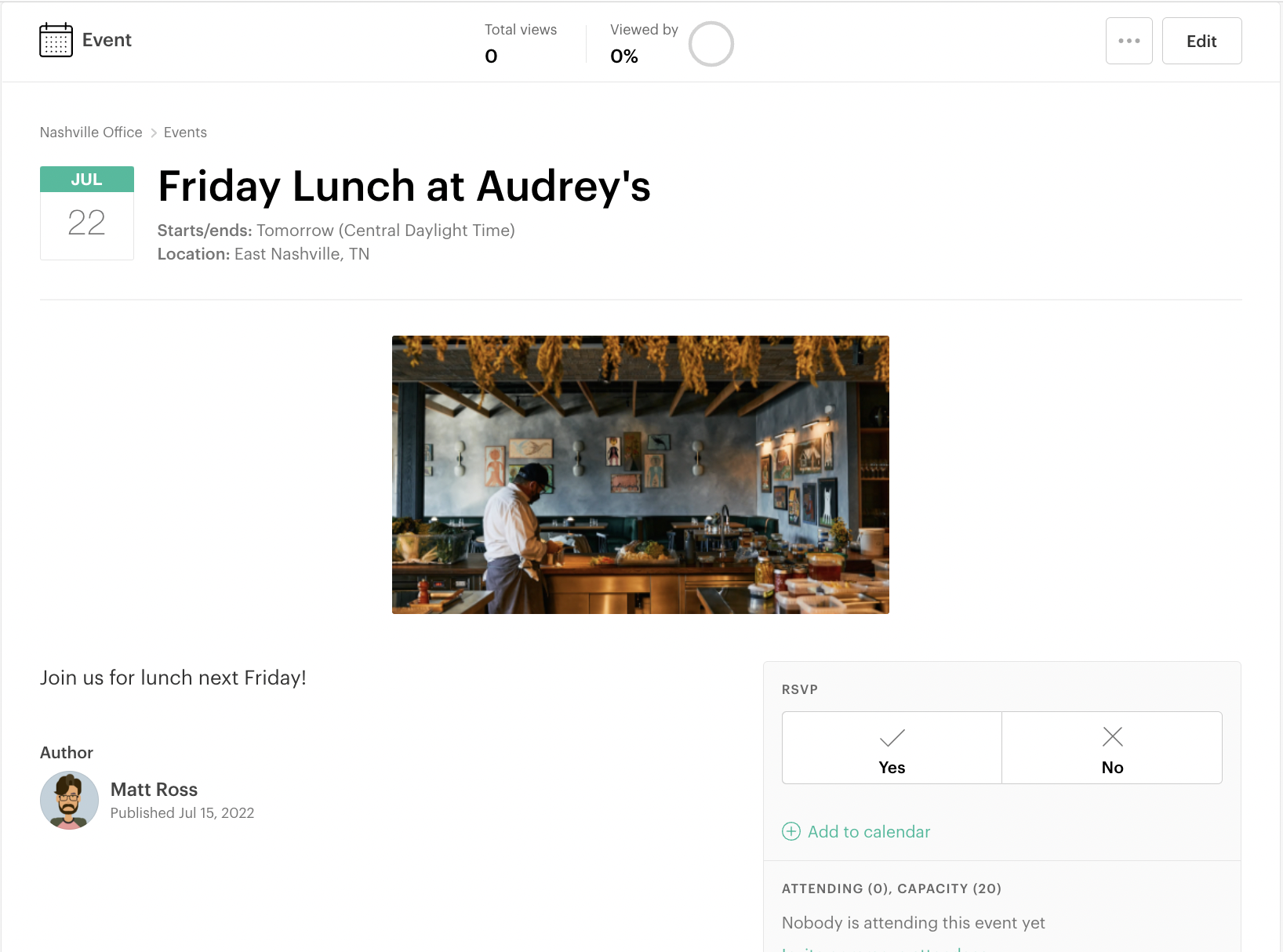 Viewing events
Go to the Content tab of a site for information on upcoming and popular events (if event content type is enabled for that site).
To view all events in the intranet, go to the Events option from your user profile drop-down. If Google Calendar is integrated, users can click on Google Calendar to see all Google Calendar events. Events are listed by default in a holistic, monthly calendar view. You can disable this view in favor of a list view as well.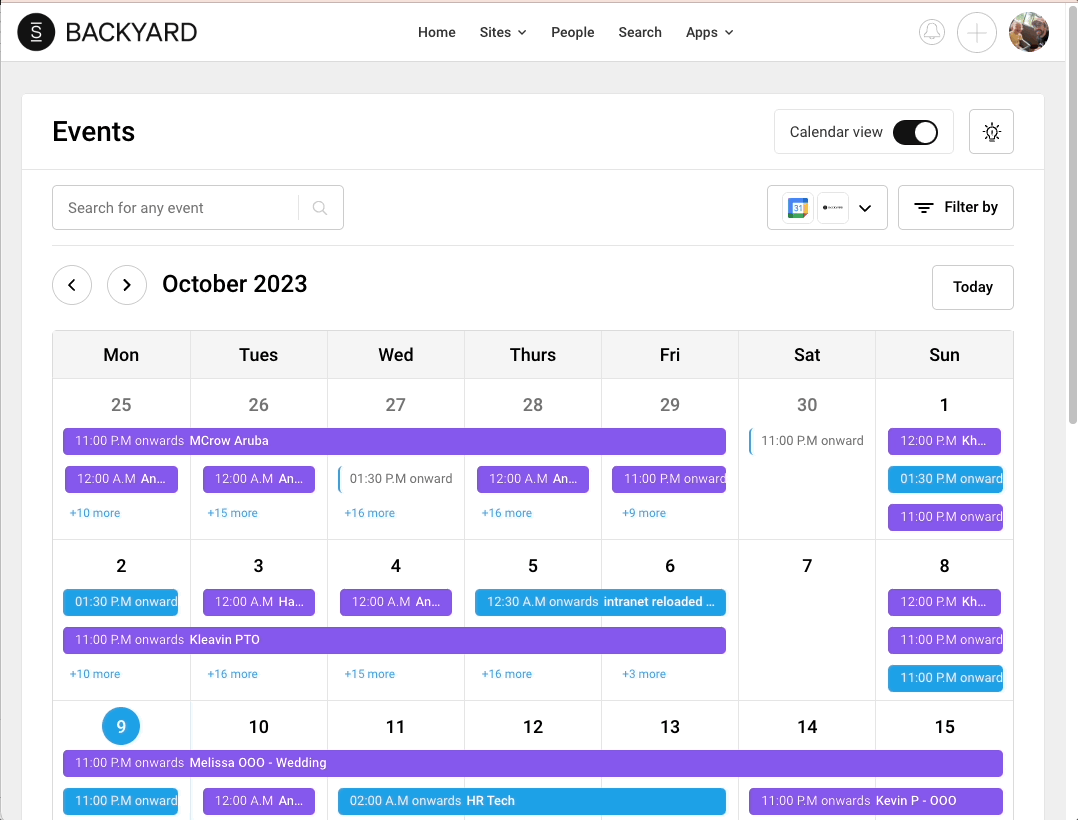 Adding events
There are several ways to add an Event:
The global + button on the navigation bar, right next to your profile icon.
Go into a site and click the + button in the site header.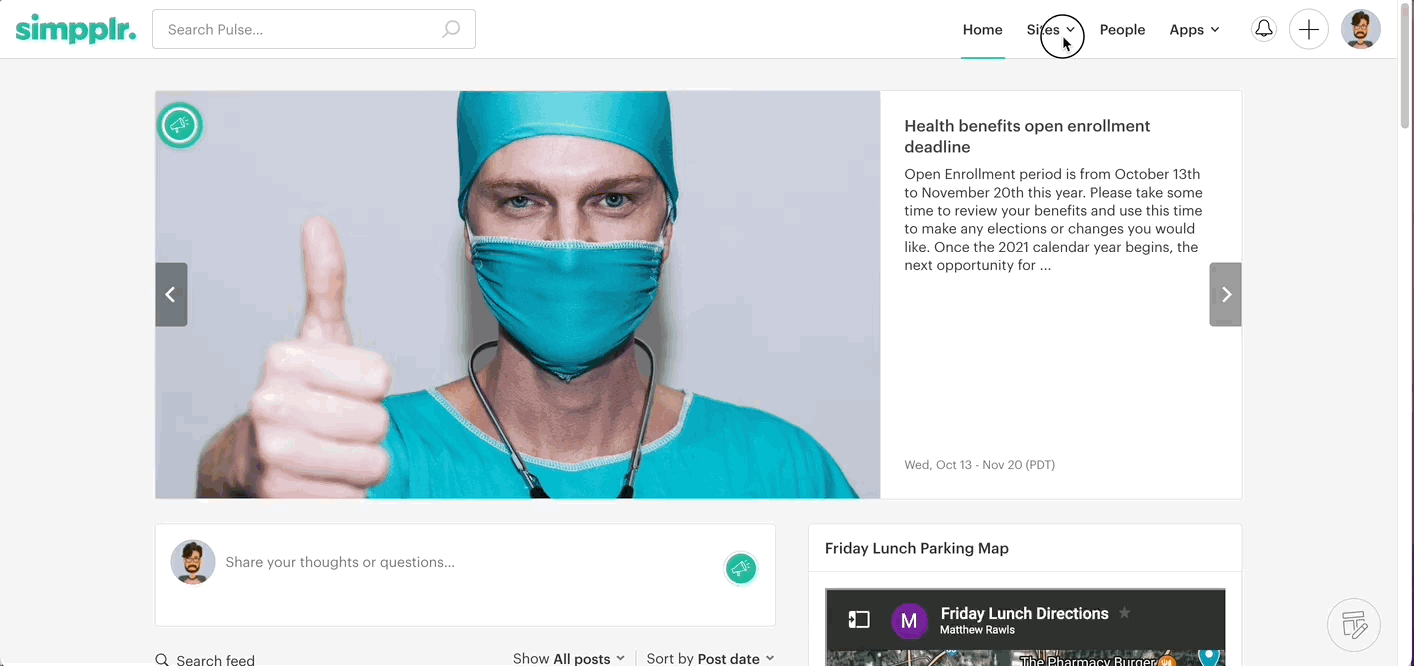 Add your event details:
Add a title for your event.
Upload a cover image (Recommended size: at least 1080 pixels wide)

Crop it appropriately for the cover and carousel and click Next
Crop it appropriately for thumbnail and click Save
Select one of the cover image layout options. The layout allows you to choose different sizes of the cover image to show up on the page. Click on each layout to see a preview

Enter the start date/time and end date/time.
Add a location. This could be a physical address or a URL of an online meeting. 
Add directions (if applicable) and an online map URL, like a Google map URL of the event location. More on this below.
If you want people to RSVP, click RSVP required. You'll see all RSVP options including a 'Maybe' option, event capacity an RSVP note prompt and an option to have users RSVP before a certain date.
Enter event content. 


You can insert images from local drive, intranet, or by URL.
You can insert videos by URL or with an embedded code.

Note:

If you have

Simpplr Video

enabled, you can upload click the camera icon in the toolbar to add it to the content body, or upload the video as an attachment. If you'd like to enable Simpplr Video, talk to your Simpplr CSM. 

You can insert emojis. 

Add files, which can be from local drive, Intranet, or a file storage integration. Files will appear as attachments below the event content.
Add organizers (when you start typing, you should see a list of users that match the names for you to select).
Add relevant topics to make your event easily searchable.
Select to publish immediately or from a specific date.
Select how long you would like to publish the event. You can select Indefinitely, which will leave the page active until manually unpublished, or to publish for 3 months, 6 months or until a specified date.
Add a summary. The summary appears below the title on the Events tab.
Check or uncheck Allow feed posts. Allowing feed posts will add a feed at the bottom of the event for users to add comments.
Click Create. If you are the Site manager, your content will appear right away. If you are not the Site manager or Site owner, you will be notified of the approval status once the Site manager reviews and approves the content.
Note:
You can also click Save draft and continue to work on the draft later.



Syncing events to an external calendar
As of the 23.09 release, users can sync details from an intranet event to their externally connected Google Calendar. Click this link to learn more information on how syncing works, but in short, the event organizer can enable syncing when publishing an event, meaning any time a change is made to the event in Simpplr (an RSVP addition for example) the sync will reflect the change in real time with users' Google Calendar invite, allowing them to RSVP to the event directly from Google Calendar.
Events calendar
All users have a global events calendar in their user menu. Use this Events screen to bring up a daily/monthly calendar highlighting events. Regardless of whether it is a one-day or multi-day event, the event's start/end times and heading are displayed. Users can easily navigate through different dates and months to view upcoming and past events. 
If your org has the Google Calendar integration enabled, you're also able to view Google events here.
Click the Filter by button to see events from:
All public sites on the intranet
Sites you are a member of
Sites you follow
Then, for both Simpplr events and Google Calendar events, you can filter by RSVP type:
Yes
No
Maybe
Pending
Not required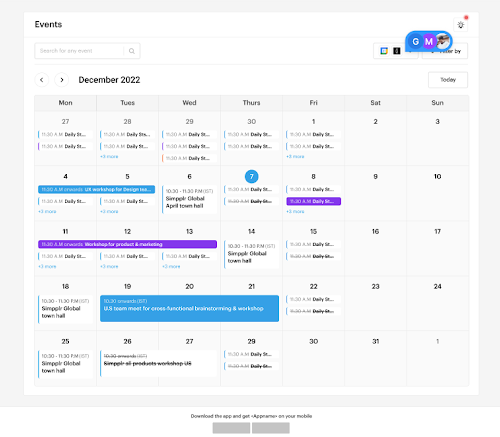 Event details
When you click on a specific event, the event detail popup appears. This modal will display information such as the title, date & time, location (if appropriate), RSVP options, etc.
When you click on View details, depending on whether the event is a Simpplr event or a Google event, you'll be directed to the appropriate events details page (Google events will open a new tab with your Google Calendar open).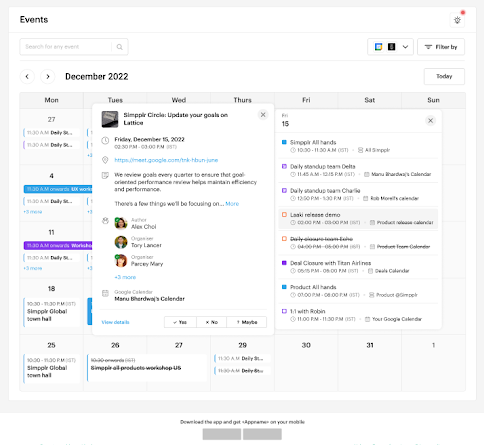 Calendar hints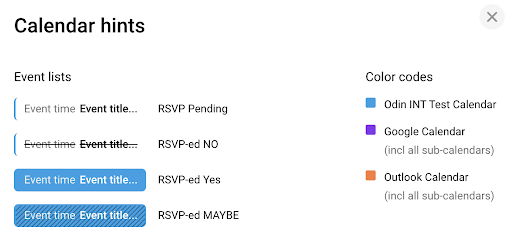 The Calendar hints modal will appear when the hint icon is clicked in the top right corner. This modal provides users with helpful information related to the calendar feature. 
The modal is primarily divided into two sections:
Event lists that display the various RSVP options available for an event
Color codes used for various calendar providers
Search for events
From the calendar screen, you can search for events using the top search bar. The results are displayed accordingly.
You can search characters or words (there is no minimum character restriction to enable a search), and the results (if available) will be presented in the list view. 
Results are returned for occurrences occurring after the current day.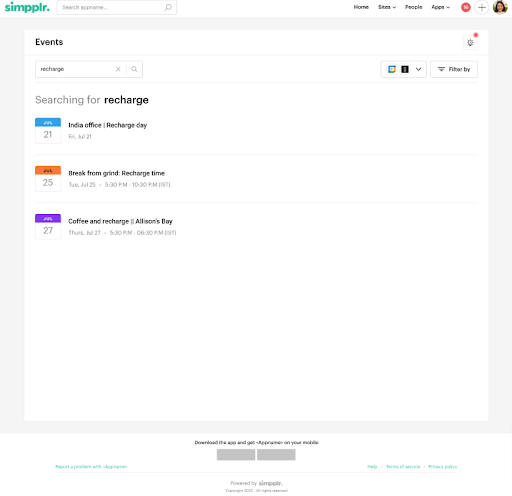 Managing events
Managers and admins have a host of capabilities for controlling their users' events. 
Attendee list
For events that are open for RSVP, Site managers and event authors/organizers can remove people who RSVP'd. This gives them full control on managing attendees list and allows them to take actions when necessary. Event capacity is displayed on the event detail page, just like everywhere else. 
Event notifications
Author/organizers/attendees will receive email and in-app notifications by default. They can turn off these notifications in their settings, or the App manager can override the setting: 
When event is deleted

When event that's yet to end is unpublished

When event title/date/time/location/direction/map/description/files and attachments is updated

Whoever edits the event can choose to send an email notification

When someone is removed from an event RSVP list, they will receive email and in-app notifications by default

When someone is invited to an event, they will receive email and in-app notifications by default

When someone RSVPs or update their RSVP response to an event, event authors/organizers will receive daily email and in-app notification by default

When someone RSVPs 'yes' to an event, he will now receive a confirmation email
Adding directions and maps to events
As stated above, you're able to add directions and maps to your event. This is especially useful for parking instructions if your event is at an unfamiliar location to users. One practice we've seen users implement before is creating a custom Google Map and adding it as a URL to their events. With a Google My Map, you can pinpoint and highlight specific locations (like parking garages), add descriptions of places, icons, walking paths and more! Check out this article for more info on creating a custom Google Map.