If you see Newsletter in the User Menu, it means your App Manager has given you permissions to create newsletters for your site members.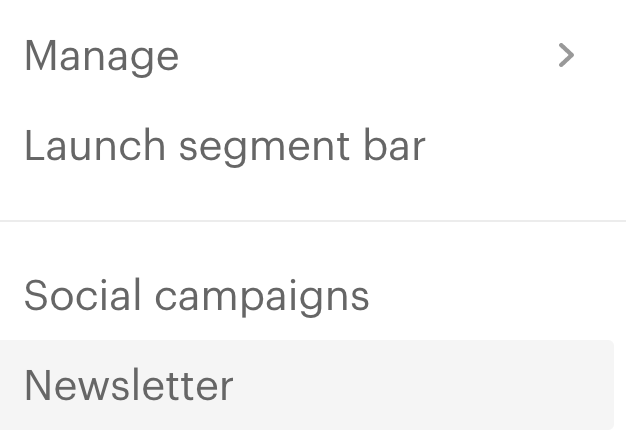 Clicking on Newsletter will take you to the Newsletter page (where you can view all current and previous Newsletters). To add a Newsletter, click Add newsletter.
Select the Site you want to create a newsletter for, then click Next.



Newsletter creation flow
1. Add a Newsletter name. A name helps you keep track of the Newsletters you've made. Enter the newsletter subject line.
2. Select the email address you want the Newsletter to be set from. These need to be set up in Salesforce by an App Manager.
3. Add a cover image to your Newsletter. These can be selected from your intranet files or uploaded from your computer. The recommended image size is 568px x 319px.
4. Write an introduction for your Newsletter. You have a range of rich editing options to pick from.
Add newsletter content
Add the Content to the Newsletter by searching for the title of the Content, or selecting from the latest Content. Once you have added multiple pieces of Content, you can drag and drop to move them around. For each piece of Content, you add you can decide between a Showcase Layout or Standard Layout.
By clicking the + icon that appears when hovering between pieces of Content you can choose to add a heading, text or a divider. These can be used to customize the overall design of the Newsletter.
You have the option at this point to Save a Draft of your Newsletter. Clicking Next will take you to a preview of the Newsletter. You can also send out a test Newsletter, we recommend you do this as it will appear differently when received as an email.


Once you are happy with the layout and content of the Newsletter, click Send Now if you want to send out the newsletter right away. If you want to schedule the newsletter to be sent in the future, select a date and time to send out the newsletter. Please note that you have to select a date in the future (not today) and then you can specify a time.