■
Important content can be marked as must read, requiring users confirm that they have read it. Making content "must read" is an easy way to help ensure the message you're communicating is received by users. When you tag content must read, your users will receive a polite reminder email every Monday (or immediately if you choose) to help encourage them to read and acknowledge the content you made.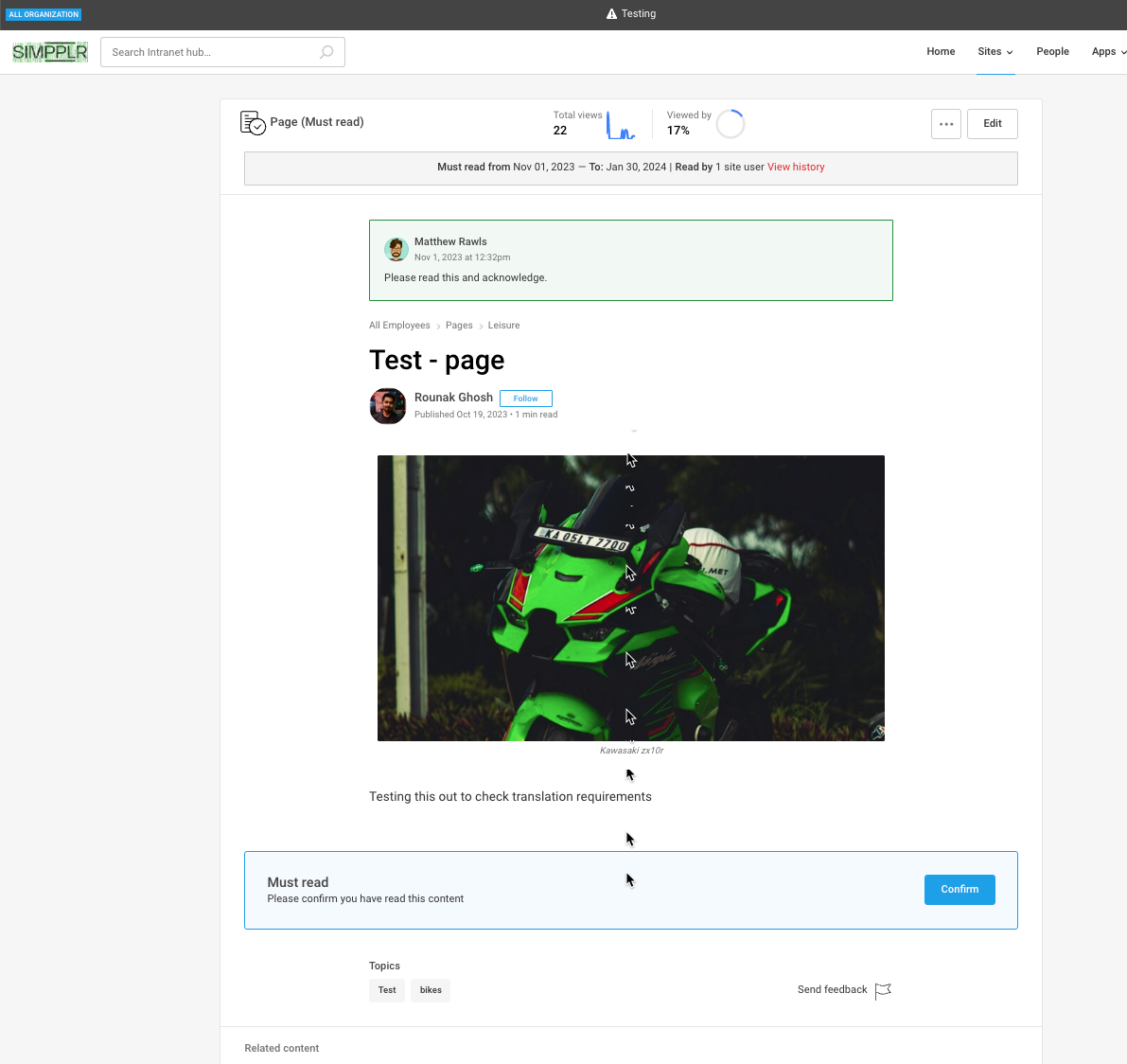 Which content can be made must read?
Pages, albums or events from any public or private site, and blog posts can be made must read.
Who can make content must read?
App managers can make any public site content, any content from private sites they are a member of and any users' blog posts must read. To enable must read ability for Site owners/managers, go to Manage > Application > Privileges, then scroll down to Must reads. Type in which site(s) you want to enable must reads for, then scroll down and click Save.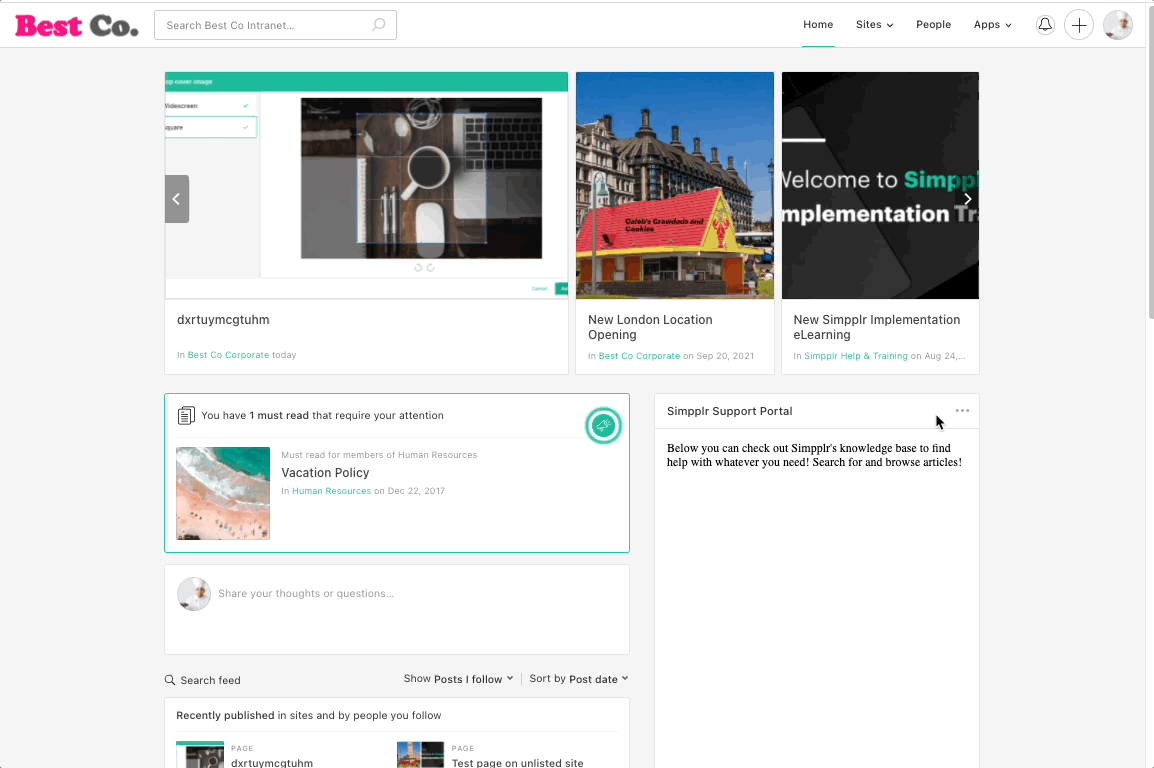 The Site owners and managers of each site that's been granted must read privileges can make content must read by clicking the ellipsis (...) icon and choosing Make 'must read'. A notification will be sent out to all site members and/or followers, depending on what you choose.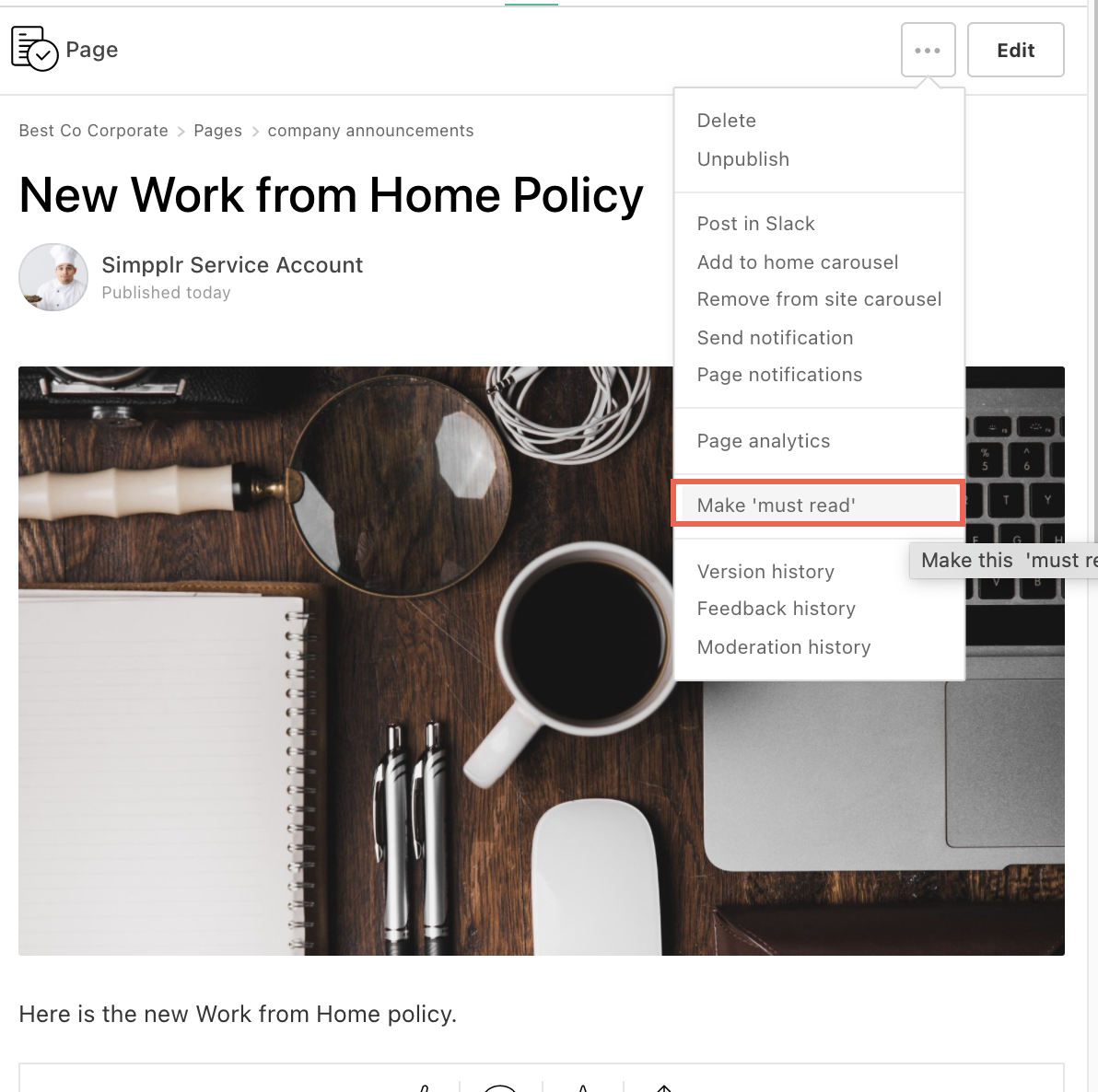 Must reads also display at the top of users' feed any time they have one or more relevant to them.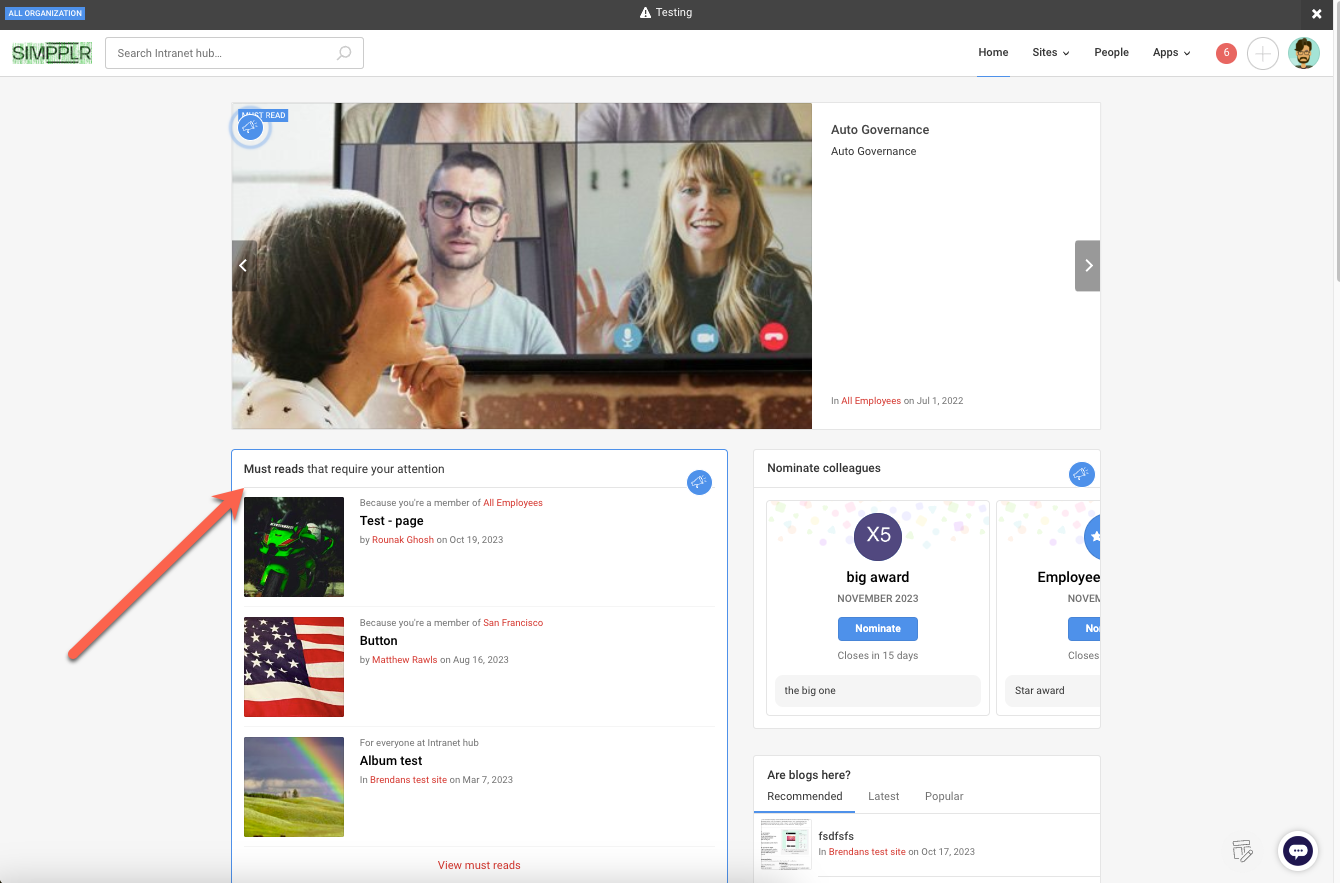 Who is required to read must read content?
App managers can make content from a public site must read for the entire organization (all employees) or only the members of that site.

App managers can also make blog posts must read to the entire organization.

App managers can make content from a private site which they are a member of must read for members of that site.

Site owners/managers and Content managers can make content from sites they manage must read for members and/or followers of that site.

Private site content cannot be made must read for everyone in the organization. This option will only appear for public site content.
If you have Employee listening enabled in your org, you'll see the option to add an Awareness check to your must read content. This is a short 'quiz-like' confirmation for users to help ensure they've read and understand the content.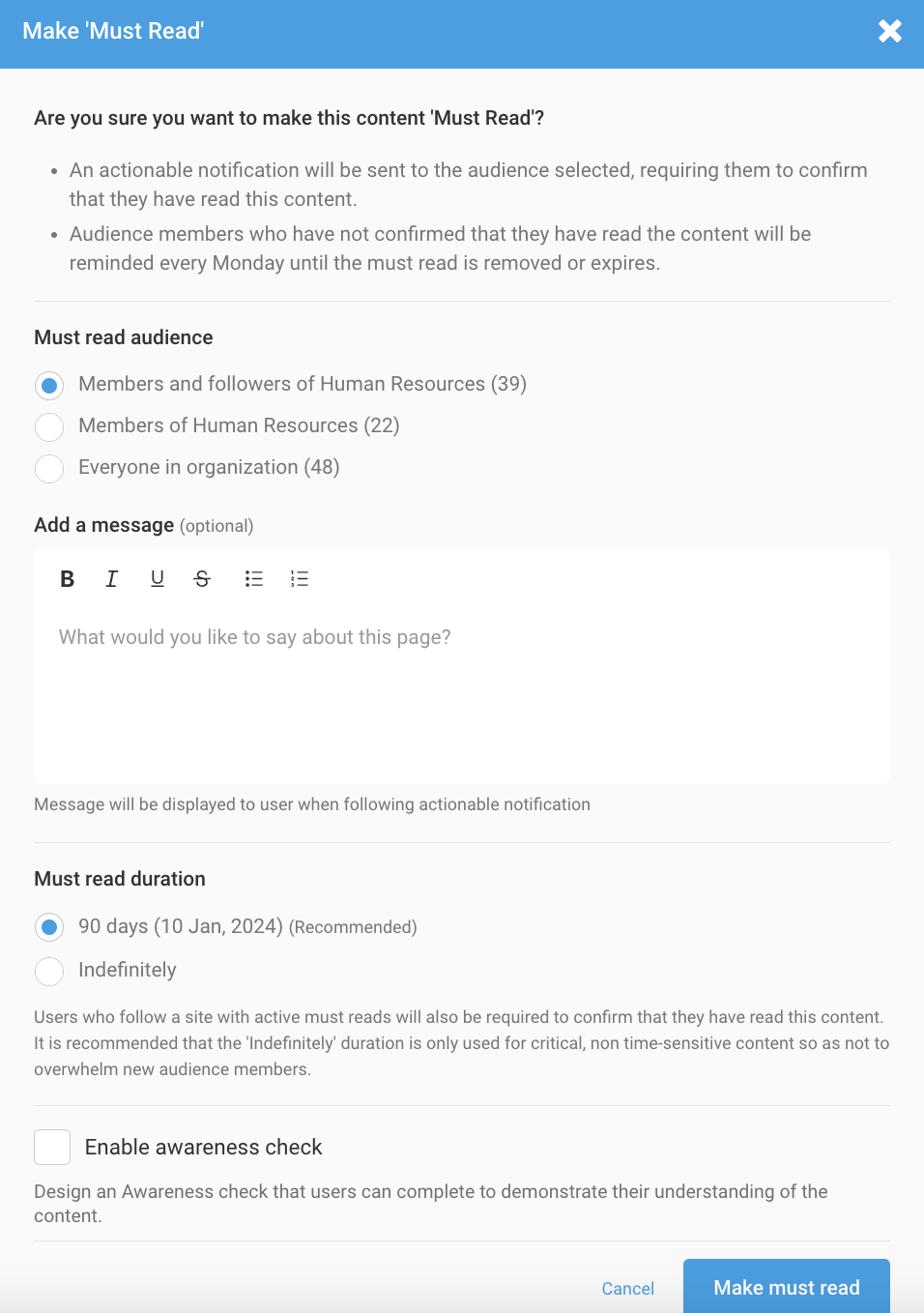 How can I see who's read my must read content?
You can monitor any must read content by who's read it and who hasn't. Clicking into the content in question and viewing its history allows you to download a CSV file so you can easily sort through users who have/have not read the content.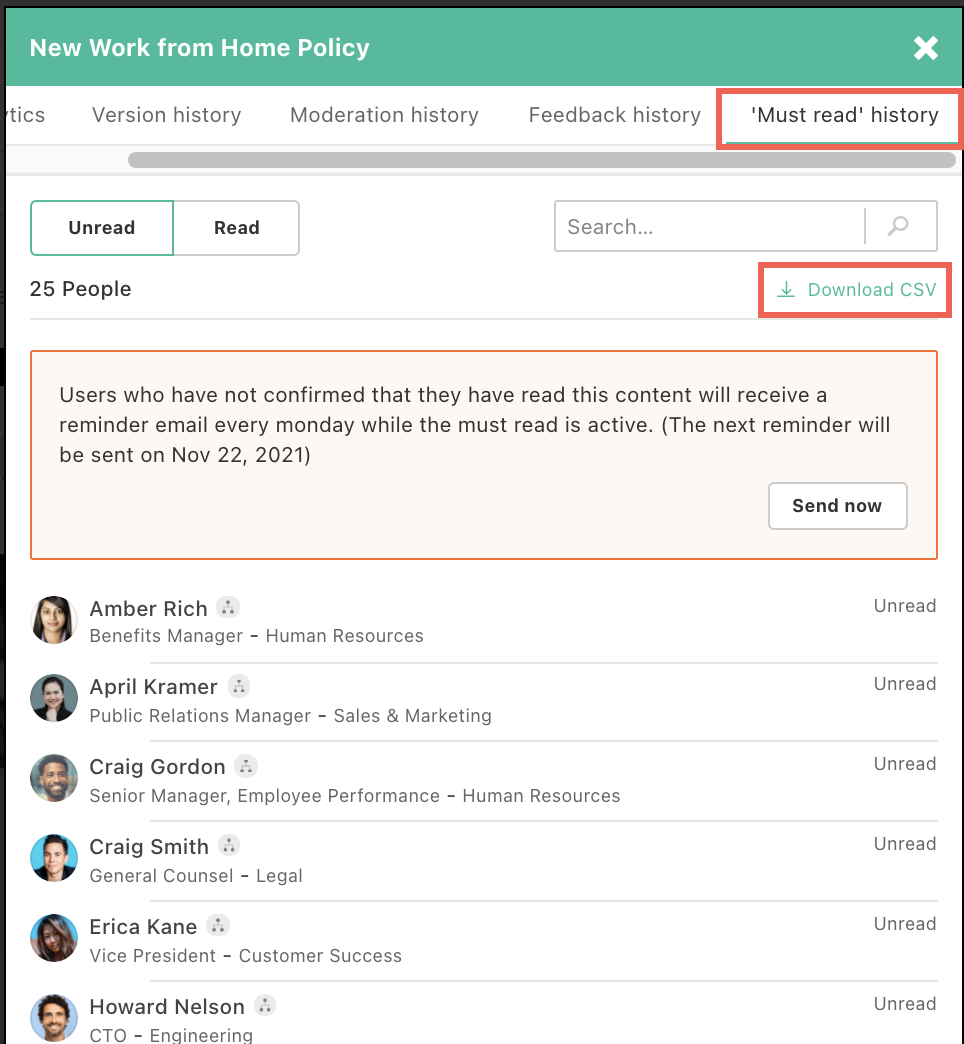 Note:
When a new employee joins your organization they will be required to confirm they have read all currently active must reads that apply to them. We recommend regularly checking active must reads to ensure they are still required.
How long will users be notified of must read content?
Until a user confirms that they've read a must read piece of content, the in-app notifications and weekly emails will be persistent on a weekly basis. Updating or editing a piece of must read content will not 'reset' the amount of time a user has to read it. Unpublishing or removing the content will cause the must read to be removed as well.