Note:
This feature is being gradually rolled out and is only available to customers in our early adopter program. Please reach out to your CSM for more information.


Overview
Simpplr's Recognition is a peer-to-peer recognition system that lets any user select from a set of recognition awards to give to one or more users. The awards are set up and managed by Recognition managers. The Recognition managers for each organization can create and edit awards to match the needs of their own recognition programs. They also have access to raw recognition activity and a dashboard of recognition analytics to measure and adjust the success of their program goals.
App setup
Once the license flag is enabled, an App manager needs to go into application management and assign users the new Recognition manager role. The users with this role will have the full ability to set up and manage the recognition program.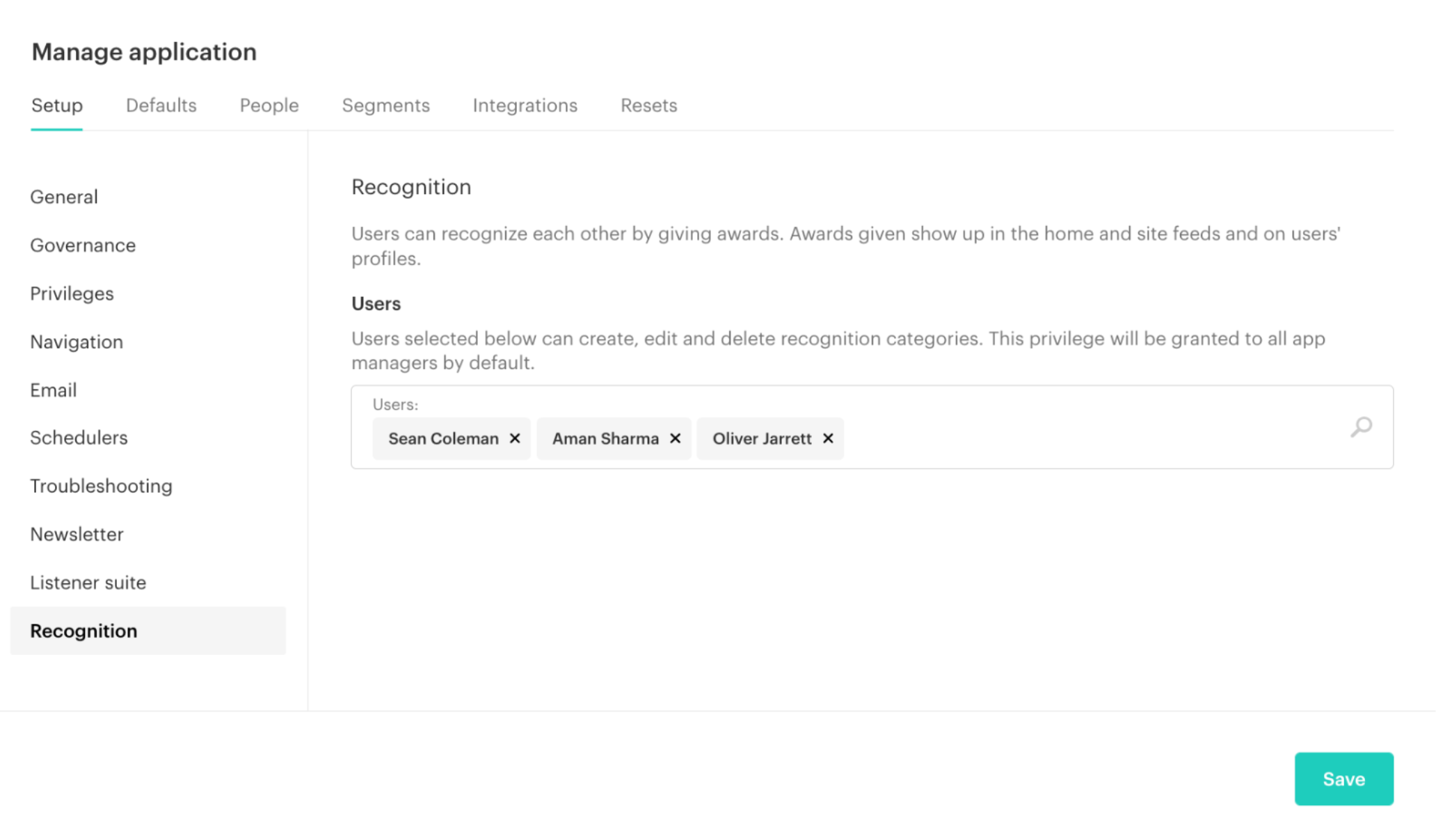 Recognition setup
Users granted the Recognition Management role can go to User menu > Manage Recognition > Awards to see available awards. The Shoutout award is enabled by default. You can disable this award or leave it as one of the choices in your recognition program.
Create an award
To create an award:
Go to User menu > Manage Recognition > Awards. Click New recognition award.

Enter a name for the award.

Enter a short description of the award's purpose or meaning.

Select a badge for the award.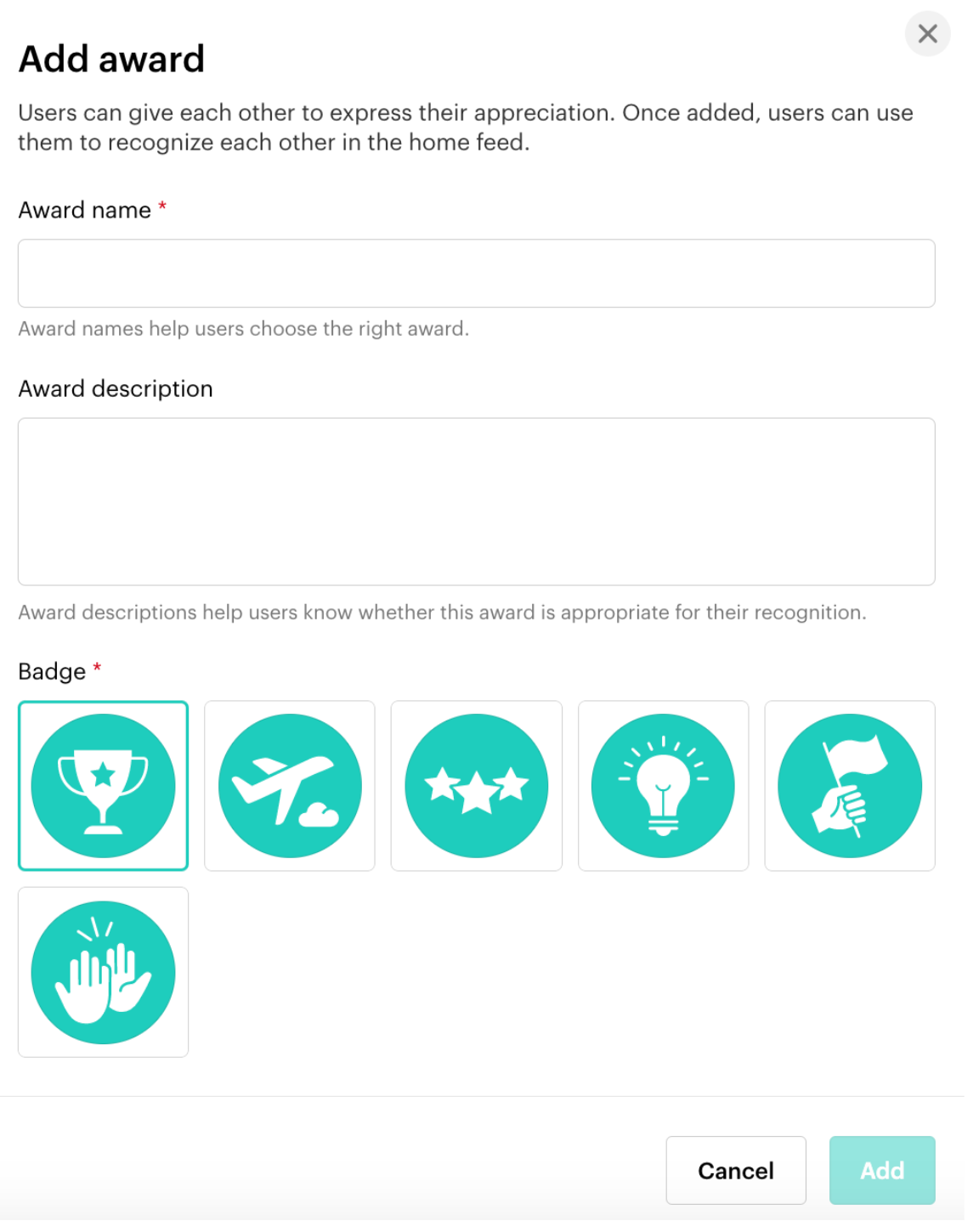 Manage awards
In the Awards section of Recognition, Recognition managers can:
View and filter all awards by active or inactive
Enable/disable awards
Edit the name or the description of awards
View data like total time awarded and last date awarded.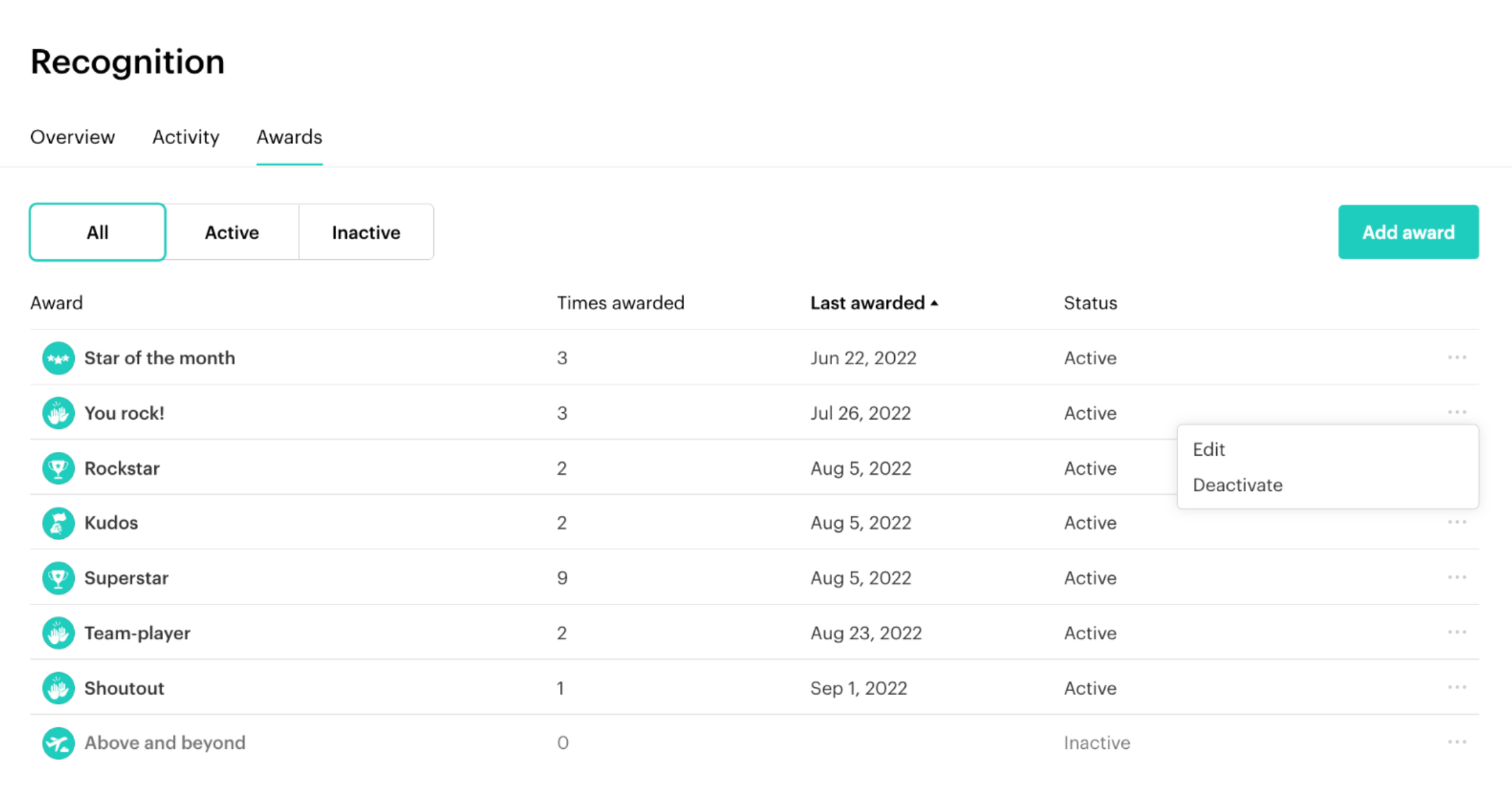 Recognition activity and analytics
Recognition managers have access to both an analytics dashboard for health and activity metrics, and an activity feed that can be exported as a CSV.
Activity feed
The activity feed shows Recognition managers raw award data like award name, award giver, award receiver(s), and date awarded. The award can be clicked on and viewed for details. The feed can be filtered by date range, department, or location.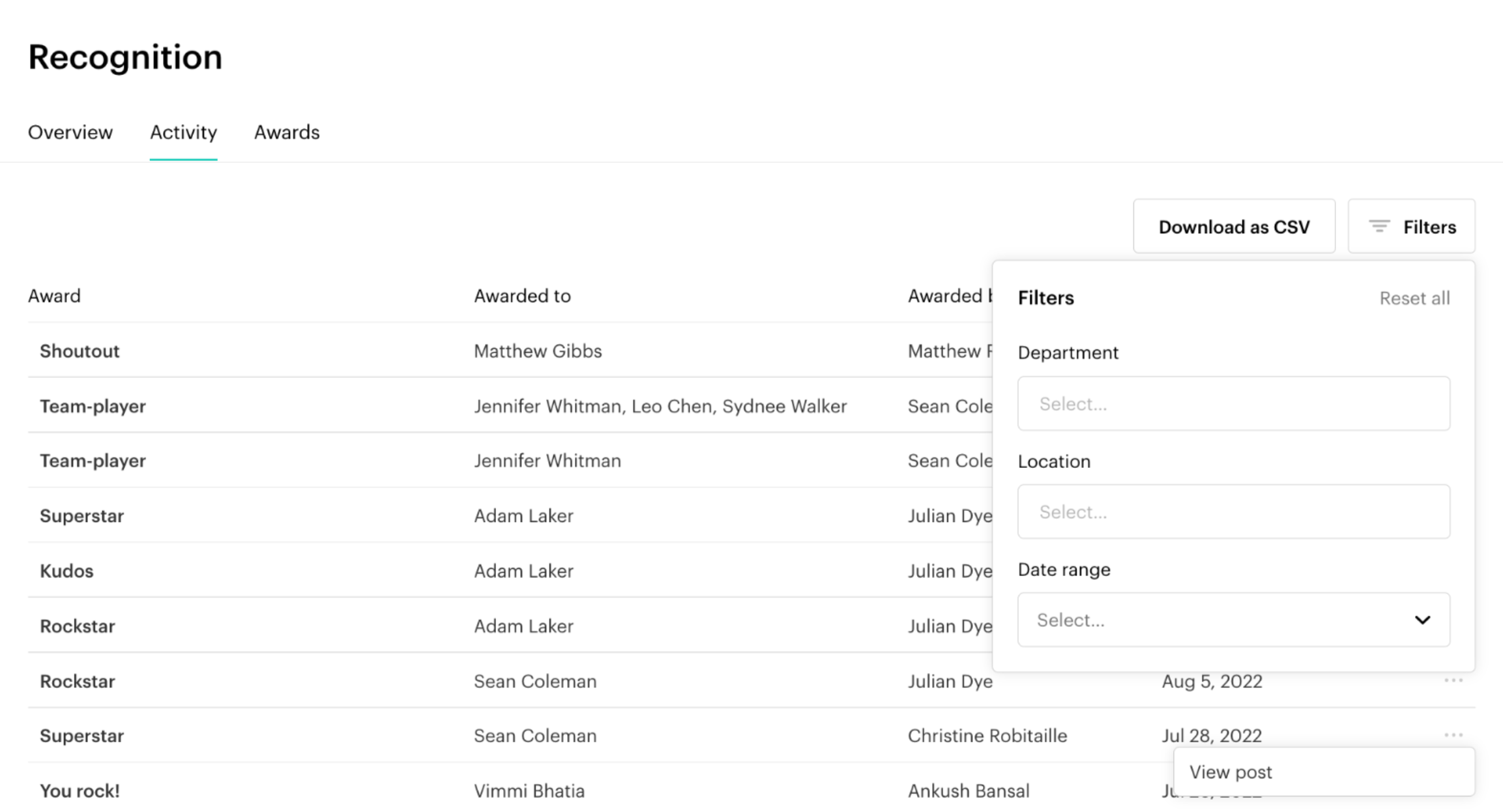 Recognition analytics
Recognition managers can access a dashboard providing a birdseye view into the health and activity of the organization's recognition program by going to Recognition > Overview.
Filters
The dashboard by can filtered by location, department, and time period.

Metrics
Recognition managers can view the following metrics:
Total awards given
Avg. awards per user
Users recognized at least once

Award trend line and counts
Recognition managers can also view the general trends in their award activity, including the total number of awards given by date and the count of each award given.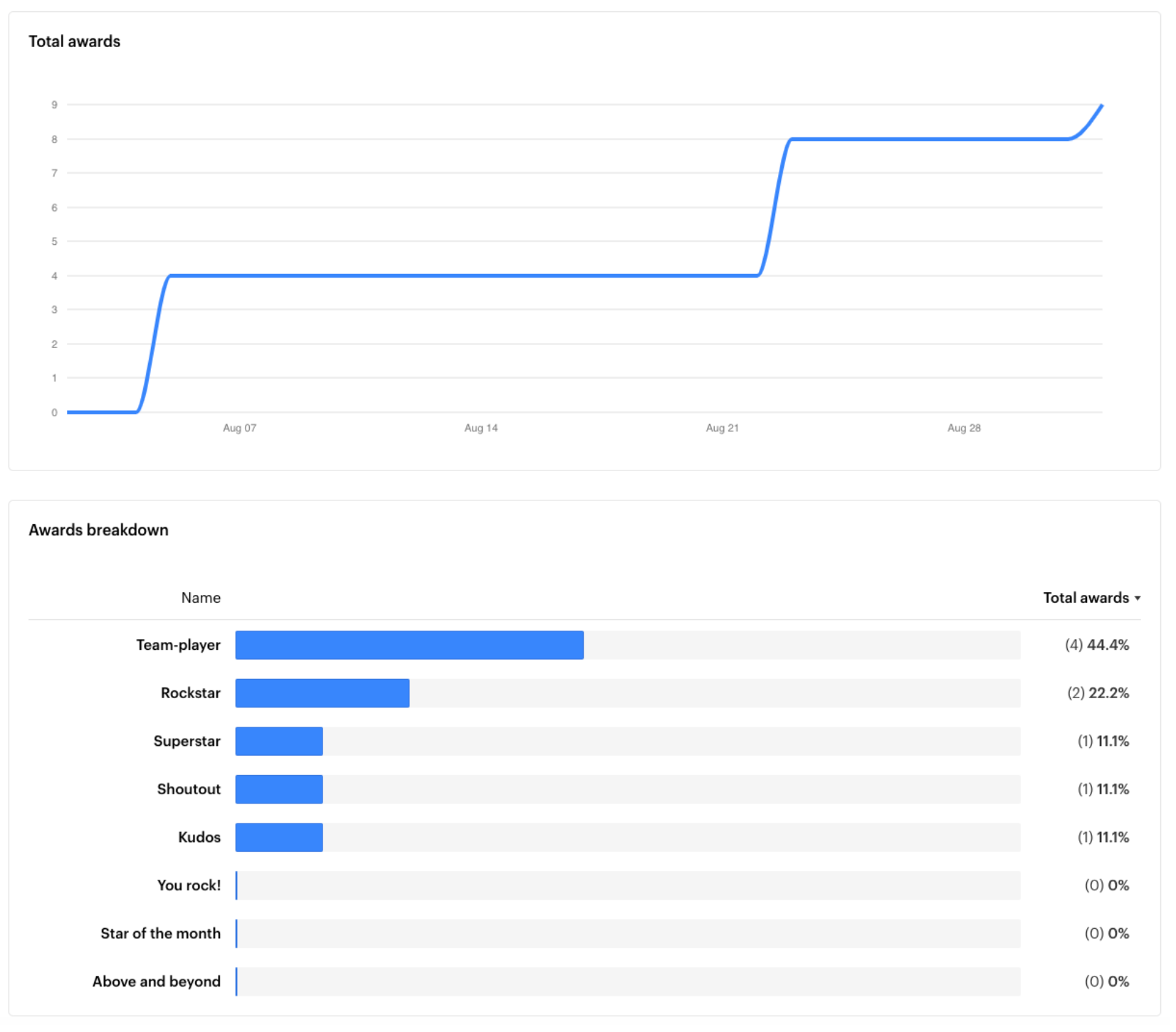 People
Recognition managers can also view the top users who have given or received the most or least (>=1) awards.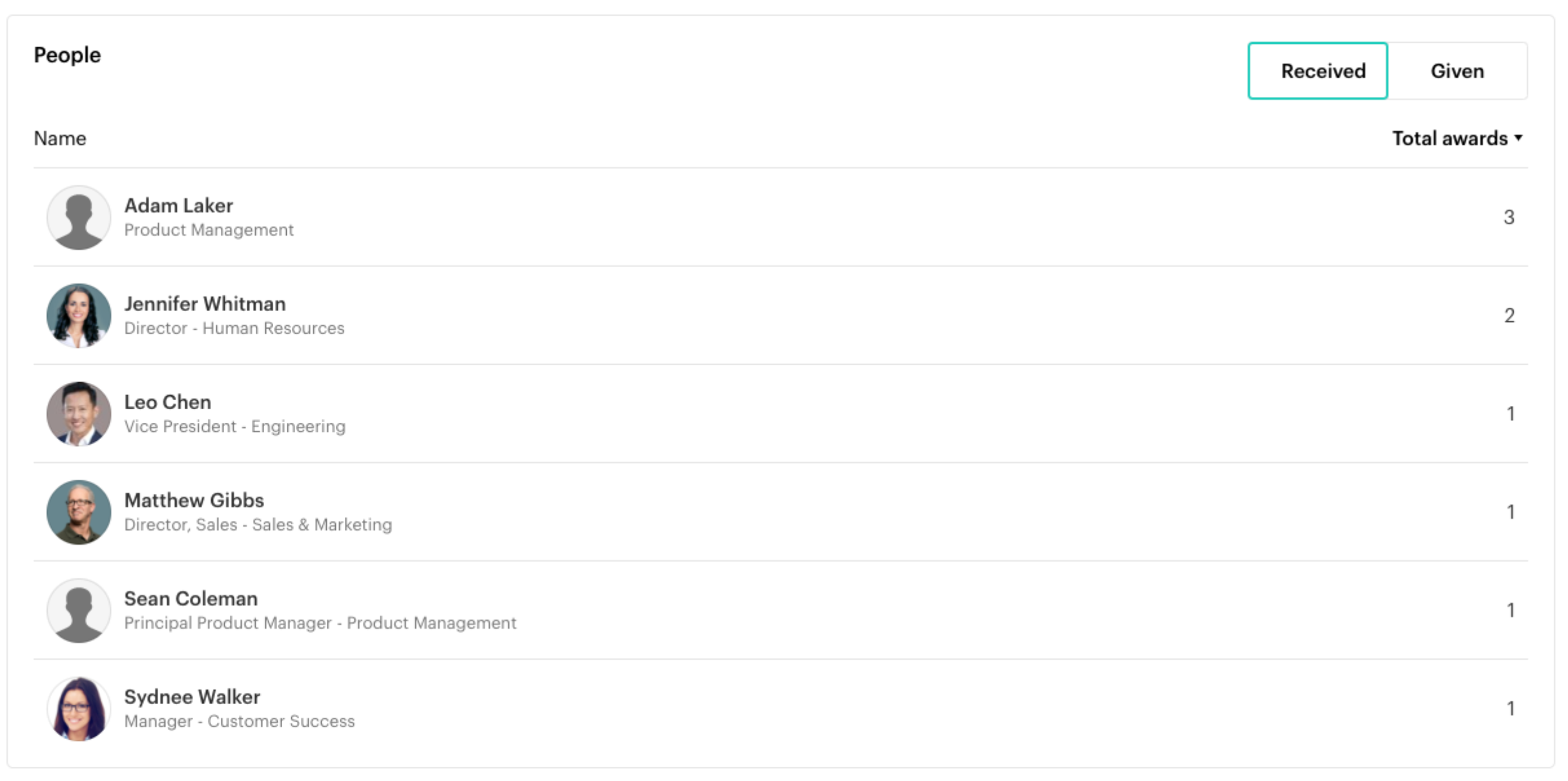 Department and location
Finally, recognition Managers can explore which departments and locations are giving and receiving the most or least (>=1) awards.

Give recognition
Recognition can be given in any feed or on a user's profile. Once configured, all users will see a new Recognition option when creating a feed post. When this option is selected, the user will be prompted to select one or more colleagues to recognize, grant an award, and write a post to go with the award.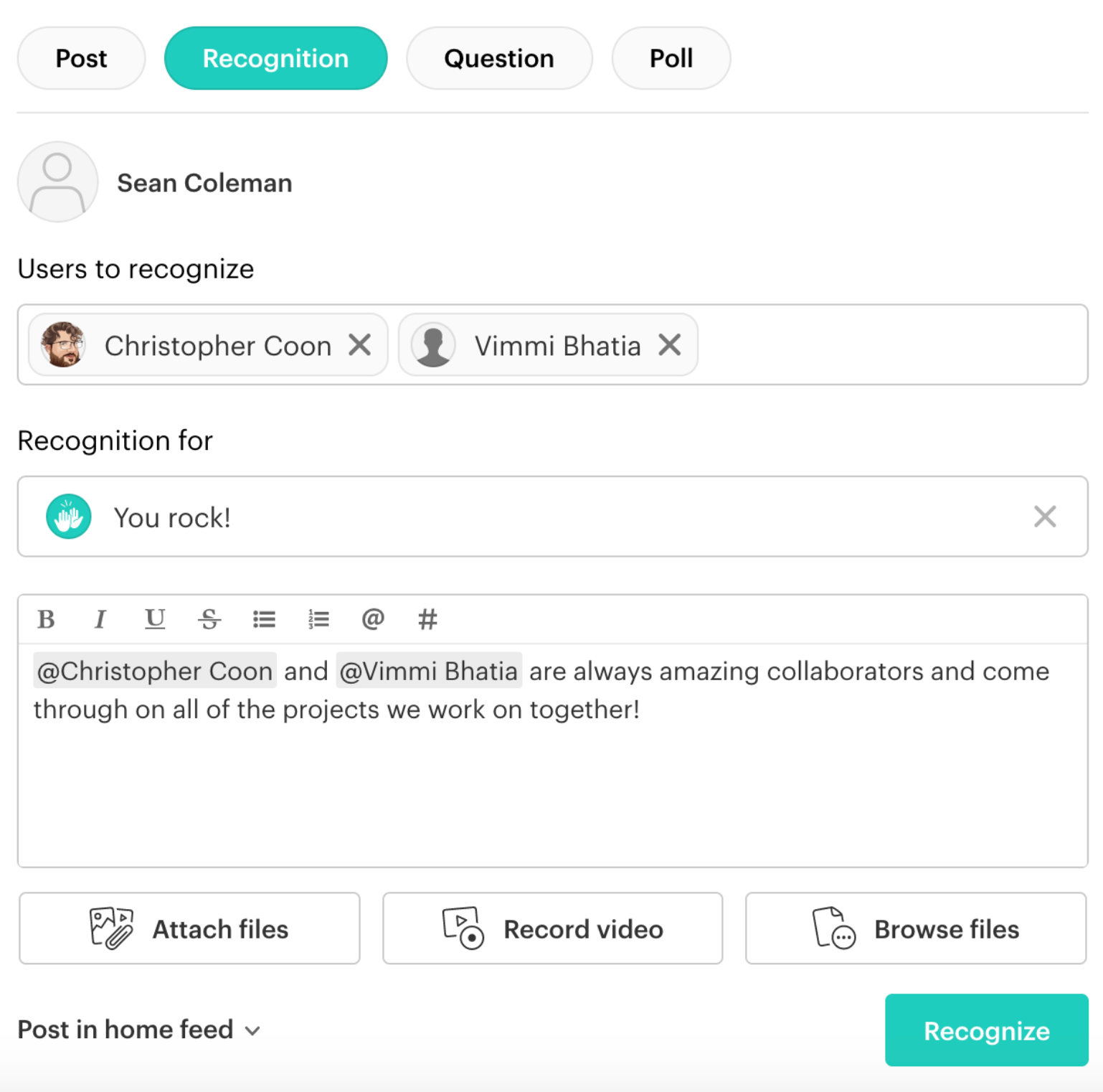 Once posted, the post will notify users and appear in the feed just like any other post.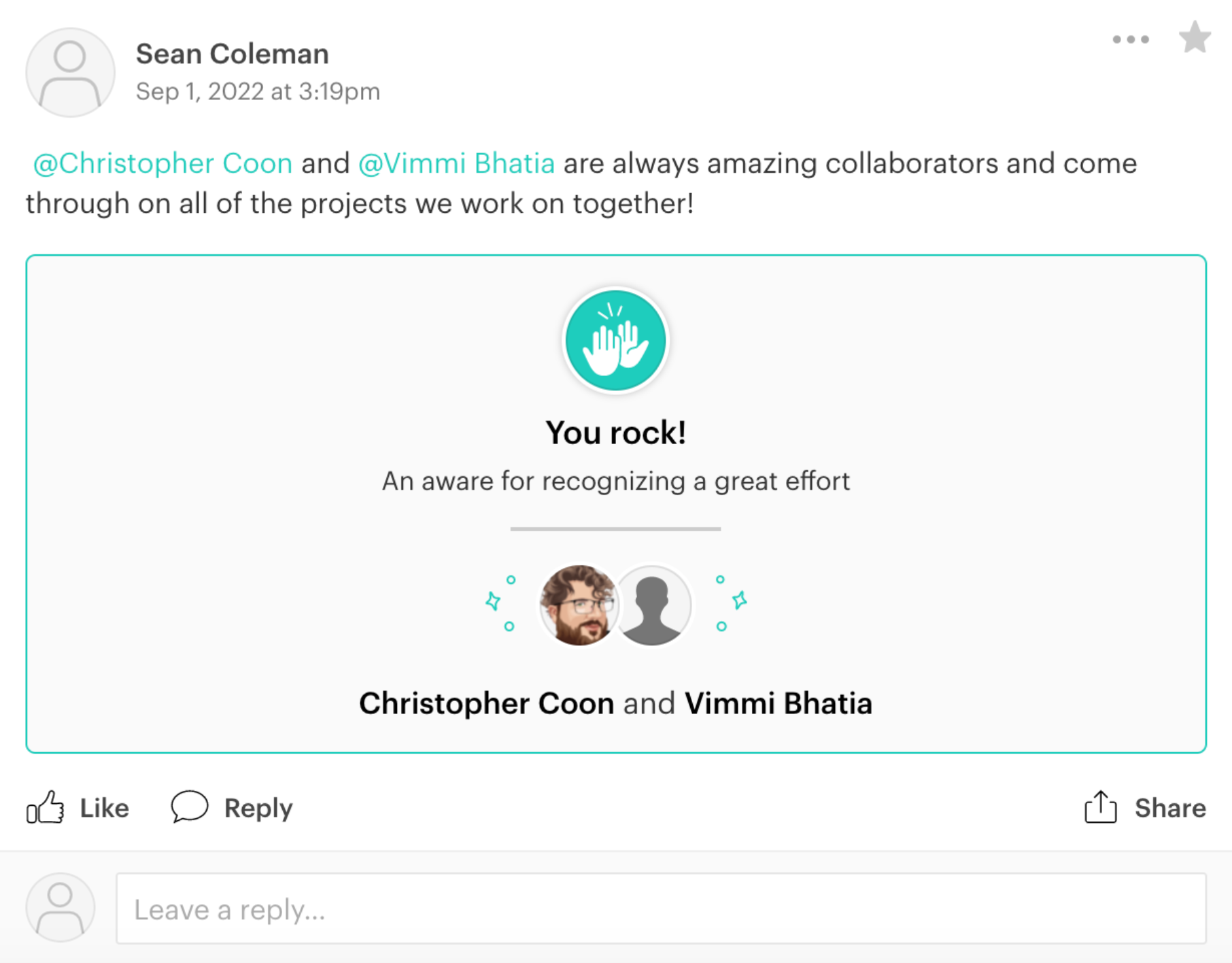 Profile badges
Once a user is recognized, an award badge will appear on their profile. A new section for recognition badges will appear just below a user's About info showing awards they've been granted. From this section, the user can also be recognized and it will be posted to the home feed.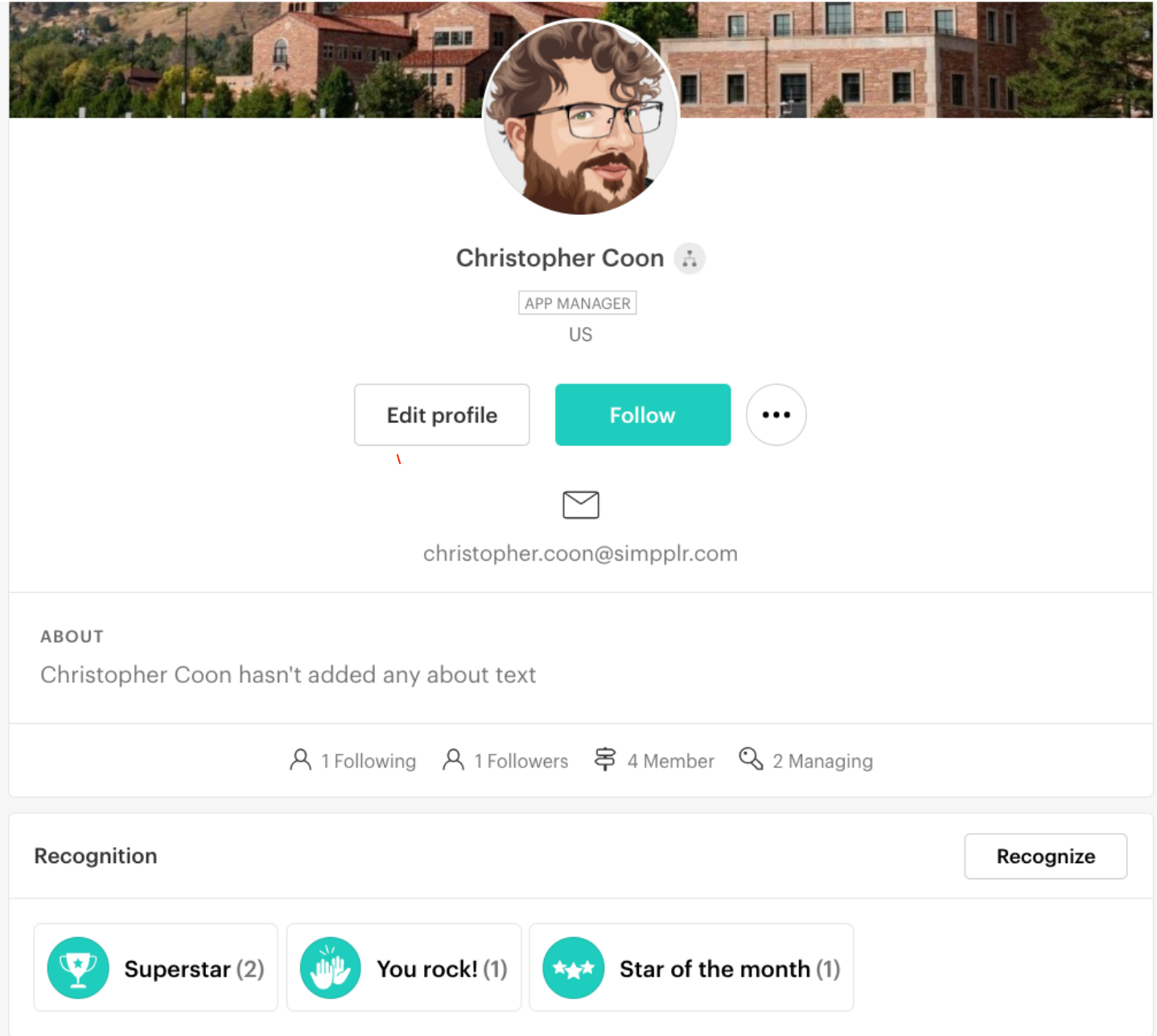 Clicking on the award badge will open a detailed view of the user's awards, and allow the viewer to click to find the original post in the feed with all likes and comments.