Overview
Simpplr's Recognition is a peer-to-peer recognition system that lets any user select from a set of recognition awards to give to one or more users. The awards are set up and managed by Recognition managers. The Recognition managers for each organization can create and edit awards to match the needs of their own recognition programs. They also have access to raw recognition activity and a dashboard of recognition analytics to measure and adjust the success of their program goals. This is a paid add-on to your Simpplr environment. Contact your CSM for more information.
App setup
Once the license flag is enabled, an App manager needs to go into Manage > Application > Recognition and assign users the new Recognition manager role. The users with this role will have the full ability to set up and manage the recognition program.
Recognition setup
Users granted the Recognition management role can go to their User menu, then Manage > Recognition > Awards to see available awards. The Shoutout award is enabled by default. You can disable this award or leave it as one of the choices in your recognition program.
Note:
After enabling Recognition for an organization, all non-administrative Recognition features will be off by default. This allows App and Recognition managers time to build and plan the launch of their Recognition program before allowing all users to view and access it. App managers can enable or disable the feature in Manage > Application > Recognition.
Create a peer-to-peer award
To create a peer-to-peer award:
Go to User menu > Manage > Recognition > Awards. Click New and peer-to-peer award.

Enter a name for the award.

Enter a short description of the award's purpose or meaning. The description character limit is 500.

Select a badge for the award.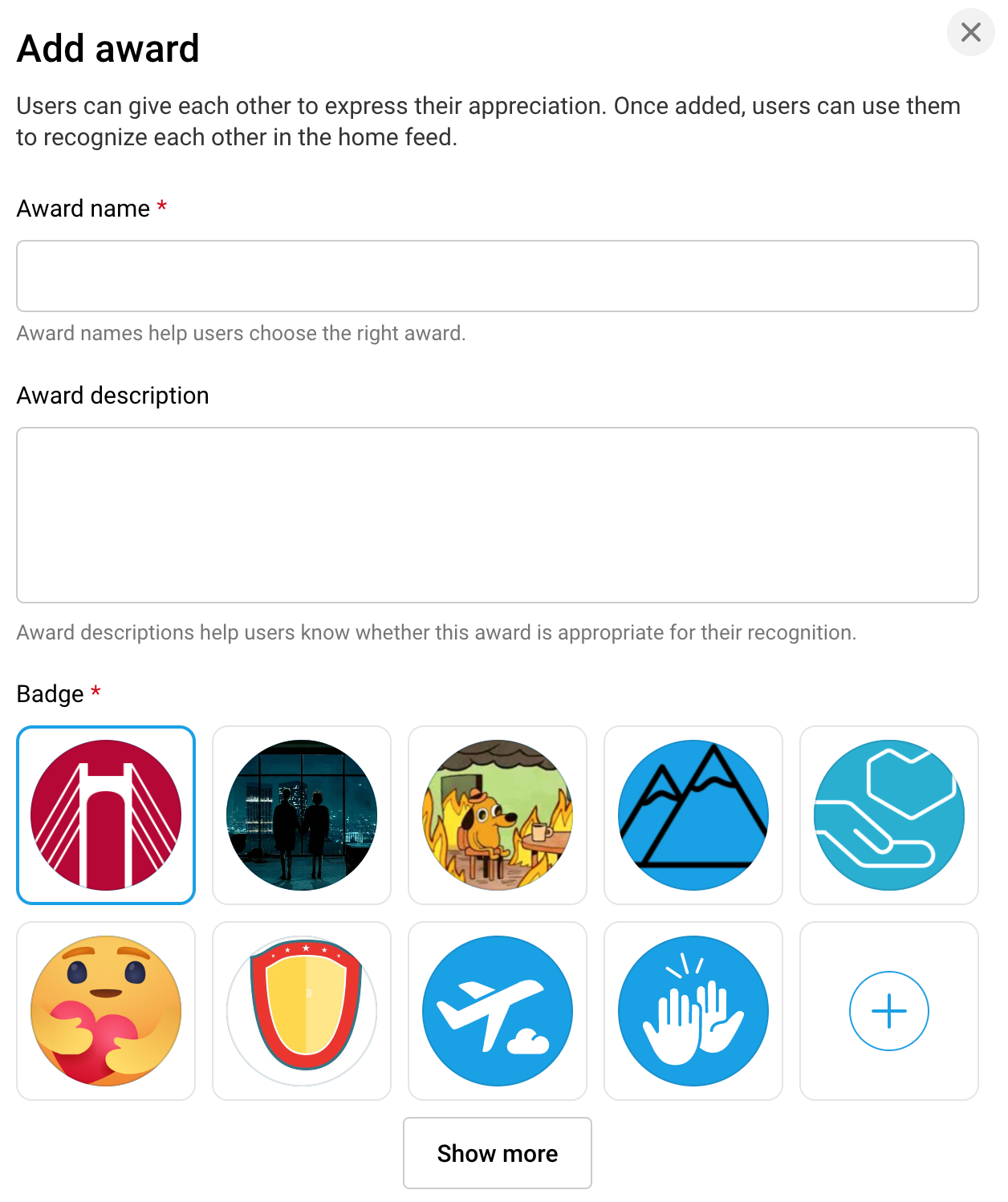 Create a recurring award
Recurring awards are delegated to specified recognition managers to give out on a predetermined cadence. To create a new recurring award, select click New and Recurring award.
Enter an award name and description.
In award guidance, enter some guidelines or context for the recognition manager to consider when giving out this award.
Select an award badge. Click Next.
Select an award delegate and who can win this award. 
Choose an award process, frequency, and start date.

If recurring awards aren't given out by the end of the cadence, it will be considered overdue. Overdue awards can still be given out until the end of the next cadence, when the next award is due.
Recurring award process
Recurring awards have two processes for choosing recipients: nominations and delegation. Selecting Nominations gives you the ability to choose who can nominate users for this award. Those chosen users can nominate recipients during the award cadence (i.e. monthly or quarterly). By default, nominator identities are Anonymous, and won't be shown to the award delegate or recipient. 
Selecting Delegate-awarded means the delegate will choose the user to receive the award.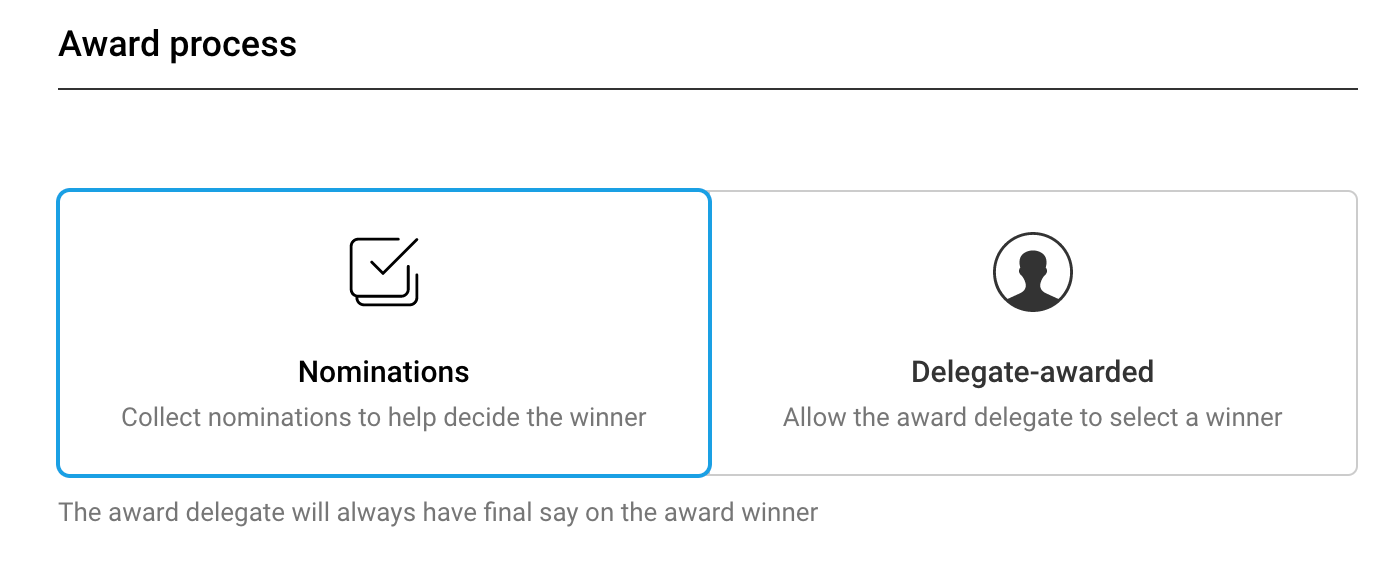 Give a recurring award
You can nominate users for, or give them recurring awards by going to your user menu, then Recognition. Under Dashboard > Manage your awards, delegates can give a recurring award by clicking Award now.
Note:
People managers will receive an in-app notification when their direct reports are recognized with a peer-to-peer award or a recurring award.
Recognition tiles
In addition to the ways shown above, users can also nominate others and hand out recognition through two new tiles added to both Home and Site dashboards.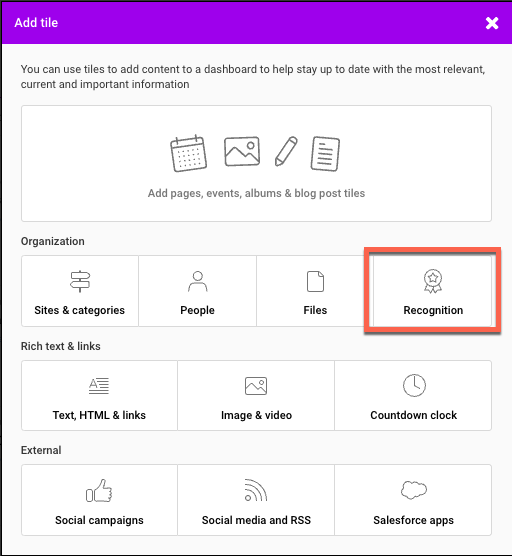 The Recent activity tile allows users to see all relevant award activity from the last 30 days, as well as give recognition directly from the tile.

The Nominate colleagues tile does just that; allows users to nominate colleagues for upcoming recurring awards.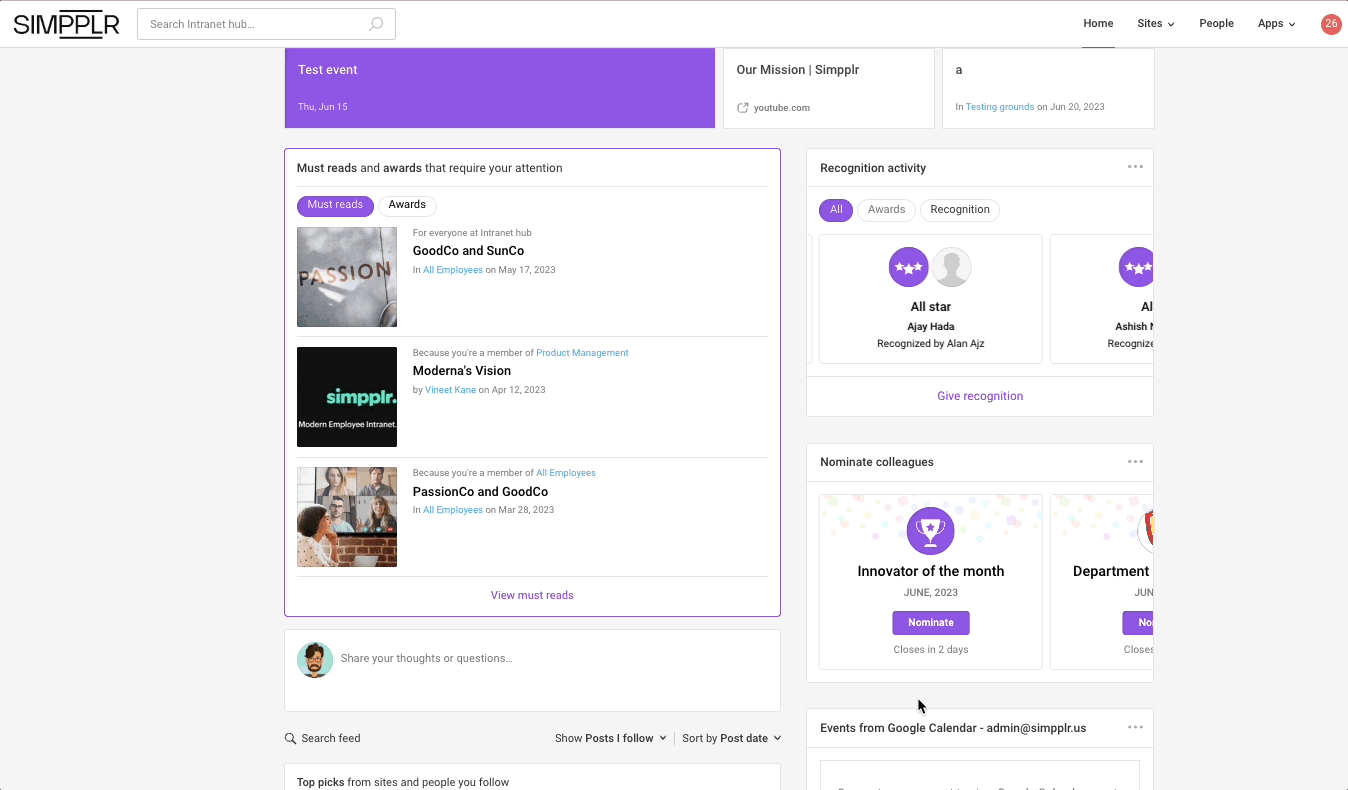 The recognition tile has no site awareness, meaning it will display the same data regardless where it is placed (i.e., site dashboard or home dashboard). For each individual user that sees it, they will see recognition that should have some recent relevance to them, like recognition they have received, recognition their team has received (direct reports, people with the same manager, or the team manager), recognition to people in the same department, and recognition to people in the same location.
Manage awards
In the Awards section of Manage > Recognition, Recognition managers can:
View and filter all awards by active or inactive
Enable/disable awards
Edit the name or the description of awards
View data like total time awarded and last date awarded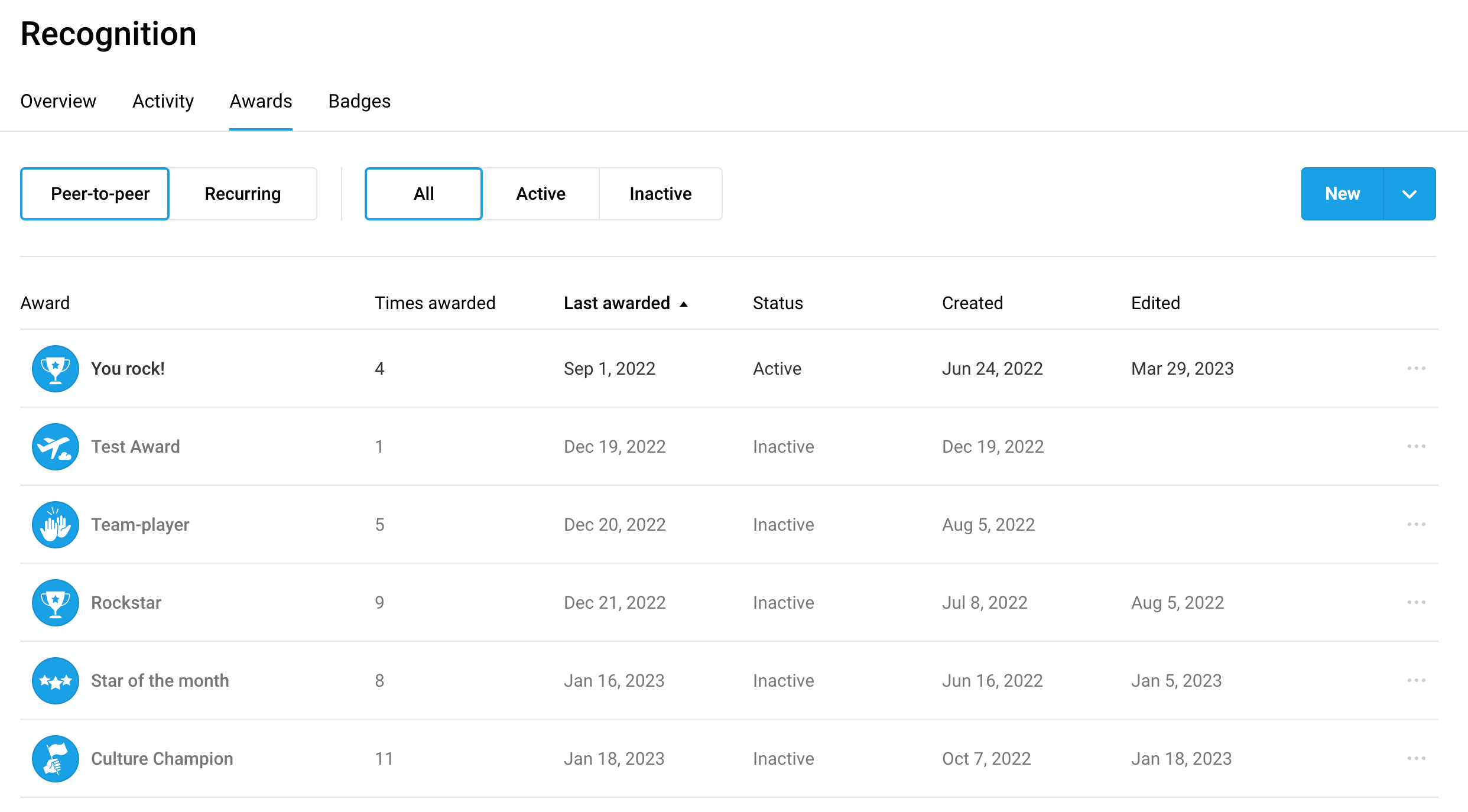 There has also been a Recognition smart block added to the employee Newsletter feature. This smart block allows you to attach recognition activity to your newsletters. For more information on Employee Newsletter, check out this article. 
Recognition activity and analytics
Recognition managers have access to both an analytics dashboard for health and activity metrics, and an activity feed that can be exported as a CSV. 
Activity feed
The Activity tab of Manage > Recognition shows Recognition managers raw award data like award name, award giver, award receiver(s), and date awarded. The award can be clicked on and viewed for details. The feed can be filtered by date range, department, or location.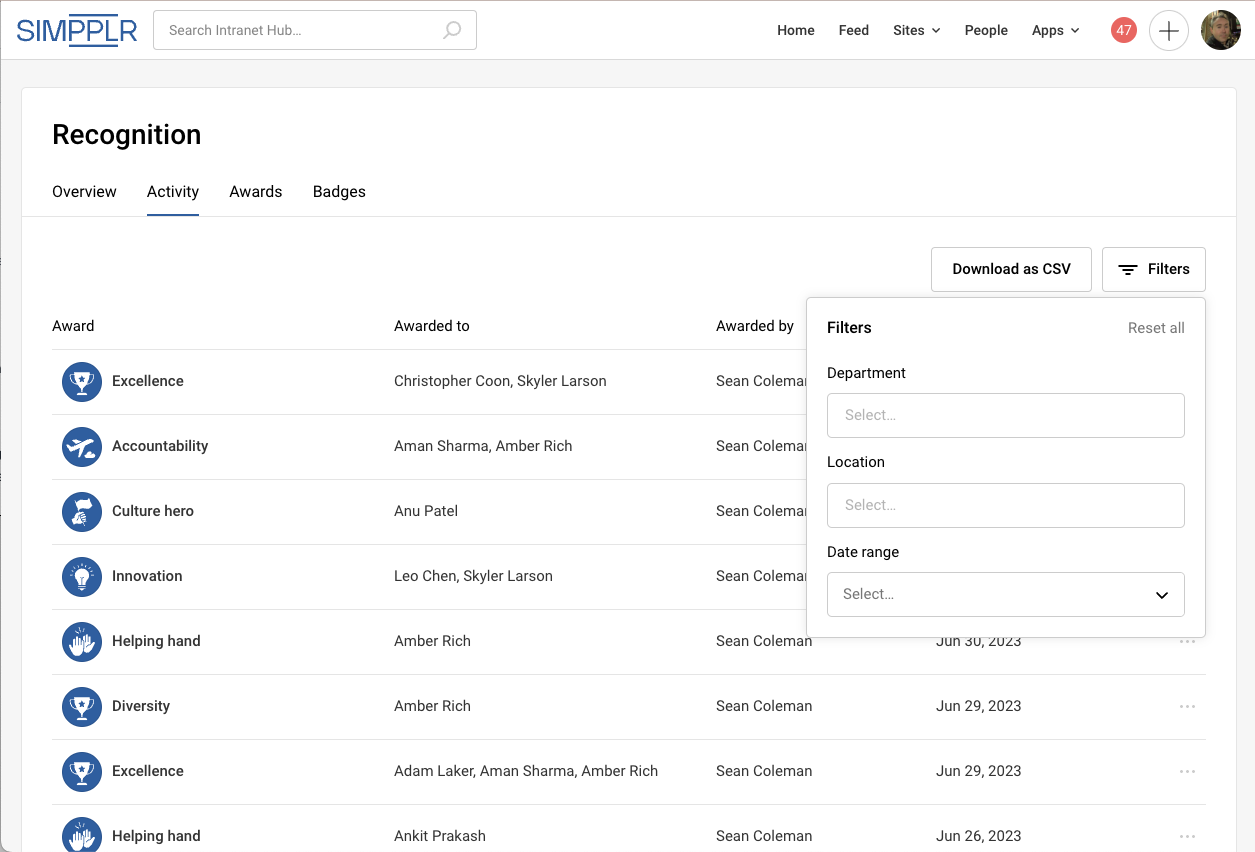 Award trend line and counts
Recognition managers can also view the general trends in their award activity in the Overview tab of Manage > Recognition, including the total number of awards given by date and the count of each award given.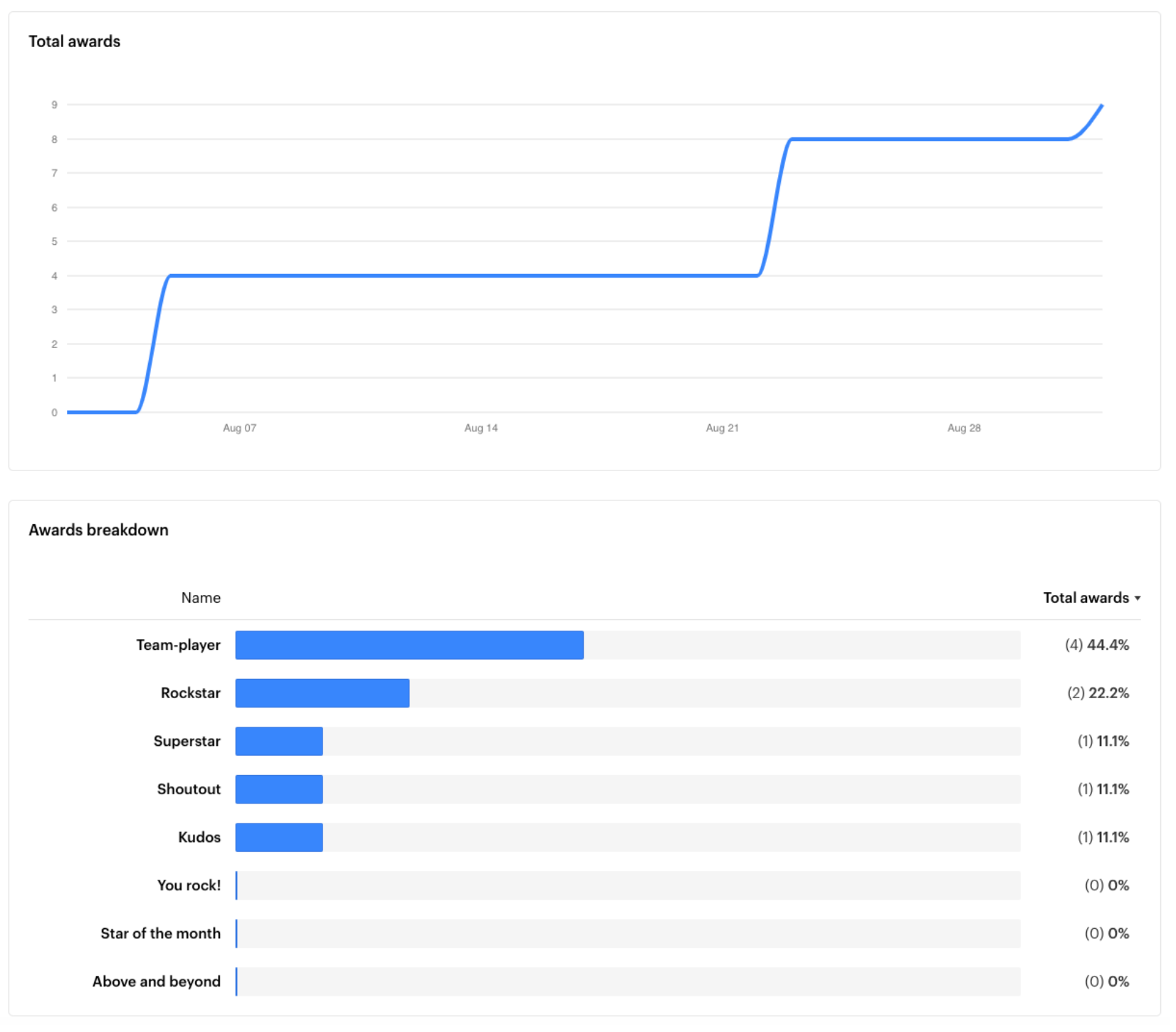 Recognition analytics
Recognition managers can access a dashboard providing a birds eye view into the health and activity of the organization's recognition program by going to Analytics > Recognition.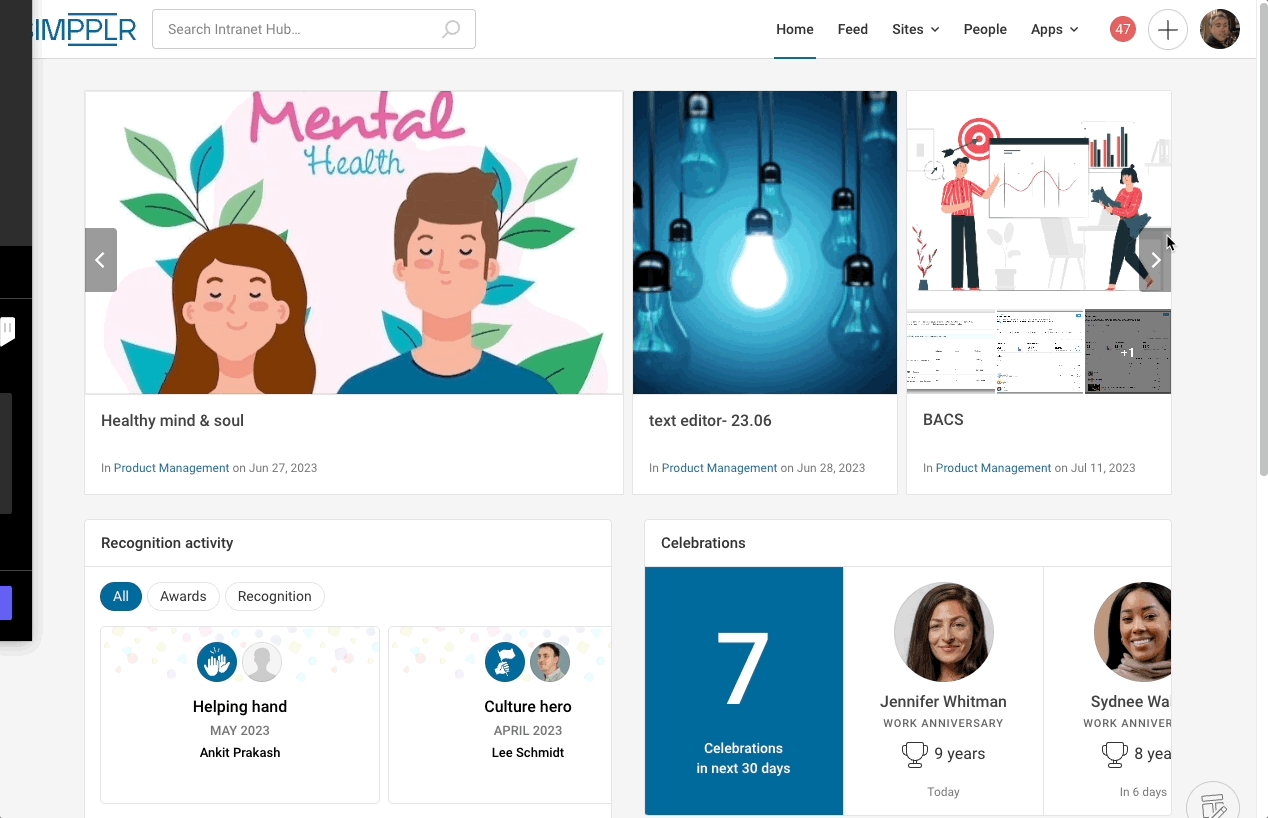 There are two tabs: Activity and Participation. 
Activity is a true count of all activity over a designation period.
Activity shows:
Total recognition posts
Total received
Average recognition per post
Recognition activity shows all recognition-related activity across the intranet.
Participation shows activity as of that day. The Leaderboard shows the top users who have given or received the most or least (>=1) awards. This can be filtered by department, location, and manager.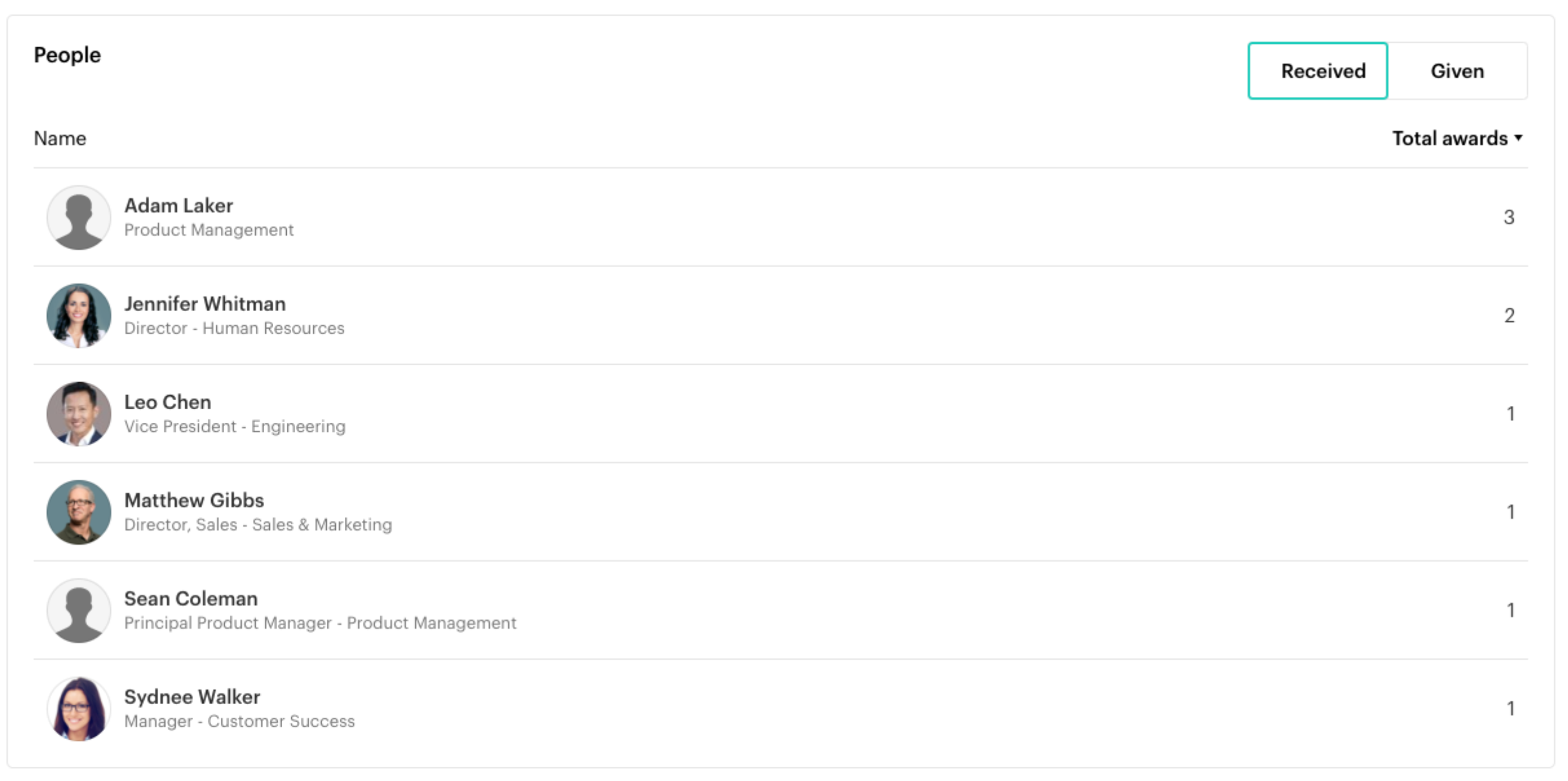 Give recognition
Recognition can be given in any feed or on a user's profile. Once configured, all users will see a new Recognition option when creating a feed post. When this option is selected, the user will be prompted to select one or more colleagues to recognize, grant an award, and write a post to go with the award.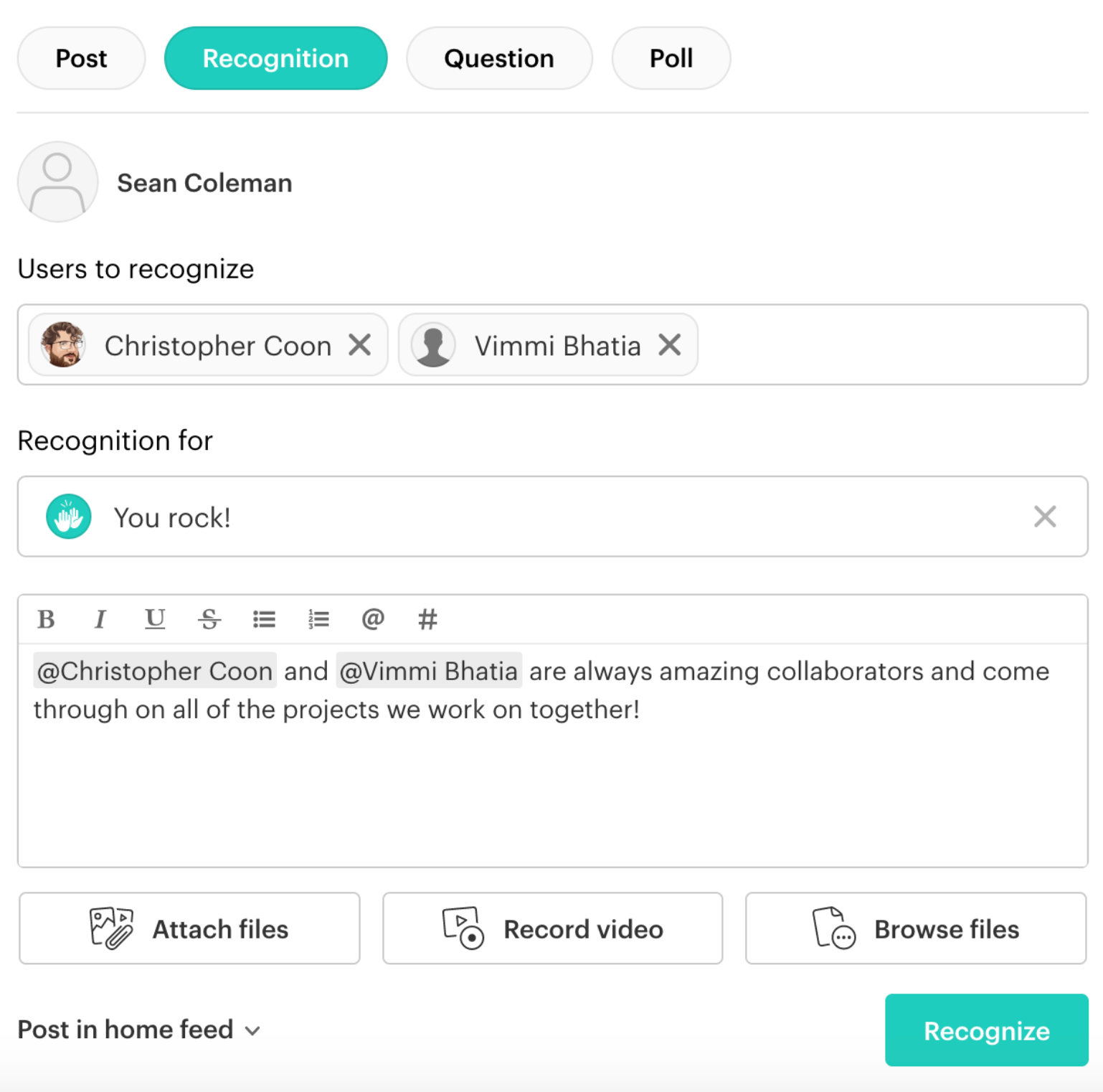 Once posted, the post will notify users and appear in the feed just like any other post.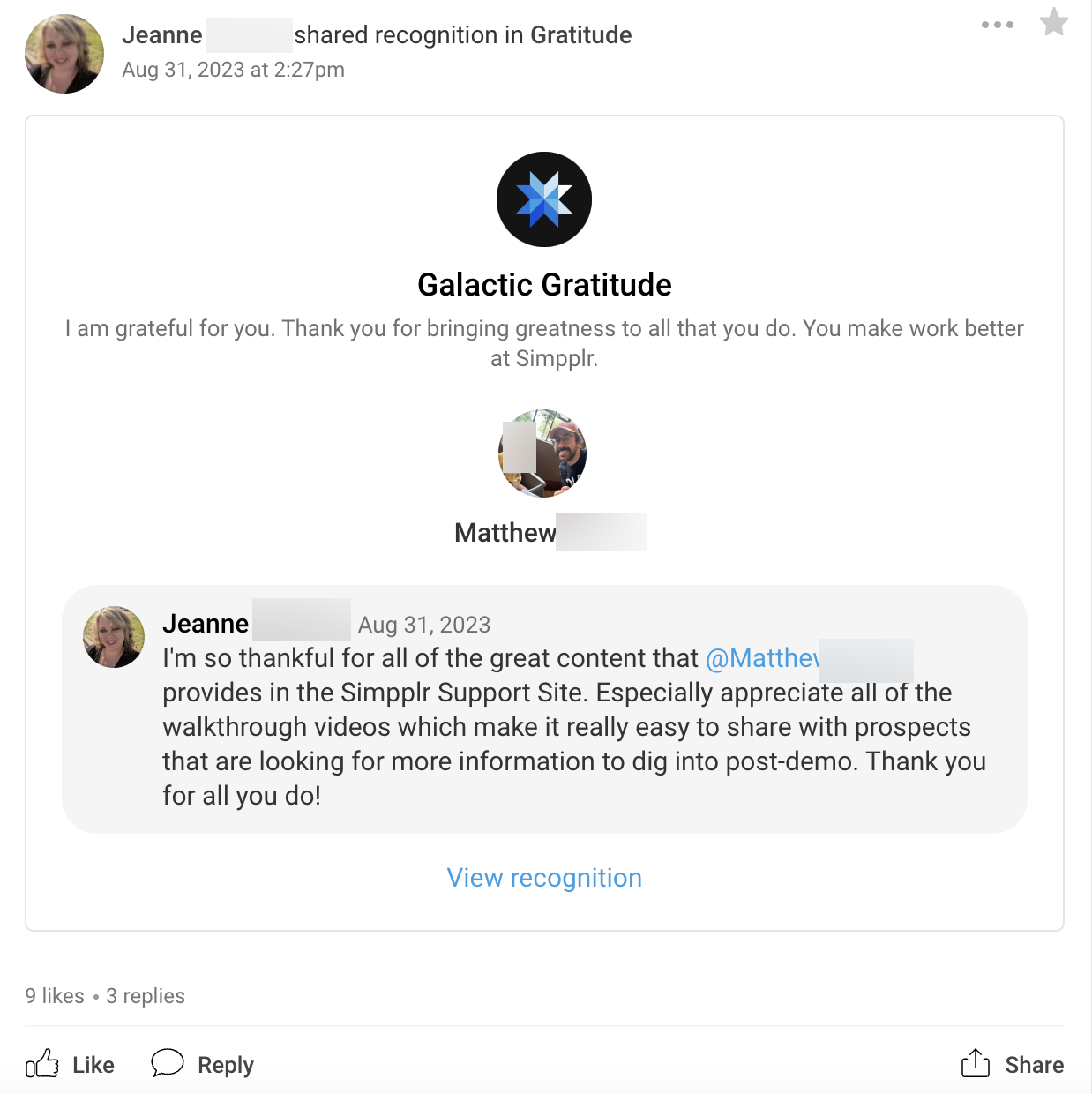 Colleagues can interact with the award through "cheering" or commenting on it. These cheers and comments will reflect everywhere the award can be seen.
Profile badges
Once a user is recognized, an award badge will appear on their profile. A new section for recognition badges will appear just below a user's About info showing awards they've been granted. From this section, the user can also be recognized and it will be posted to the home feed.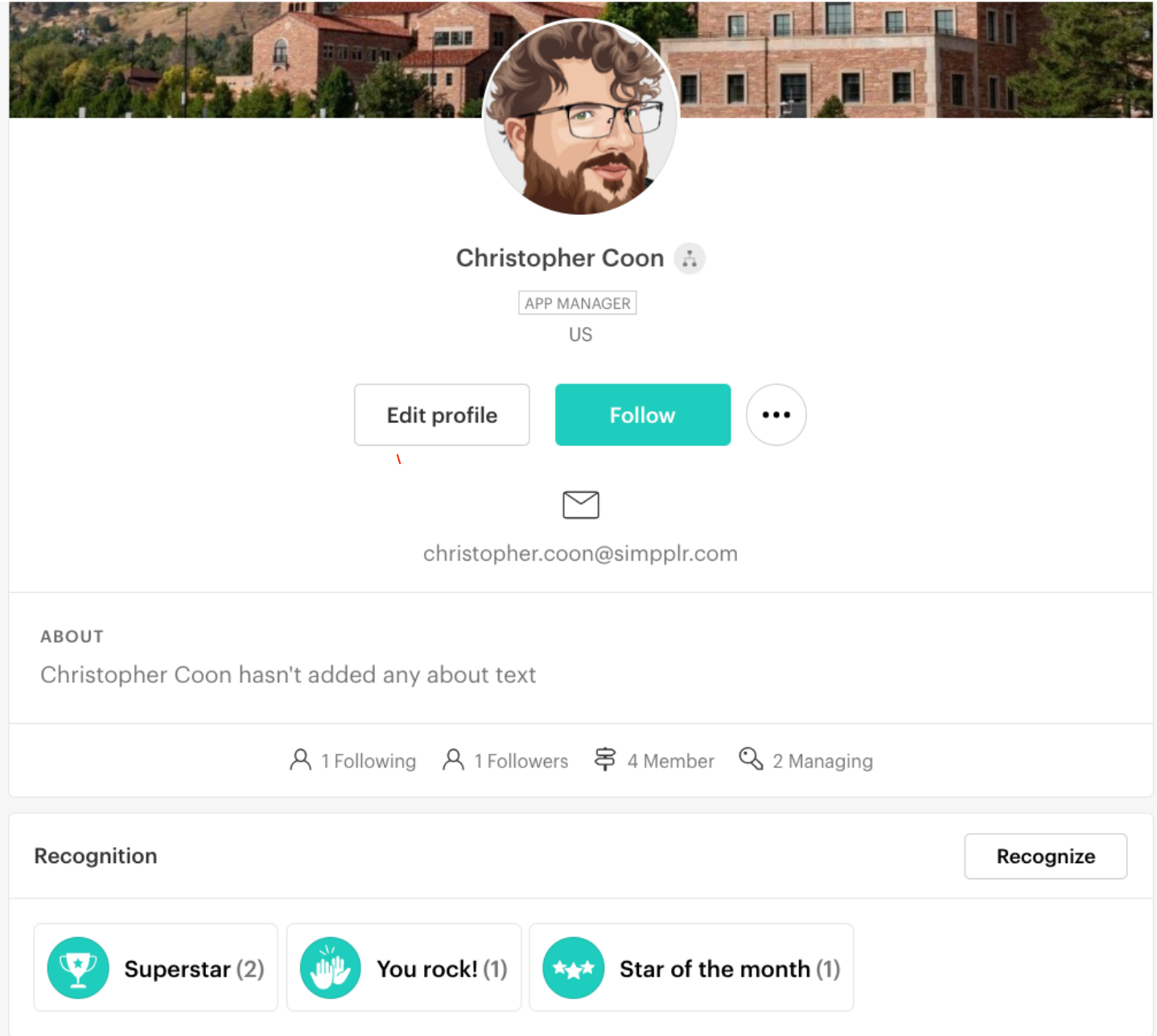 Clicking on the award badge will open a detailed view of the user's awards, and allow the viewer to click to find the original post in the feed with all likes and comments.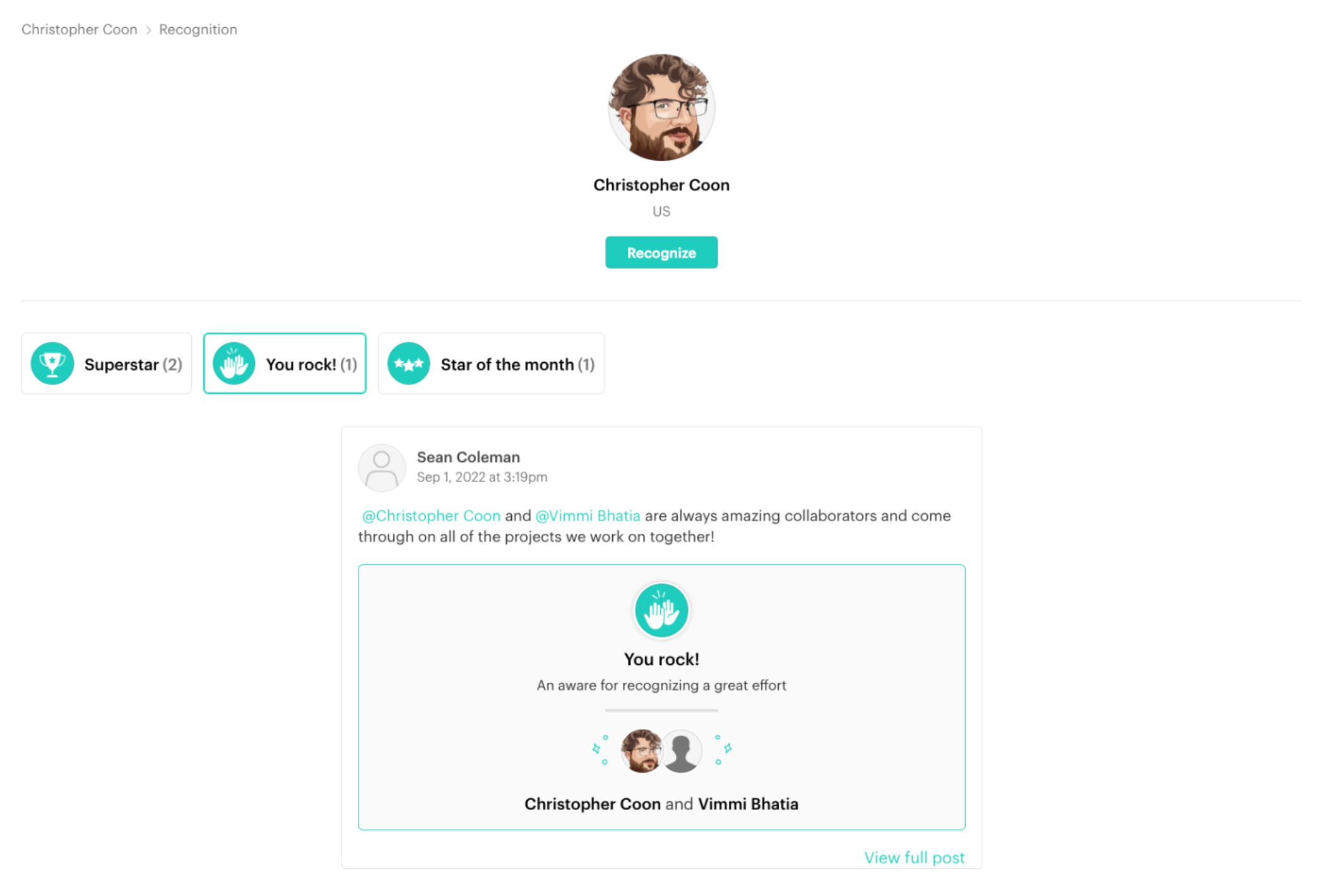 Recognition hub
To access the recognition hub, go to your user profile, then Recognition. The hub is where all users can manage their recognition activities. You can even give recognition here by clicking Give recognition. 
The hub you see activity from across the org of who gave out peer-to-peer awards, and if applicable, nominate other users for a recurring award. Recognition managers can also delete any recognition or comments left on recognition from the hub, even if it's not theirs.